Connecting Families to Developmental Resources
Help Me Grow Los Angeles (HMG LA) helps families find services that can support their child's development. Families often have questions about their child's development but don't know where to go for help. HMG LA can help families find resources and get services more quickly. When it comes to helping families, we can work together — providers, local agencies and the community — to do better.  
 HEALTHCARE & COMMUNITY PROVIDERS 
It takes all of us to make sure children have the best start in life. Help Me Grow LA helps improve the coordination of programs and services in local communities. First 5 LA and the Los Angeles County Department of Public Health are joining with partners to make sure all children get connected to the services they need.
Our Planning and Implementation Efforts 
In 2016, First 5 LA partnered with L.A. Care Health Plan, LACDPH, and the American Academy of Pediatrics (AAP) – California Chapter 2, to convene key stakeholders and experts across diverse sectors to engage in the early design and planning of a HMG system for L.A. County. More than 120 leaders from L.A. County were part of the early planning process, including representatives in the areas of physical health, mental health, developmental disability services, early care and education, county agencies, private and public community organizations, as well as family support and advocacy groups. The Promoting Children's Optimal Development recommendation report was released in the fall of 2017 and is the foundation that continues to guide implementation planning for HMG LA.  
Since July 1, 2018, First 5 LA and LACDPH have moved from planning to early implementation of key strategies and activities to bring the vision to life outlined in the recommendation report. As we begin the third year of this partnership, First 5 LA and LACDPH are moving toward implementing and testing multiple strategies to support HMG's four core components to meet LA county's needs and address the fragmented EII system. 
All families in L.A. County have the support they need to help their young children get the best start in life and achieve optimal development.  
Help Me Grow LA supports all families in promoting young children's development and lifelong success by connecting them to developmental services and supports that promote their child's well-being.  
As outlined in the early design and planning recommendations report, HMG LA's target populations include: 
Children currently not being screened 




Children screened and not meeting thresholds for services (e.g.: children not eligible for early intervention under Individuals with Disabilities Education Act (IDEA) Part C) 




Children that have been screened but are not being connected to services



Help Me Grow is a national model that includes four core components. Each component is meant to help improve early identification and intervention (EII). This means increasing developmental screenings, surveillance and promotion among service providers and linking children and their families early to appropriate services and supports to help their child's development.  
The Help Me Grow model has four core components: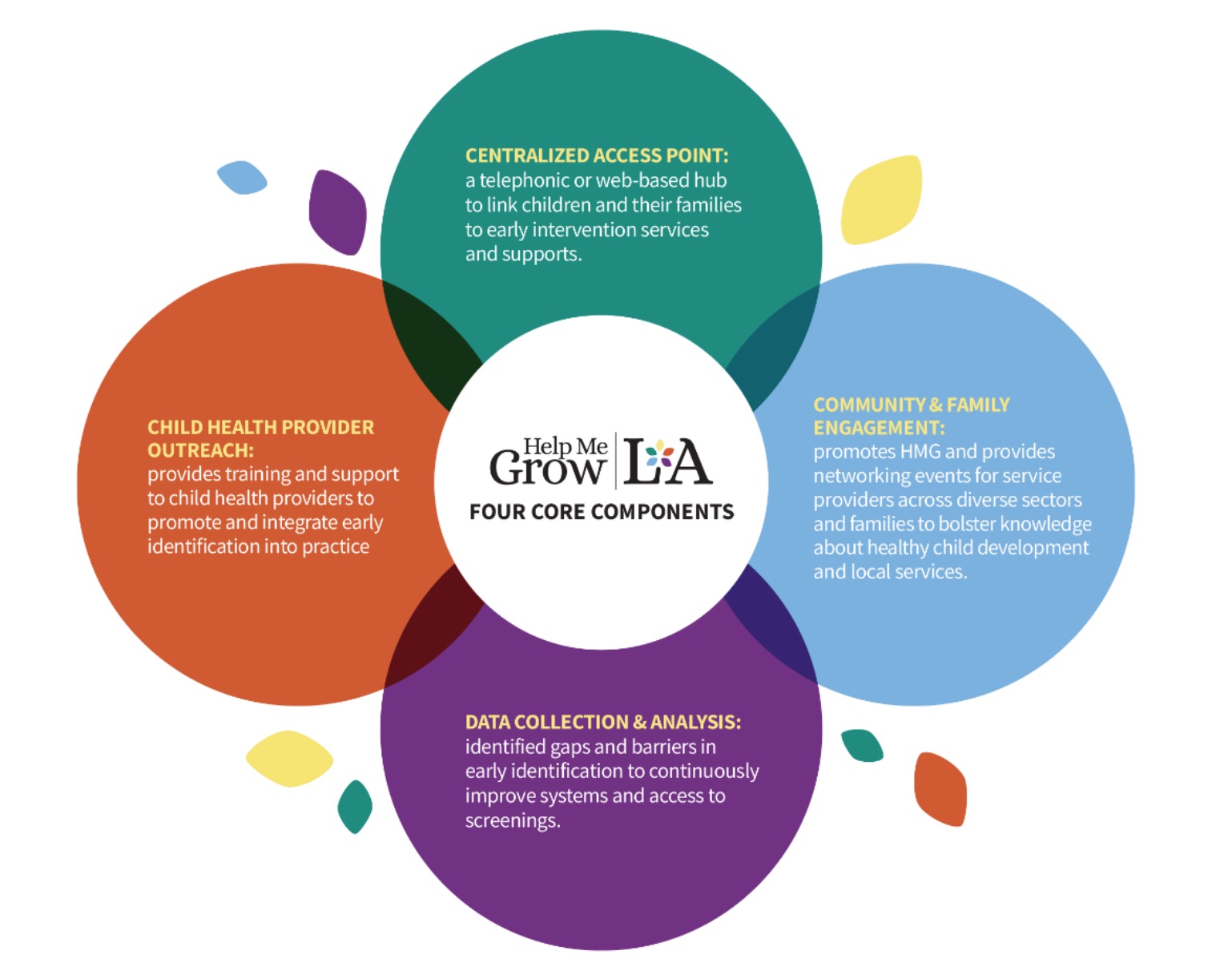 Community & Family Engagement Council  
The Community Family Engagement Council (CFEC) is an advisory group to HMG LA comprised of 12 parent champions, parents and caregivers with community leadership and outreach experience. The role of CFEC is to help ensure early childhood services and resources meet the needs of families with children with, or at risk of, behavioral and/or developmental delays and disabilities. Current members include: 
Jessica Chandler, Parent, Activist, Social Worker – Department Children and Family Services (DCFS) 




Ereida Galda, Parent, Family Support and Education Specialist  




Fran Goldfarb, M.A., Parent, Master Certified Health Education Specialist (MCHES), 

Certified Parent Support Provider (

CPSP)  




Linda Landry, Parent and Activist   




Cathay Liu, Parent and Member of the Chinese Parents Association for the Disabled (CPAD) 




Karen Nutt, Parent, Director of Child Development Services – Braille Institute of America  




LeeAnn Keene Paddock, Parent, Foster Care Advocate 




Lisa Schoyer, M.F.A., Parent, Countywide, Regional Center Liaisons Coordinator 0-5, Los Angeles County Department of Public Health (LACDMH)  




Kathy Schreiner, Community Advocate, Best Start Panorama City  
Systems Synergy Council
The HMG LA Systems Synergy Council (SSC) is a group of leaders representing the key systems that comprise the early identification and intervention (EII) continuum in L.A. County: school districts and local education agencies, child welfare, early care and education, community-based organizations, mental health, health care, regional centers, and family resource centers. The role of the SSC is to help advance HMG LA and EII efforts in their organizations and in L.A. County, creating synergy across systems and helping to ensure health equity for children and families in L.A. County. Members include:
(

SSC Co-chair) Yvette Baptiste, Ph.D. Executive Director, Eastern Los Angeles Family Resource Center 




(SSC Co-chair) Marian E. Williams, Ph.D, Associate Professor of Clinical Pediatrics, 

University of Southern California and Children's Hospital Los Angeles

Rochelle Alley, M.B.A. CEO, Big Orange Splot, LLC 




Carlo De Antonio M.D., FAAP, Director Clinical Services, North Los Angeles County Regional Center (representative for Los Angeles County Regional Centers)  




Manuel Carmona, M.P.A. EMPH '22, Deputy Director, City of Pasadena Public Health Department 




Ying-Ying Goh, M.D., MSHS. Director and Health Officer, City of Pasadena Public Health Department 




Alice Kuo, M.D., Ph.D, MBA Professor and Chief, UCLA Medicine-Pediatrics, Director, UCLA Center of Excellence in Maternal and Child Health & Director, University of California Leadership Education in Neurodevelopmental Disabilities 




Daphne Quick-Abdullah, M.S. Training Coordinator, MH County of Los Angeles Department of Mental Health 




Belinda Rolicheck, M.S. Manager, Service Coordination, Health Net of California (Medi-Cal) 




Wendy Schiffer, M.S.P.H., B.A. Senior Director of Strategic Planning for L. A. Care Health Plan, L.A. Care Health Plan 




Shannon Thyne, M.D., Director, Health of Pediatrics, LA County Department of Health Services 




Lisa Wilkin, M.Ed. Executive Director, Child Development Consortium of Los Angeles, Inc. 




Nancy Wongvipat Kalev, M.P.H. Director, Health Education/Community Health/Cultural and Linguistic Services, Health Net 
Help Me Grow LA is working to improve connections between providers so that every child receives support for developmental concerns. To that end, HMG LA partners with stakeholders in the community to:
Improve the existing early identification and intervention system 




Enhance referral pathways and improve school readiness support for families  




Ensure all families get access to universal screenings 




Educate families about the importance of child development 
Our current partners include: 
Pathways
The HMG LA Pathways is a three-year investment that brings together agencies and programs, which provide early identification and intervention services for developmental delays, with other agencies and families. The goal of HMG LA Pathways is to improve existing referral pathways through technology, infrastructure and practice change to make sure all children get the services they need when they need it. Agencies that are part of Pathways will create a collaborative within their community and are tasked with planning, testing and refining strategies so that the referral pathways in a community are more coordinated, integrated and multidirectional. Communities overlap with L.A. County's seven Regional Center boundaries to ensure countywide reach. We recognize the important role Regional Centers play in delivering the Early Start program to infants and toddlers (0-3 years old) with or at risk for delays. The five Pathways collaborative unifying agencies, which are part of a unique localized network of partners include: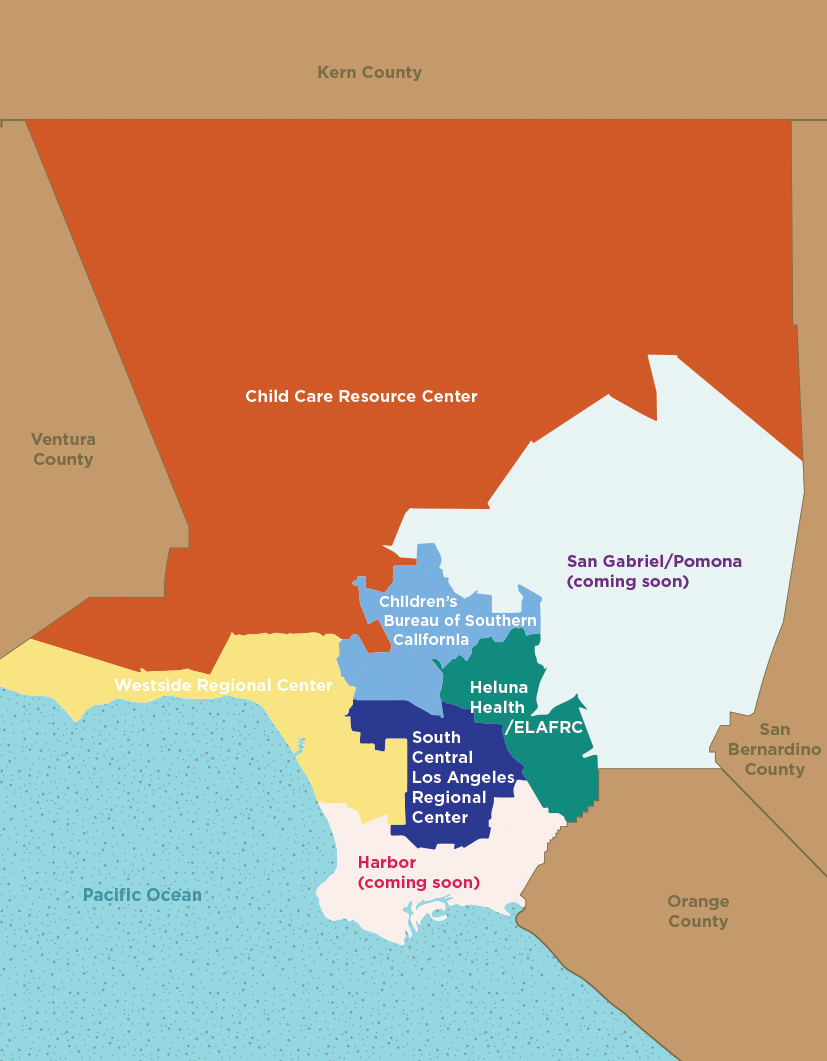 First 5 LA anticipates releasing a separate funding opportunity for the remaining two communities, San Gabriel/Pomona and Harbor/Long Beach in the near future.  
The program implements innovative approaches for community-based providers to embed developmental screening and strengthen referral processes within their practices. The goal is to better identify children with or at risk for developmental delays and connect them and their families to culturally and linguistically appropriate early intervention services and supports as early as possible. The First Connection partnership has offered valuable learnings and promising practices (e.g.: Evaluation, Toolkit) to help inform the planning and implementation of HMG LA. Key partners are: 
The HMG LA partnership with L.A. Care Health Plan is focused on integrating early identification and intervention into practice workflow, as well as increasing awareness and education on the importance of developmental screenings and monitoring across health providers, clinics, community organizations and families. The partnership will leverage L.A. Care's network of providers, infrastructure and expertise, as well as its Family Resource Centers/Community Resources Centers to reach providers, families and children.   
We all want the best for our children. You are not alone. Help Me Grow LA is here for you when you need extra support to help your child thrive! Help Me Grow LA:  
Connects all families to free or low-cost programs to benefit your child's development.  




Helps you get the answers you need about your child's growth milestones.  




Provides information and support during times of need.   
Tools & Resources for Your Child's Development 
HEALTHCARE & COMMUNITY PROVIDERS
Healthcare providers are often the first line of defense. Screening early leads to more successful long-term outcomes. Together, we can make sure all families are supported and provided resources to benefit their child's developmental health. Help Me Grow LA:  
Offers resources and support on best practices around developmental screening.

Is for families and providers. 
Kids are resilient. Help make the system better for the families you serve in your community. Together, we can improve the referral process for all families. Help Me Grow LA:
Is working to improve connections between providers so that every child receives support for developmental concerns.
Will offer free resources on having child development conversations with parents.
Will provide navigation support to partners in the community for families who may not qualify for services at a Regional Center or through their school.
Below are resources and tools to support the delivery of high-quality early identification and intervention:
---
Related Articles: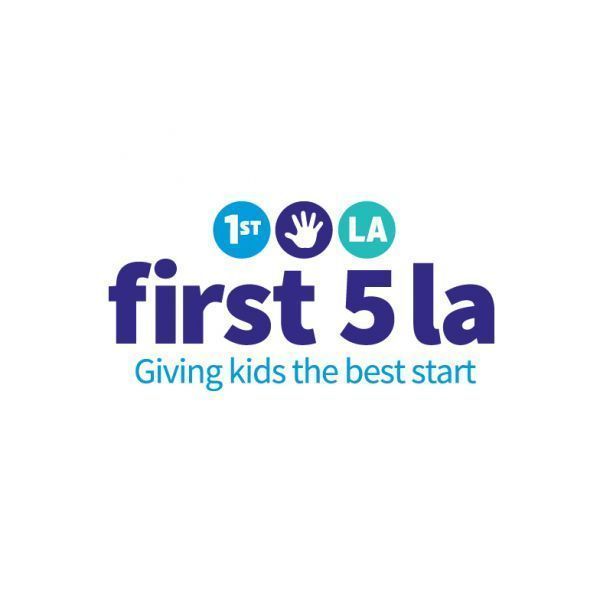 Funding Will Focus on Connecting Families, Who Have Developmental Concerns, to Existing Services LOS ANGELES, October 1, 2020 — First 5 LA today announced a $2,250,000 investment across five community partners to strengthen and expand referral pathways to better...