POSTING DATE: April 5, 2021
CLOSING DATE: 5:00 p.m. PT on June 4, 2021
UPDATE: April 14, 2021 – The following have been posted under Informational Webinar
Informational webinar recording and presentation slides
UPDATE: April 30, 2021 – The following has been posted under the Questions and Answers section
UPDATE: May 3, 2021 – The following has been posted under the HMG LA Pathways RFP: Interested Organizations and Individuals section
HMG LA Pathways RFP Interested Organizations and Individuals excel sheet
UPDATE: May 11, 2021 – The following has been posted under the HMG LA Pathways RFP: Interested Organizations and Individuals section
HMG LA Pathways RFP Interested Organizations and Individuals excel sheet
ELIGIBLE PROPOSERS
Proposers for the HMG LA Pathways Unifying Agency position must meet the following minimum requirements:
Must provide at least one of these services along the EII continuum: developmental or behavioral delay identification (i.e., surveillance and screening); assessment; referral to developmental or behavioral intervention services; care coordination/case management; and/or prevention or intervention services for children with or at risk of delays.
Minimum of five (5) years of operation as a legal entity.
Minimum of five (5) years successfully managing contracts (e.g., administration of contracts awarded to agency).
Three (3) years of experience managing subcontracts (e.g., overseeing the work that the agency has contracted with another agency or individual to perform).
DESCRIPTION
This solicitation seeks proposals from organizations interested in serving as a Unifying Agency that will provide support for the HMG LA Pathways community within a given geographic region (see map in Appendix A). Two (2) organizations will be selected to provide support for regional level functions to test innovative approaches to strengthen referral pathways across the EII continuum in their respective communities (San Gabriel/Pomona and Harbor) that will inform the foundation for countywide systems change.
Organizations can apply to serve as a Unifying Agency for more than one HMG LA Pathways community but are required to submit a separate application for each community. It is expected that the Unifying Agency will develop a collaborative that includes both Collaborative Agencies (subcontractors that support implementation and learning) and Supporting Partners (community stakeholders who provide input such as child- and family serving agencies, community-based and faith-based organizations and parent representatives) that will work together to fulfill the functions discussed below. It is the expectation that proposals will include the proposed subcontractors that will collectively serve as the Collaborative Agencies for each HMG LA Pathways community.
Cover Letter – PDF
HMG LA Pathways RFP – PDF
For Information Purposes
For Submission
INFORMATIONAL WEBINAR
Please find below the recording and the presentation slides for the Informational Webinar that occurred on April 14, 2021.
HMG LA Pathways RFP Wave 2 Info Session Presentation Slides
QUESTIONS AND ANSWERS
To ensure that all potential applicants receive the same information, questions and answers will be compiled and posted on this webpage. All questions and requests for additional information regarding this RFP must be received in writing by First 5 LA via email before 5:00 p.m. PT on May 25, 2021 and answers will be posted on the website on: April 30, 2021 and May 28, 2021. First 5 LA reserves the sole right to determine the timing and content of the responses to all questions and requests for additional information. First 5 LA may respond to individual inquires and then post replies to all questions by the posting date.
Please see below for Questions and Answers:
HMG LA PATHWAYS RFP: INTERESTED ORGANIZATIONS AND INDIVIDUALS
An integral component of the Help Me Grow Los Angeles Pathways communities is that partners work collaboratively to achieve their goals. To facilitate this, First 5 LA will post the list of interested organizations and individuals for the purpose of further fostering collaboration and connecting potential proposers and partners. To enter your information, click here; please enter your information by May 25, 2021.
Please see below for List of Interested Organizations and Individuals:
No additional organizations and individuals were entered past 5.11.2021
DEADLINE TO APPLY
An application packet complete with required documents must be received by First 5 LA no later than 5:00 p.m. PT on June 4, 2021. Please review the RFP's Timeline for Selection Process to ensure availability during the review activities.
HOW TO APPLY
To respond to this RFP, please submit your proposal and all required documents through the online application system designated by First 5 LA by no later than 5:00 p.m. PT on June 4, 2021.
Step 1: Create a user account by clicking here.
Step 2: Once a user account has been created, please select the link corresponding to the Community to which you are applying for: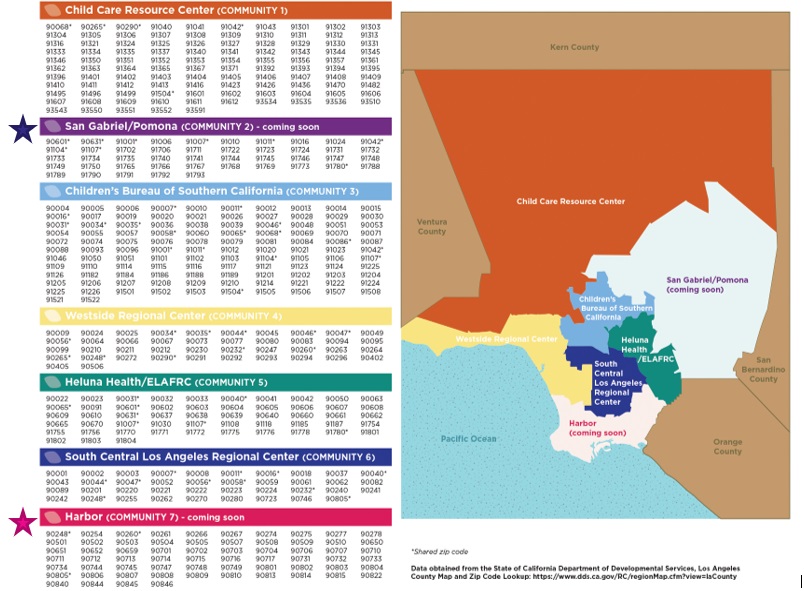 COMMUNITY 2: Please access the application for Community 2 here
COMMUNITY 7: Please access the application for Community 7 here
Step 3: Once an application has been started, click here to modify and/or submit your application. Please do not create a new application once you have started your application.
For help with the online application click here.
Applicants must submit all required documents specified in the RFP through this online form. It is highly recommended that you print a copy of your application for your records prior to clicking "Submit." To do this, click "Printer-Friendly Version." You should review the printed copy prior to submitting the application electronically. In addition, you should ensure that the attachments were successfully uploaded by reviewing the list of attachments included.
NOTE: Once the online application is submitted, proposers cannot make edits.
ADDENDA
Please check this Funding Center webpage regularly for updates and addenda. First 5 LA has the right to amend this solicitation by written addendum. First 5 LA is responsible only for that which is expressly stated in the solicitation document and any authorized written addenda thereto. Such addenda shall be made available via the online funding center. Failure to address the requirements of such addendum may result in the proposal not being considered, at the sole discretion of First 5 LA. Addenda to this solicitation, if any, will be posted on this webpage. It is the responsibility of applicants to ensure, prior to submission, that their application reflects the most recent information and RFP requirements.
CONTACT US
All questions and requests for additional information regarding this RFP must be submitted via email to Abigail Proff, Contract Compliance Officer, at [email protected].