---
"Sacramento, as big and influential as it is, is not an island unto itself." – First 5 LA Vice President of Policy and Strategy Kim Pattillo Brownson.
Jutting out above the verdant sea of farmland in the San Joaquin Valley, Sacramento stands like a modern day island of promise, inhabited by state lawmakers who wield the power of policy and systems change that shape the lives of Californians statewide.
As members of First 5 LA and 42 other First 5 Commissions gathered in Sacramento on April 30 for Advocacy Day, to urge lawmakers to prioritize early childhood legislation and investments, good fortune was already with them in the form of a new governor who had staked his claim to the future of young children and families in his proposed 2019–2020 state budget.
Many of Gov. Gavin Newsom's proposals align with the priorities of First 5 LA and other First 5s, and — when combined with other early childhood legislation proposed by lawmakers and supported by First 5 LA's advocacy agenda — represent a true shift in the wind.
"We have the wind with us, but the wind is not a foregone conclusion," said First 5 LA Vice President of Policy and Strategy Kim Pattillo Brownson on the eve of First 5 LA's 28 meetings with lawmakers to advocate for early childhood proposals and investments. "This is a huge partnership project. A recipe for readiness meets opportunity. We and the governor are ready. Now the rubber meets the road to make sure the legislature follows through."
Yet, passage of the governor's early childhood budget proposals (revised on May 9) and those early childhood bills are far from guaranteed.
As it has shifted its role to prioritize advocating for the well-being of the nearly 700,000 young children who reside in L.A. County — about one third of all children under the age of 5 who live in California — First 5 LA is using every tool in the advocacy toolbox to make an impact. From fact sheets to phone calls and face-to-face meetings joined by sister First 5s statewide, Advocacy Day marks the largest one-day effort to influence lawmakers.
For retired pediatrician and Commissioner Sylvia Swilley, her first Advocacy Day was a chance to deliver a message on the importance of children's health from the doctor's office to lawmakers' doorsteps.
"There is so much more to the well-being of a child than just not being sick," she said. At the same time, she added, "I'm learning how government works. This is the People's House. It belongs to the people, and I'm the people. This gives me the opportunity to learn and share with others back in our community."
As a new Advocacy Day dawned, First 5 LA's team would unearth common ground with lawmakers and, in the process, experience a trove of triumphs, treasured moments and fantastic firsts.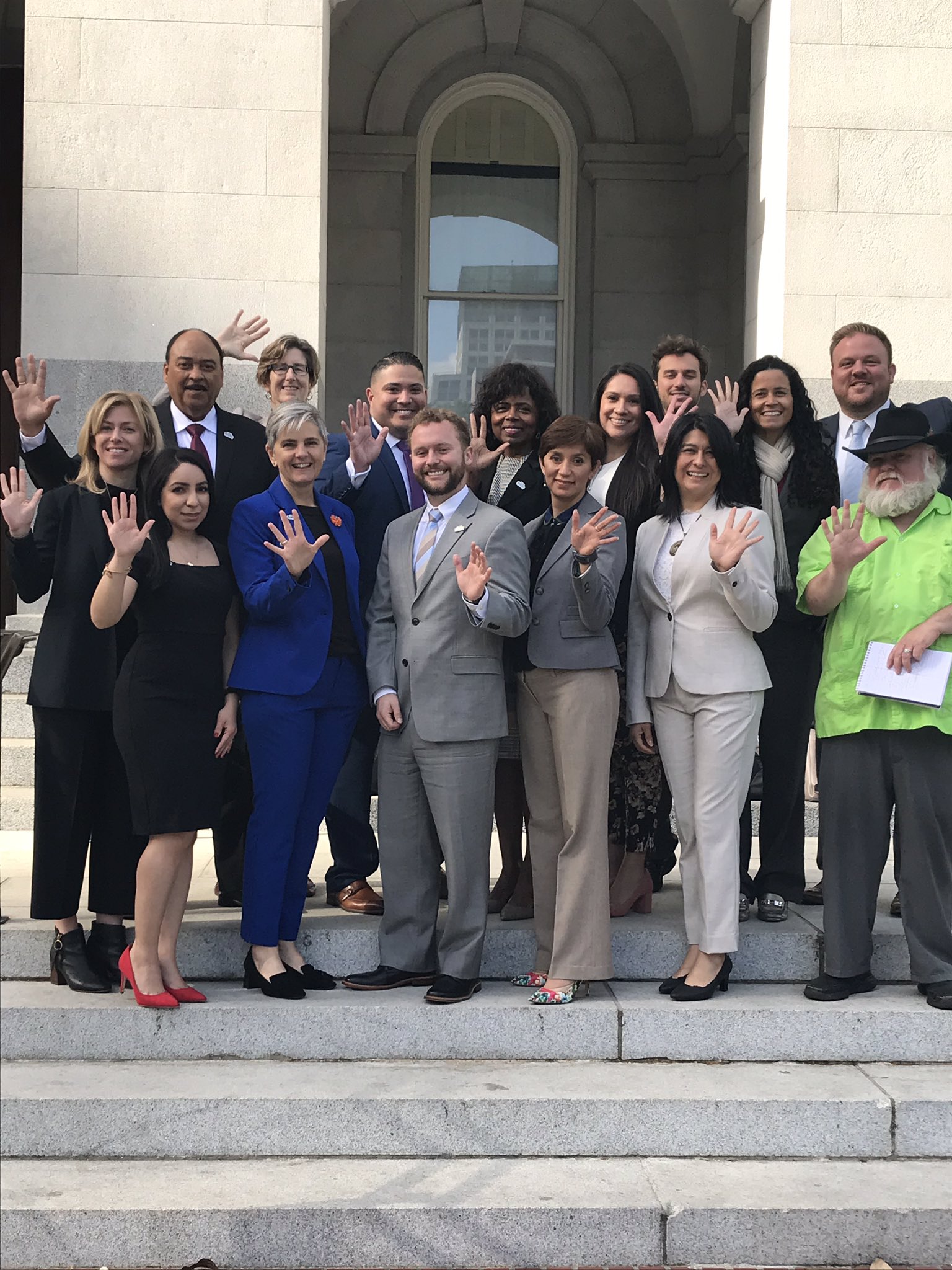 Pictured Top [L-R]: Early Care and Education Director Becca Patton; Commissioner Romalis Taylor; Executive Director Kim Belshé; Senior Government Affairs Strategist Jamie Zamora; Commissioner Sylvia Swilley; Communications Manager Marlene Fitzsimmons; Policy Analyst Andrew Olenick; Policy and Strategy Vice President Kim Pattillo Brownson; Public Policy and Government Affairs Director Peter Barth [Bottom L-R]: Government Affairs Strategist Anais Duran; Strategic Partnerships Specialist Kim Milliken Hayden; Policy Analyst Taylor Ferguson; Community Relations Officer Alejandra Marroquin; Community Relations Manager Fabiola Montiel; Writer and Editor Jeff Schnaufer
FANTASTIC FIRST PARTNER
How do you top last year's 20th Anniversary celebration of First 5s, held during Advocacy Day 2018 in Sacramento?
With a fantastic first.
In a sign of support from Gov. Newsom, Advocacy Day featured the participation of Newsom's spouse and California's First Partner, Jennifer Siebel Newsom, and their 3-year-old son, Dutch.
The First Partner appeared in a number of events in support of First 5s and Día De Los Niños on the north lawn of the Capitol. She began by reading a bilingual picture book, Book Fiesta, to dozens of young children to emphasize the importance of bilingual education.
Not only does Siebel Newsom believe in it, she said California's First Family lives it every day. "In our home, we speak both English and Spanish, because it's part of how we make sure we are raising global citizens," she said.
Standing on the steps of the Capitol, Siebel Newsom later spoke to the assembled crowd of more than 100 families and early childhood advocates. "Today, we celebrate our commitment to our children," she said. "Every child deserves the best start in life, no matter the color of our skin. In California, we celebrate and uplift our diverse communities."
Touting the $3 billion in early childhood investments proposed in the governor's budget, she noted, "The way we invest in our babies in the earliest stages shapes who they are. We have to take a whole-child, whole-family approach to raising healthy children. Gavin likes to say a budget reflects our values. And this budget shows over and over again that California values its children."
WHEN SEEDS BEAR FRUIT
The seeds of First 5 LA's increased emphasis on advocacy in recent years, through the cultivation of connections and partnerships, could be seen bearing fruit in several meetings with lawmakers.
In a meeting with Senator Connie Leyva (D-Chino), First 5 LA Executive Director Kim Belshé found common ground in early education, thanking Leyva for her leadership as Chair of the Senate Education Committee and the California Legislative Women's Caucus. Last July, First 5 LA arranged for Leyva to tour a family child care center as part of its connection cultivation efforts.
Commissioner Romalis Taylor with Senator Connie Leyva
"It's such an exciting opportunity to build on the work you have been leading for years in early education, and the governor is following through on it," Belshé said.
"K–12 is really my passion," Leyva said. "When it comes to preschool, I tell the other lawmakers, 'If we don't make it work for kids there, they're not going to make it to higher ed.'"
Belshé took the opportunity to note First 5 LA's investment in expanding Kindergarten Readiness Assessment in Los Angeles County.
"One of the challenges is that there is not a clear and consistent way to measure kindergarten readiness," Belshé said. "Coming up with a kindergarten readiness assessment can be a powerful policy and systems change tool. We can share our learnings." Leyva replied, "I love it. Please share that."
Commissioner Romalis Taylor noted First 5 LA's support for the governor's proposal to invest $245 million in child care facilities, particularly in underserved communities. "These communities deserve quality child care," he said.
"I'm with you 1,000 percent," Leyva responded. "If they don't have good facilities for our babies and toddlers, how are they going to learn?"
Learning to understand and accept others is another important lesson of early education, Leyva added.
"I remember when my girls were in preschool," she said. "They met other kids they didn't know at all.
They went to their parties. There is no racism unless taught."
ALL IN THE FAMILY
When the First 5 LA delegation met with Deanna Jarquin, legislative aid for Assembly Majority Leader Ian Calderon (D-Whittier), the importance of ECE was already on her mind. Not just because she had begun staffing education, but because ECE was a family affair in the office.
"My mom is in home child care and getting her master's degree in early childhood education," Jarquin said. "I will get regular texts from her saying, 'You should read this bill, not this one.' So I'm doing my homework."
Jarquin added that Calderon is more keenly aware of the challenges of early care than ever. "He's a new dad," she said. "He has always understood that child care is very expensive, but I think it's become more palpable."
This led to discussion on which investments can help children succeed in life, as well as support for parents such as home visiting and community empowerment endeavors like First 5 LA's Best Start initiative.
"First 5 LA isn't saying what's important," said Community Relations Officer Alejandra Marroquin, "we're listening to the parents about what they need. The parents are working in their communities."
Marroquin cited the efforts of parents within the Best Start El Monte – South El Monte Community Partnership — many of whom live in Calderon's district — where "parents identified a need and helped the city get more than $5 million in funding for improvements to Zamora Park."
Like many family-focused gatherings, the meeting ended with an invitation — this one for Calderon to visit with these same parents and learn how First 5 LA is empowering communities to give their children the best start in life.
MAKING A CONNECTION, MAKING A DIFFERENCE
During one meeting, First 5 LA delegates asked Senator Scott Wilk (R-Santa Clarita) for his support on AB 1004, which will improve access to developmental screenings. Senator Wilk shared that a developmental screening identified a delay for his then-young daughter. As a result of early diagnosis and intervention, she was able to receive the help she needed to thrive. Today, she works as a teacher.
After this touching moment was shared, Senator Wilk agreed to support AB 1004, as he knows firsthand the impact it can have in a child's life trajectory.
Pictured [L-R]: Community Relations Officer Alejandra Marroquin; Senator Scott Wilk; Government Affairs Strategist Anais Duran; Commissioner Romalis Taylor
RAISING FUTURE ADVOCATES
For First 5 Sacramento Commissioner Christina Elliott and her daughter Adelyne, it marked the last time the two would come to Advocacy Day together. "She's graduating from preschool," Elliott said of her 5-year-old, who has accompanied her to legislative meetings for the past few years. Then she added with a smile: "Maybe she'll graduate to be an advocate here next year. Maybe she can help get what the other kids need."
First 5 Sacramento Commissioner Christina Elliott and her daughter Adelyne
HOW SWEET IT IS
First 5 counties from across the state reported on the positive legislative meetings that had taken place in the Capitol and the prioritizing of young children and families, noted First 5 California Executive Director Camille Maben.
"It was incredible," Maben said. "Advocacy Day gets bigger every year, the majority of counties were represented, our early learning and care partners participated, and of course having the First Partner address the crowd demonstrated how First 5's influence has continued to grow."
Added Commissioner Taylor: "We had one unifying presentation on what we are trying to put forward from all First 5s, based on what the governor had already agreed to do, and that was across the board. That was outstanding. We all spoke with one voice."
But the sweetest moment of the day, Maben said, "was watching the First Partner and her youngest child participate in all the activities on the Capitol lawn. The love, laughter and fun they had together was a perfect example of the power of talking, reading and singing."
Indeed, as the day's events drew to a close and most of the cameras and crowds had filtered away, Siebel Newsom and Dutch just kept laughing and playing on the yoga mats together.
"This is what should happen on the lawn every day," First 5 Association Health Policy and Systems Director Heather Little said to the First Partner.
"That's a great idea," Siebel Newsom replied. "Gavin would love that."