First 5 LA's priorities are driven by our vision and commitment for all children of Los Angeles County families to enter kindergarten ready to succeed in school and life. First and foremost, we recognize the essential and critical role families play in their child's development. When families are strong and communities are supportive, children have a far better chance of achieving their optimal development and acquiring the skills necessary for success. It's why we recognize that families are at the center of our work.
We believe that First 5 LA can achieve this vision by focusing on a core set of principles, known as our investment guidelines, which provide an overarching direction for all of our work. Underscoring our emphasis on prevention, these guidelines help strengthen families and build services and supports that can best contribute to children's healthy development from their earliest moments in life. Rather than trying to intervene and remediate negative experiences, preventing poor outcomes for children is the most important role for First 5 LA.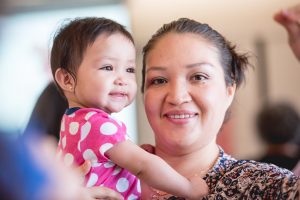 Secondly, given L.A. County's population of over 650,000 children prenatal to age 5, we know that the best way for us to make an impact on all children is to focus on the publicly funded and community-level systems and policies that impact families. Our Policy and Systems Change Agenda articulates the goals of our collective efforts.
Our focus on health systems, for example, plays a key supportive role in children growing up healthy and receiving the medical and behavioral services that they all should receive. Unfortunately, evidence indicates approximately 70 percent of children ages 0–6 in California are not receiving recommended developmental and behavioral screenings as documented in the 2017 report, Promoting Children's Optimal Development, creating barriers to accessing early intervention that could address developmental delays.
Similarly, we recognize that families need access to quality early care and education services to help parents and to support early learning. Despite extensive research demonstrating the value of quality early learning experiences, the 2017 Needs Assessment documented the shortage of infant and toddler care, the decline in family child care homes and the high cost of child care.
Finally, services only work for families if they are available to families. That availability requires geographic, cultural and operational accessibility. At a community level, this means working with parents and local leaders to ensure that the neighborhoods in which families live prioritize young children and families, particularly those that are most disadvantaged from historical disinvestment. Through advocacy, working with leaders of the systems, and funding effective programs that can demonstrate the value of prevention services, First 5 LA is working to make the systems that are designed to support and work for families.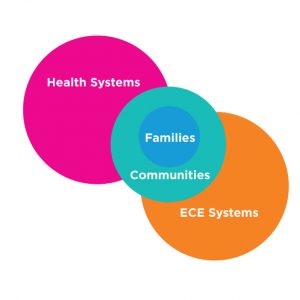 In addition to our work within LA County, First 5 LA recognizes that decisions made by state and federal policymakers directly impact LA's children. To that end, First 5 LA leverages the expertise derived from our local work to shape state and federal policy, and prioritizes advocacy opportunities through our Legislative Agenda.
While our work is organized in priority outcomes areas, we know that systems supporting families must be integrated. Our staff work together to support children's readiness for schools and parents who are empowered and engaged to facilitate their children's healthy development. First 5 LA is working to make these systems and services work for families, because we know — whether we're focused on parents having access to a home visitor at the time of their child's birth, a pediatrician that can help them identify the best developmental supports for their children, a high quality preschool program, or friends and peers within their community — strong parents and families are the best investment for children's healthy development.
---
---
---
---