For This New Mom, a Doula was the Key to Joyous Childbirth
---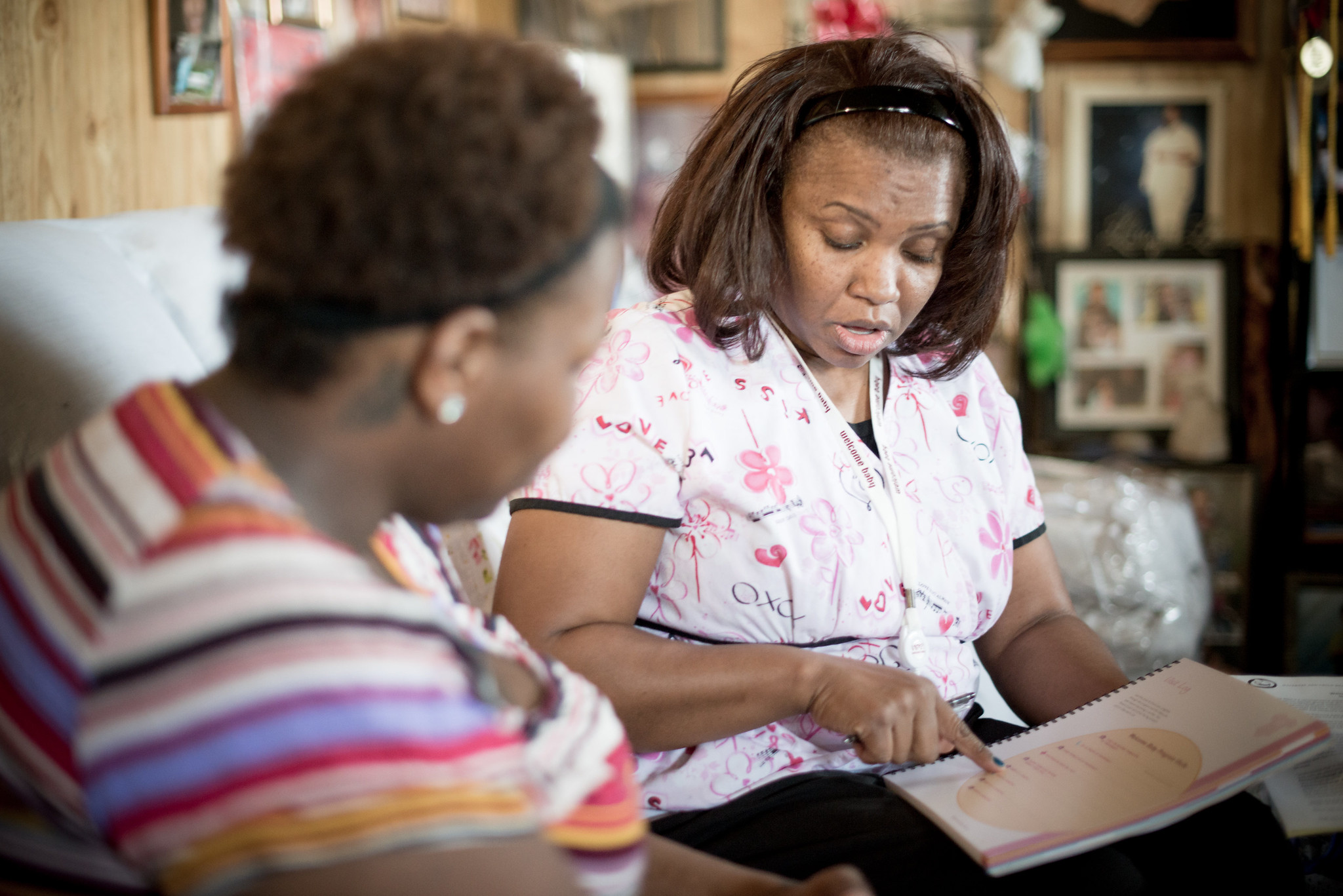 When Terika Hameth found out she was pregnant last year, her initial joy was soon overwhelmed by anxiety. "I thought, 'What if I die?'" she said.
Her fear was not misplaced. Black women in Los Angeles County are four times more likely to die from pregnancy complications than mothers of any other ethnic group. Black infants are more than three times as likely to die in their first year than white babies and more than five times as likely as Asian.
As Hameth's pregnancy progressed, so did her anxiety. She saw a different doctor at every checkup and, as a first-time mother, asked a lot of questions. She felt one physician had been particularly dismissive of her concerns. 
"I wouldn't say it was a terrible experience, but I wasn't too excited about it," she said. "I was definitely quite anxious."
Hameth had a friend who was a doula, a professional childbirth companion, and thought a doula could be ideal to shore up her support system as her mother and other relatives lived out-of-state. So, when she heard a radio ad for an L.A. County pilot doula program for Black expectant mothers, she immediately called and was soon interviewing three doulas over Zoom. She selected the one she connected with most. An added bonus, she also had a background in dealing with anxiety issues.
"As a new mom, I had no clue what to expect, but I wanted to try to have the best experience possible," Hameth said. 
The remaining four months of Hameth's pregnancy went a lot smoother. The doula assigned her reading material and even homework of answering questions from the readings. She taught her techniques for managing anxiety and stress such as breathing control and explained delivery options and procedures like epidurals, as well as medical terms. The doula also gave her a fitness program with an exercise ball. Whenever Hameth had a concern, she could text or email her doula and get a fast response. "She calmed a lot of my anxieties," Hameth said. 
When Hameth felt contractions two weeks before her due date, she contacted the doula, saying she wasn't sure if they were Braxton Hicks contractions (false labor pains) or the real thing. "She asked how far apart they were and then she came right away and made me as comfortable as possible to get me to the hospital," Hameth recalled. 
Due to COVID-19 policies, the doula could not be physically present in the delivery room. However, she remained in communication with Hameth via FaceTime until Hameth gave birth to a healthy, 6-pound, 13-ounce, 21-inch boy named Kaleb. "She stayed on the phone with me the whole time," Hameth said. "All the fear, all the anxiety that I had didn't even cross my mind when I was giving birth."
Post-partum, the doula checked in with her to ensure she wasn't depressed and was bonding well with the baby.
"She made me feel more secure, more confident. I knew what questions to ask and how to advocate for myself," Hameth said. "Why wouldn't you go into it without a doula?" 
The LA County Department of Public Health is leading a broad African American Infant and Maternal Mortality (AAIMM) Initiative to combat disproportionately high rates of Black/African American infant and maternal deaths countywide. Doulas are part of the solution.
If you are an expecting Black mother, you may qualify for free doula services through L.A. County's Doula Program. Click here to learn more.