---
January 28, 2021
When David Diaz looks at the closed Norwood Elementary School in El Monte, he doesn't see vacant classrooms and weed-covered asphalt. He sees a park designed especially for children up to age 5, with a safe playground, smooth pathways for strollers, a grassy field with plenty of space for kids to run around (not to mention ample seating for moms and dads), child-sized water fountains, and restrooms with diaper-changing tables.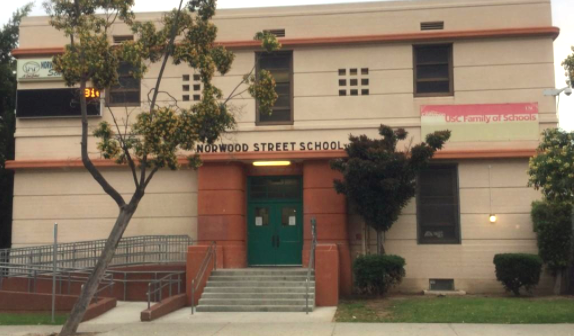 "Parks play an essential role in the development of children," says Diaz, a lifelong resident of El Monte and neighboring South El Monte, who is also a dad to a seven-month-old boy. "They're spaces for communities and connections, to introduce people to nature, for well-being. I still have friends I made playing Little League. I want my son to have that too."
Diaz's vision may soon turn into reality. El Monte is one of four cities participating in the initial phase of Link Government, Advocates, Families and Parks, a new long-term park development project spearheaded by First 5 LA.
Link, as it's known for short, aims to overhaul parks and add open space in 14 underserved communities around Los Angeles County — First 5 LA's Best Start communities — as well as promote civic engagement and empower residents to improve the quality of life in their neighborhoods.
According to First 5 LA's recently published report, Pathway to Progress: Indicators of Young Child Well-Being in L.A. County, only half of all L.A. County children live within walking distance to a park. This can be even less — depending on the neighborhood — within some Best Start geographies such as El Monte, where only 42.9 percent of children under 5 live within walking distance to an open space.
"We want to find ways to elevate parent voices in our Best Start communities, and parks and open spaces are critical for kids and families," said John Guevarra, Program Officer for First 5 LA.
The first phase of the project has gathered $900,000, with $600,000 contributed by First 5 LA and $300,000 from two private philanthropic organizations, Resources Legacy Fund and The Rosalinde and Arthur Gilbert Foundation. Link's strategic partners also include The Water Foundation, Enterprise Community Partners, and L.A. County Regional Parks and Open Space District.
Eventually, Link plans to harness the revenue generated by Los Angeles County's Safe, Clean Neighborhood Parks & Beaches Measure (Measure A), a parcel tax approved by voters in 2016, as well as contributions from other public funding sources and foundations. Measure A generates $94.5 million a year for parks and open space throughout the county.
Link projects in each participating community — Panorama City in the San Fernando Valley, El Monte, and the cities of Maywood and Cudahy in L.A. County's Southeast area — will include a community-based organization to engage residents to provide input on local needs, as well as a park expert to provide technical assistance in applying for public funding and developing park plans in collaboration with the municipal government.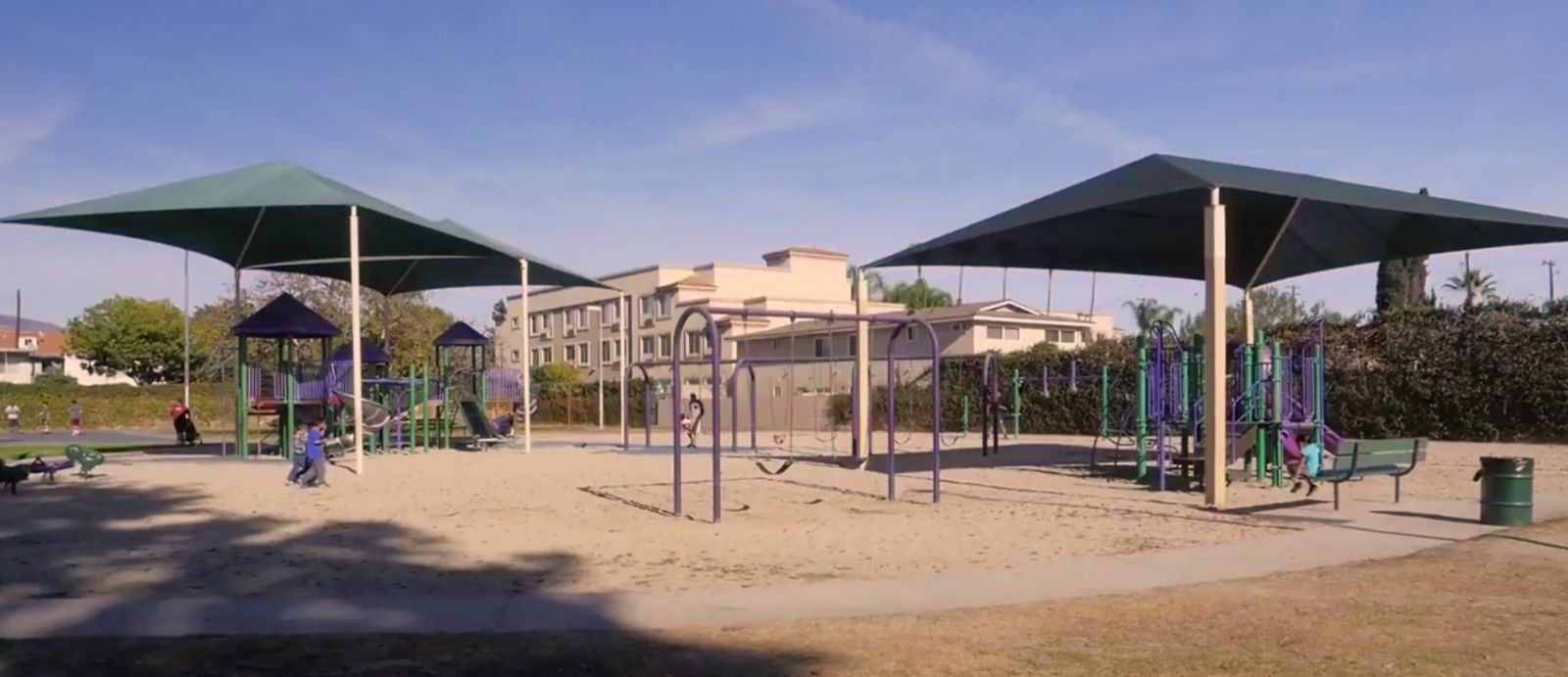 It's a model that proved successful with the revitalization of Zamora Park in El Monte in 2018-2019. That project combined a $75,000 gift from The Rosalinde and Arthur Gilbert Foundation with a $3.7 million grant from the California Natural Resources Agency, as well as $2.3 million in federal Community Development Block funds obtained by the city. Technical assistance was supplied by the Trust for Public Land, a nonprofit park developer, while residents in First 5 LA's Best Start El Monte/South El Monte Community Partnership provided input about what they wanted in their new park. The renovation turned a poorly lit, graffiti-filled park with deteriorating equipment into a haven with new plants and trees, walking trails, canopy-shaded playground, fitness equipment and picnic tables.
First 5 LA saw the opportunity to use Zamora Park as a blueprint for renovating other parks in Best Start communities, particularly as Measure A funding is available. "We institutionalized the Zamora Park model of bringing all to a shared table," Guevarra said.
A 2016 park needs assessment by the L.A. County Department of Parks and Recreation showed that the county's low-income areas have the least amount of park space and their existing parks are in dire need of renovation. Another study, Measures Matter by the University of Southern California's Program for Environmental and Regional Equity (now known as the USC Equity Research Institute), found that low-income communities were often hampered in efforts to expand parks by a lack of capacity in local governments and community organizations, as well as failure to include residents' input in the planning and decision-making process.
"In California and L.A. in particular, we've never invested public resources in an equitable way. We're very park-poor in L.A. County," said Alfredo Gonzalez, director of the Southern California office of the Resources Legacy Fund (RLF), a Sacramento-based NGO that works to both conserve natural resources and ensure they are distributed equitably. RLF will serve as manager of Link's pooled funds.
The Gilbert Foundation, which invests in community health through smart land use in L.A. County, came on board the project, as parks present a critical opportunity for exercise and fitness to help reduce high rates of obesity and diabetes in low-income areas. The foundation also champions community empowerment related to parks, said Lisa Craypo, consultant and program officer at The Gilbert Foundation.
"Oftentimes, residents are not part of the equation," she said, noting that some parks have dilapidated tennis courts that were built decades ago and have not been used in years. "Parks are not meeting residents' needs."
Besides simply wanting more parks, residents typically point to amenities such as fitness equipment, better lighting to discourage crime, and play structures and programs for all ages as top needs for parks, Craypo said.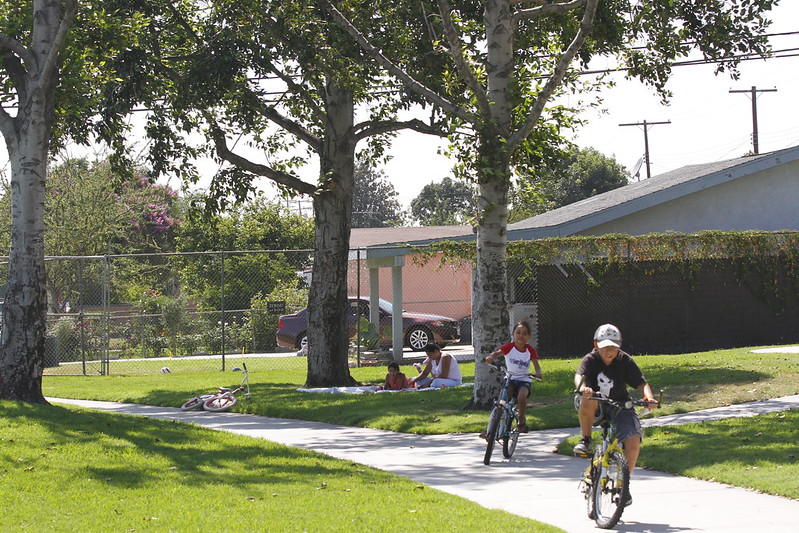 While Link plans to seek vacant parcels that can be turned into parks, due to the high cost of land in L.A. County, renovations of existing parks may be more feasible. Vacant plots may also be contaminated with industrial chemicals, so remediation adds to the cost, Gonzalez said.
In El Monte, Diaz, who is executive director of Active San Gabriel Valley, a local community organization that is representing residents in the city's Link projects, said he's ready with a list of plans for both creating new parks and renovating old ones.
"This is a concrete jungle. We're surrounded by freeways," he said. "Link is a game changer."