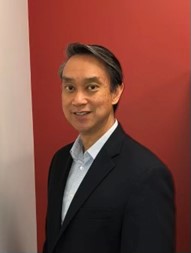 LOS ANGELES (May 25, 2022) – First 5 LA, a leading grantmaker and early childhood advocacy organization, today announced JR Nino as its new Chief Operating Officer (COO). In this senior leadership role, JR will oversee First 5 LA's Center for Operational Excellence to shape and evolve a collective vision for operational excellence, which includes Finance, Contracts Administration and Purchasing, Information Technology, and Facilities teams. 
"JR brings a strategic vision, aptitude, and history of accomplishments in operational excellence and change management that will help lead First 5 LA to become an even higher performing organization. I'm confident JR will help First 5 LA make meaningful progress toward creating strong futures for young children, families, and communities in L.A. County," said First 5 LA Executive Director, Kim Belshe. "We're thrilled that JR has decided to commit his time, talents and energy to advancing First 5 LA's operational excellence goals, and I look forward to him bringing his collaborative and inclusive leadership approach to the organization." 
JR joins First 5 LA from LA Care, a long-time First 5 LA partner and the nation's largest publicly operated health plan, where he most recently served as Senior Director of Contracting and Procurement. In addition to his experience at LA Care, JR brings a wealth of operations experience and leadership to First 5 LA, having previously served as Director of Strategic Sourcing and Procurement at Health Net, Director of Technology and Supplier Performance at Anthem, Senior Consultant at IBM Global Services, Analyst and Consultant at Accenture, and an Officer with the US Navy.  
"The health and well-being of families and communities has been central to my commitment to improving organizational operations," said JR Nino. "I am proud to be part of First 5 LA and look forward to working alongside colleagues to make meaningful progress toward our highest aspirations for L.A. County's children and families." 
###
​About First 5 LA  
As the state's largest funder of early childhood, First 5 LA works to strengthen systems, parents and communities so that children are ready to succeed in school and life. An independent public agency, First 5 LA's goal is to support the safe and healthy development of young children so that by 2028, all children in L.A. County will enter kindergarten ready to succeed in school and life. Learn more at www.first5la.org for latest news and information, follow us on Twitter, Facebook and Instagram.