"At this time we're facing a two-pronged challenge which is: we seem to have to be a little more militant again trying to 'flatten the curve' regarding the COVID-19 pandemic, and yet at the same time, we can't wait for that outcome to do the work that we're assigned to do and that we've taken upon ourselves to do at First 5," Commission Chair Sheila Kuehl said in her opening remarks at the July 9 Board of Commission meeting, which was held telephonically.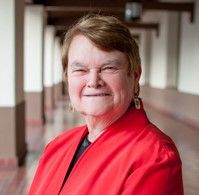 Kuehl stressed the importance of keeping an eye on the prize, as the Board prepared to review and approve the new budget for First 5 LA, as well as key strategic partnerships that would advance the agency's work in mental health services and kindergarten readiness.
First 5 LA Executive Director Kim Belshé agreed, noting, "Work does go on, and work has been going on for staff, for our partners, in communities and for the Board as well. I think I speak for all of us in terms of acknowledging that these past four months have really tested us all at a personal level, and at a professional level, and at a civic and policy level."
After updating the Board on the status of First 5 LA's remote work, which will continue through the end of 2020 in response to the pandemic, Belshé called out the executive director report, explaining to the Board how since May, the team has shifted the structure of the report to reflect First 5 LA's 2020-2028 strategic plan by organizing updates by First 5 LA's result areas.
To view the full executive director report, click here.
The consent agenda was unanimously approved. Highlights include the approval of a new strategic partnership with Olive View-UCLA Education and Research Institute, the fiscal sponsor for the Los Angeles County Department of Health Services in the form of $310,500 over the course of three years.
The funding will work toward expanding pediatric and mental health services for the Strong, Healthy and Resilient Kids (SHARK) program and will specifically support data collection and the strengthening of pathway referrals for youth affected by developmental delays and toxic stress.
To learn more about the partnership, please view this memo.
The Board also voted to authorize First 5 LA to receive two grants. The first was from the State Department of Health Care Services and the Office of the California Surgeon General in the amount of $2250,000. In light of the stress caused to families and kids during the pandemic, the grant will be used to promote Adverse Childhood Experience (ACE) trainings in the L.A. County Medi-Cal provider community.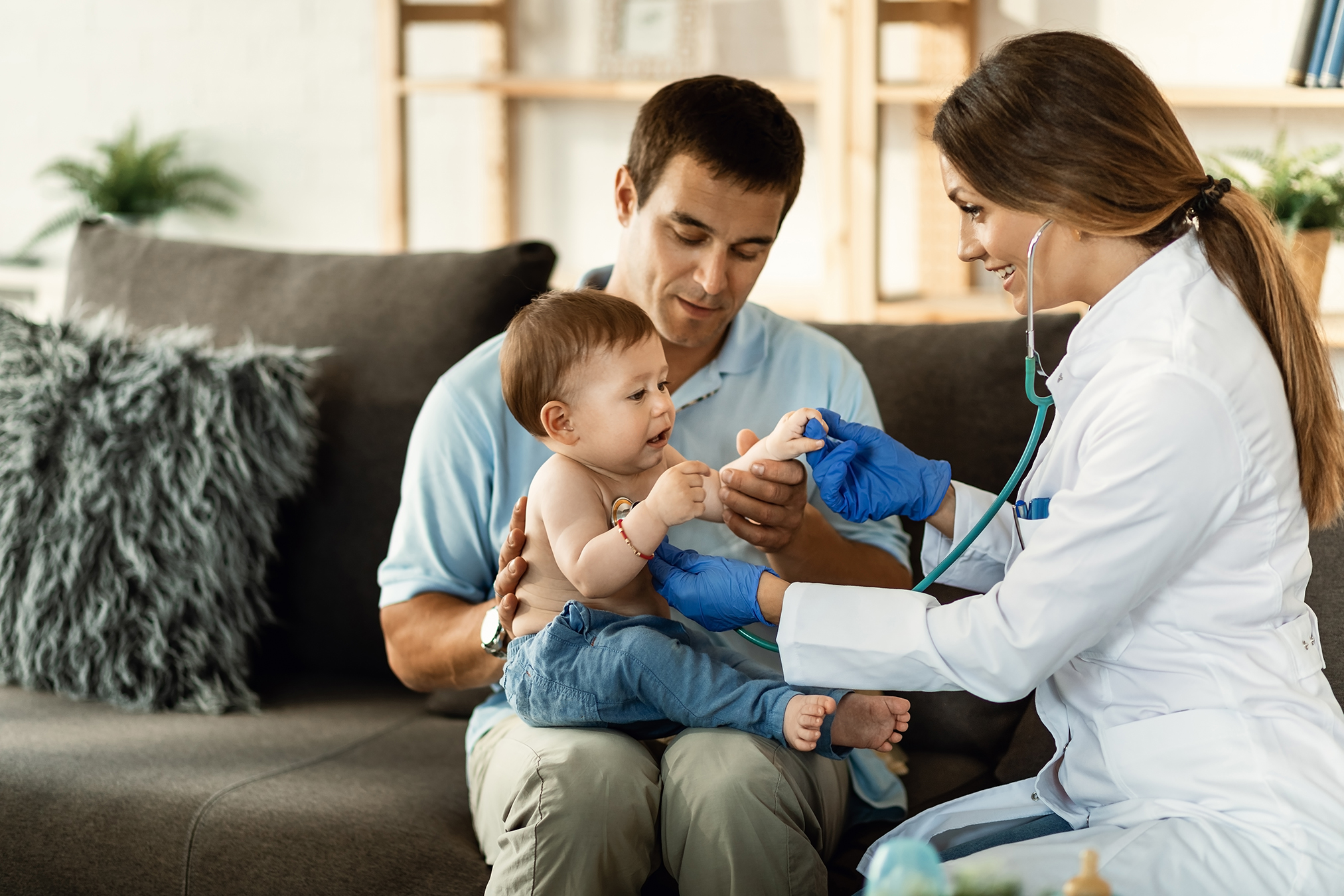 To learn more, please view this press release.
The second grant authorized was from First 5 California in the form of $9,054,135 through June 2023. This funding will go toward advancing Quality Counts California (QCC), a statewide effort to strengthen California's early care and education (ECE) system.
Additionally, $777,000 of the total grant was awarded to First 5 LA — on behalf of Quality Start Los Angeles — as part of First 5 California's Improve and Maximize Programs so All Children Thrive (IMPACT) and incentive layer funding. This amount was approved to establish a strategic partnership with the California Community Foundation, which will use the funding to address the effects of the COVID-19 pandemic on the L.A. County's ECE system and to support access to ECE for L.A. County's most vulnerable children.
To learn more about the grant and the partnership, please view this memo.
Finance Director Raoul Ortega and Financial Planning and Analysis Manager Daisy Lopez presented on First 5 LA's 2020-21 fiscal budget and 2020-28 long-term financial plan.
"I'm proud of this budget because it reflects the hard work of our staff across the organization and the continued work to strengthen families, communities and systems and services to serve the precious children of L.A. County," Ortega said when introducing the presentation.
During the fiscal presentation, Lopez explained to the Board that, given First 5 LA's declining revenues, fund balance and increased priority on addressing sustainability, the agency is moving to implement a higher degree of fiscal discipline through the adoption of a long-term financial plan in place of the long-term financial projection.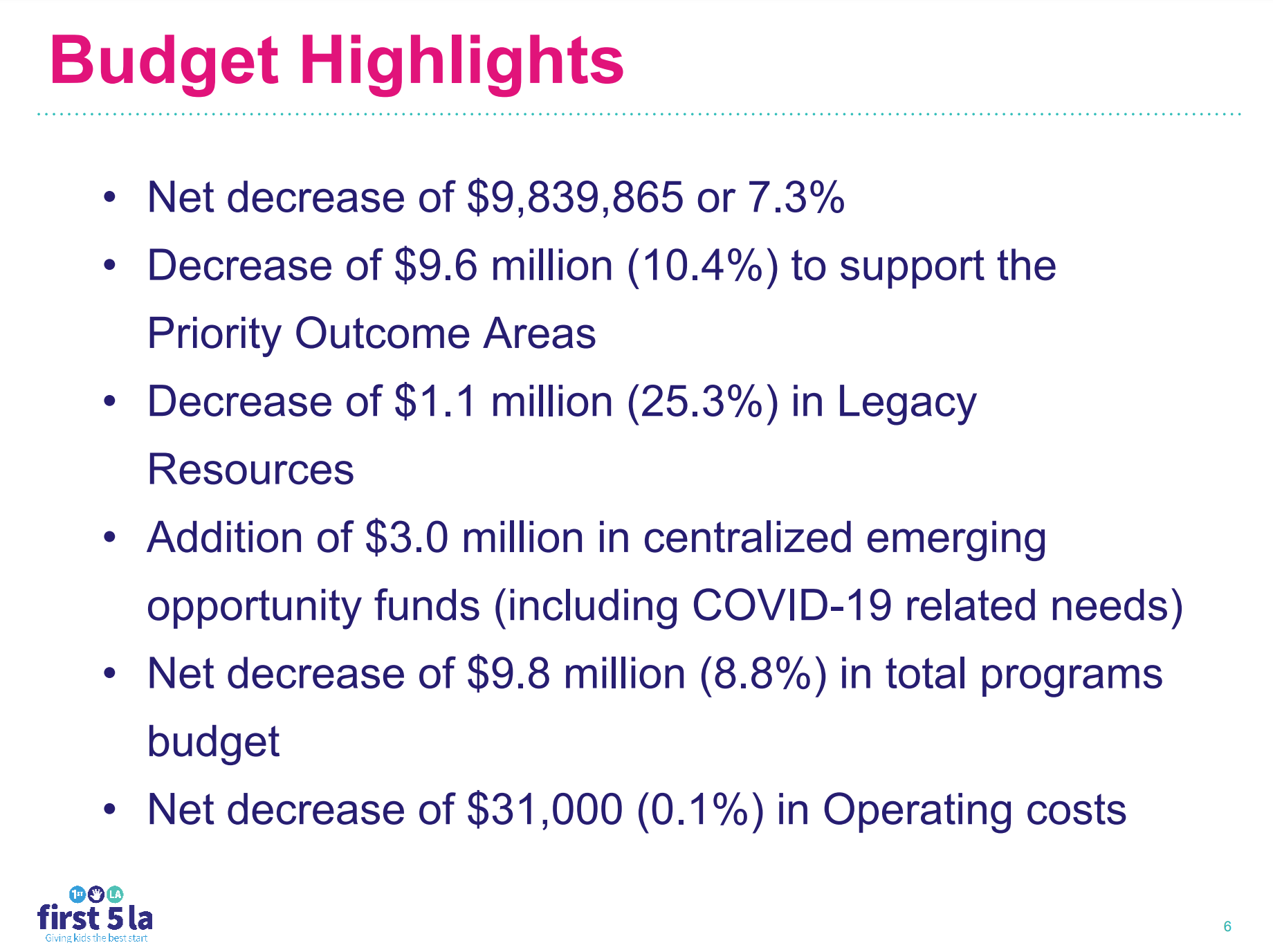 Lopez also gave highlights of the 2020-21 budget, including a net decrease of 7.1% from the previous year's budget and the establishment of a $3 million fund for emerging opportunities and needs, including those related to COVID-19.
To read a summary of highlights from the 2020-2021 budget, please view page 10 of the budget draft.
Following the presentation, the long-term financial plan and 2020-21 fiscal budget were unanimously approved by the Board.
Interim Public Policy and Government Affairs Director Charna Widby gave a presentation on Governor Gavin Newsom's finalized 2020-21 fiscal budget and First 5 LA's state and federal advocacy efforts.
"The world looks a lot different than when we last presented policy updates to you," Widby began. "While we started this year with a projected state budget surplus and many proposed opportunities for systems expansion, we've quickly pivoted our strategies and are partnering closely with the administration to bolster and elevate the essential infrastructure of family supports and early childhood systems."
Widby explained how, in partnership with other early childhood advocates and legislators, First 5 LA was able to successfully advocate for the essentialness of child care and other child-serving programs. As a result, the final budget did not have the cuts to early childhood spending that had been originally proposed by Newsom in his May budget revision.
Additionally, First 5 LA, in collaboration with other partners, is also focusing its advocacy efforts at the federal level to inform lawmakers on the necessity of congressional action to support the shortfalls to the state and local budgets to support California kids and families.
"As we continue to move forward, we aim to expand influence and impact with data, and also call attention to the current disparities, amplify advocacy and drive policy change and will-building," Widby said. "Overall, our work focuses on strengthening public community systems to promote equitable outcomes, reduce racial inequities, and not only respond to the immediate threats to health and well-being COVID-19 pandemic has created but also to change systems in a manner that supports the result for children and families we're seeking in the long term."
To read a full analysis of Newsom's final state budget, click here.
"I think we are going to benefit from the attention that the state — both in the executive brand and the legislative brand — appear to finally be paying to early childhood education. Which was a real non-starter many of the years that I was up there, and that is good news in and of itself," Kuehl commented.
The Board of Commissioners will be on summer recess in August, with meetings resuming in September.