---
October 26, 2023
First 5 LA's Meeting of the Board of Commissioners convened in person and online on Oct. 12. The agenda included information on streamlining the mid-year budget process and expanding First 5 LA's Dual-Language Learning initiative, as well as a presentation on First 5 LA's proposed Strategic Plan.
Since March, First 5 LA Commissioners and staff have been developing a new 2024-28 Strategic Plan in response to the changing landscape of children and family conditions post-pandemic as well as the agency's declining revenues. Part of the strategic planning process has focused on identifying opportunities at various levels of government to leverage funding for initiatives related to First 5 LA's goals.
Recognizing a potential connection to this goal, L.A. County Supervisor and First 5 LA Chair Holly J. Mitchell shared during opening remarks that she recently attended a bill signing for SB 326, AB 531 and SB 43, a set of legislation aimed at modernizing behavioral health.
"It is going to be an interesting new opportunity to bring resources to local government, local mental health departments and public health departments around behavioral health," she stated. "I wanted to share because it is so timely and relevant to what we're doing here. And, in what we're doing with our Strategic Plan."
Following Mitchell's comments, Executive Director Karla Pleitéz Howell welcomed two new Commissioners to the Board: Alma Cortez, an associate professor in the child development department at Los Angeles Pierce College, and Alejandra Albarran Moses, the City of Long Beach's early childhood strategic initiatives program manager and the chair of the Los Angeles Early Childhood Policy Roundtable.
"You could not be joining us at a better time," Pleitéz Howell said. "You will hear about the new Strategic Plan today and some of the work that we're moving forward."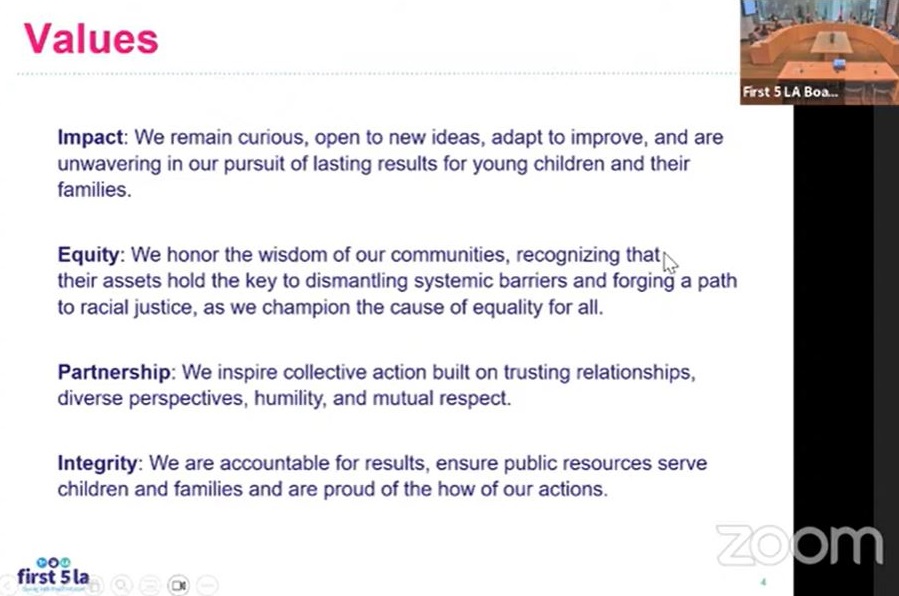 Pleitéz Howell highlighted how First 5 LA staff had voted earlier in the month on the Vision and Mission statements included in the draft Strategic Plan. An overview of the plan's proposed Values — Impact, Equity, Partnership and Integrity — was also shared. Pleitéz Howell explained how these elements of the draft Plan represent the fundamental beliefs and principles that guide First 5 LA's behavior and the way the agency does its work.
The consent agenda was then unanimously approved. The following actions were taken:
Submission of First 5 LA's Annual Report to First 5 California: Presented as an information item at the Sept. 28 Program and Planning Committee meeting, the Board approved the agency's annual report to First 5 California following a brief presentation from Data Strategy Specialist HaRi Kim. For more information, click here.
Approval of a Strategic Partnership with Health Federation of Philadelphia: The Board approved a $400,000 strategic partnership to pilot the "Thriving Providers Guaranteed Basic Income Model" in L.A. County. Taking place over a period of 24 months, this innovative pilot will support 25 Family, Friend, and Neighbor Care (FFN) providers with monthly payments and holistic supports. Data collected from the pilot will be used to inform advocacy and policy change efforts promoting both a seamless model of support for FFN providers, support for a mixed-delivery system and livable wages for FFN providers. For more information, click here.
Several information items were also presented:
First 5 LA's FY 2022-23 Independent Auditor's Report and FY 2022-23 Highlights: Finance Director Raoul Ortega shared that First 5 LA's independent auditor reported a "clean audit" opinion for the agency. He also reported a summary of budget expenditures and revenues from the previous fiscal year that had been presented to the Board during the September meeting of the Program and Planning Committee. For more information, click here.
Streamlining the Mid-Year Budget Process: Financial Planning and Analysis Manager Daisy Lopez provided an update on mid-year revisions to the budgeting process. This one-time process, explained Lopez, would be utilized in FY 2023-24, allowing First 5 LA to redirect staff and Board resources more efficiently. For more information, click here.
Expanding First 5 LA's Dual Language Learner (DLL) Initiative: Early Care and Education Program Officer Gina Rodriguez and Communications Specialist Katie Kurutz informed the Board that the Los Angeles County Office of Education (LACOE) is seeking to provide First 5 LA with additional funding to expand previous efforts to support a DLL campaign done in partnership with Quality Start Los Angeles (QSLA). The Board will take action on authorizing this funding in November. For more information, click here.
First 5 LA's Strategic Planning Update
At the September Board meeting, strategic planning consultant Chrissie M. Castro presented the Board with the proposed Goals and Objectives — key elements of the larger Goals, Objectives, Strategies and Tactics (GOST) Framework that First 5 LA is utilizing in its strategic planning process.
With the proposed Objectives as the foundation, the elements in focus at the meeting were the draft Indicators and Strategies — the actions that First 5 LA will focus on to reach its Goals and the data that will allow the agency to measure its progress toward the Goals — as well as the parameters that are being used to develop Tactics.
Castro kicked off the presentation by explaining how the Goals and Strategies are intentionally designed to be general in nature. In contrast, Objectives, which are based on measurable Indicators, are drafted to be more specific.
Over 100 indicators were initially considered during the brainstorming process, Castro said. This set was eventually refined down to nine indicators that met criteria that were both inclusionary (indicators must align with a repeated community need, focus on public systems and have the ability to be tracked on a population level) and exclusionary (indicators must not perpetuate bias by placing responsibility on the individuals, family, or community for the intended outcome).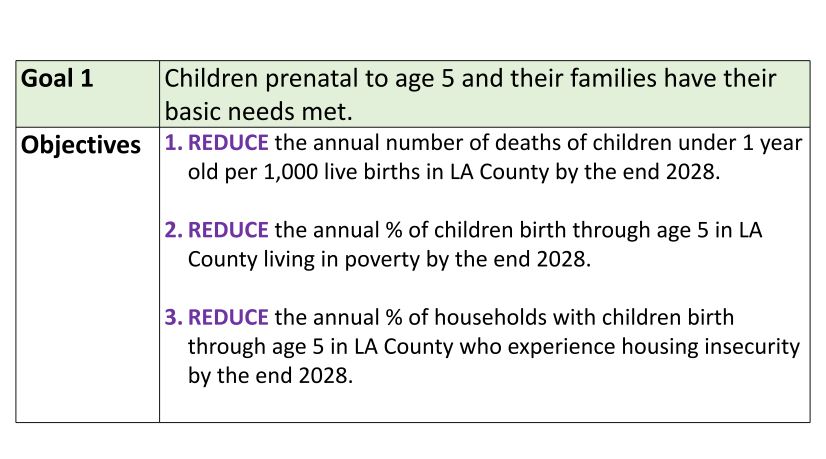 Castro shared how Indicators are then translated into Objectives with action-oriented language aimed at reducing or increasing the measurement as needed. For example, as part of Goal 1 — Children prenatal to 5 have their basic needs met — the annual number of children birth through 5 living in poverty in L.A. County is a measurable indicator, while reducing the percentage of children aged birth to 5 living in poverty in L.A. County by 2028 is an Objective.
"The Objectives were identified as really needing to look at the fact that First 5 LA alone, in some of these conditions, can't change it," Castro prefaced. "But it is going to require deep partnerships and collective impact to make these shifts and move the dial in the right direction."
After the presentation, Commissioners provided feedback on the draft Goals. Board members also commented on how the Objectives represented a major undertaking, underscoring the role that partnership and collaboration play in achieving them, as well as an emphasis on culturally affirming services to meet the population-level benchmarks.
In response to the loftiness of the Objectives, Mitchell responded by saying, "If not First 5 LA, who?"
During the second part of the presentation, Castro presented the proposed Strategies that First 5 LA staff members had developed based on Board feedback, community input and internal discussions. The three strategies, Castro summarized, consisted of catalyzing public policies; collaborating with partners; and working with local communities.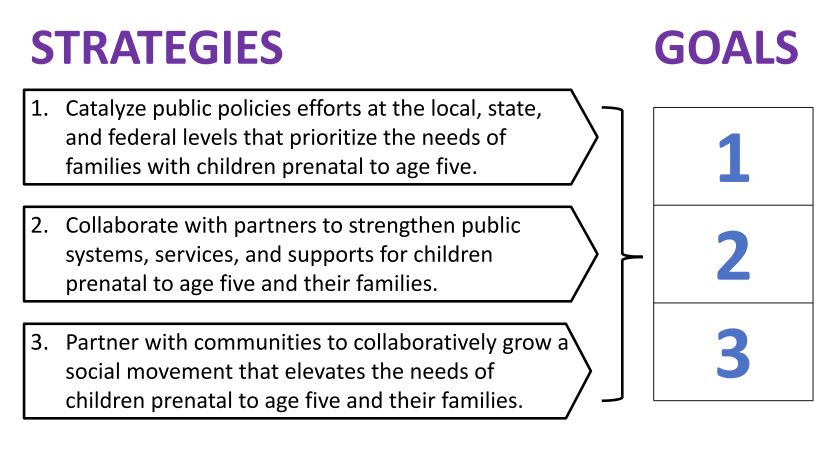 "The Strategies are really an effort to meet all three of the Goal areas," Castro explained. "They're meant to be taken as a collective."
After the Strategies presentation, Commissioners discussed the need to utilize learnings based on First 5 LA's previous work within the three strategy areas and existing connections to the community, as well as the need to examine existing partner resources and data to know where to start.
"One of the roles we can play is advocacy," Vice Chair Brandon Nichols called out. "We have a loud voice, we have Board members with loud voices, we have staff who are very effective in communicating. And I think that one of our strengths is being able to advocate in other avenues for these areas we are interested in."
The final part of the discussion was focused on draft Tactics and the parameters used in determining them. Tactics, Castro explained, were the organized activities that First 5 LA would deploy to achieve the proposed Objectives. She went on to highlight three categories — alignment and potential impact, equity-driven process planning, and cost-benefit and sustainability — that made up the universal parameters for determining Tactics. However, she added, additional specific parameter considerations were also included within each of the three Strategies.
"Does this Tactic eliminate barriers that hinder access to services?" asked Commissioner Summer McBride, noting a potential parameter consideration. Other Commissioner feedback included the need for evaluation, considerations regarding the timeliness, the importance of investigating existing partner resources to know where to begin work, and the inclusion of a cost-benefit analysis to ensure no unintended potential side effects.
For a complete list of the proposed Strategies, Objectives, and Tactics, click here.
Next Steps
Commissioner feedback will be incorporated over the next month in an updated draft of the proposed 2024-28 Strategic Plan. Board members will receive the updated draft Plan ahead of the final vote on the plan at the Nov. 9 Board meeting.
The next Board of Commissioners meeting is scheduled for Nov. 9, 2023. For more information, please visit www.first5la.org/our-board/meeting-materials 72 hours in advance of the date.