---
November 18, 2021
First 5 LA's Board of Commissioners convened virtually on November 10. The meeting marked the last Board gathering of the year, with an agenda that included motions to approve refinements to First 5 LA's Policy and Advocacy Agenda and a new contract for legal services, and information related to the 2022 Board meeting cadence.  
L.A. County Supervisor and Commission Chair Sheila Kuehl opened the meeting by reflecting on the importance and contributions of volunteers when it comes to moving the needle on civic and civil work.  
She noted the work that advocates do within First 5 LA's Best Start regions, as well as the time that First 5 LA's Board devotes to reviewing materials and engaging with First 5 LA staff on systems change efforts as important examples of how volunteers make an impact.  
In speaking on this theme, Kuehl called out the tireless work of First 5 LA Commissioner Marlene Zepeda, who is slated to step down from the Board this November.  Kuehl noted in particular how Zepeda has been an example of someone who volunteers their time and energy to make a difference for kids and families.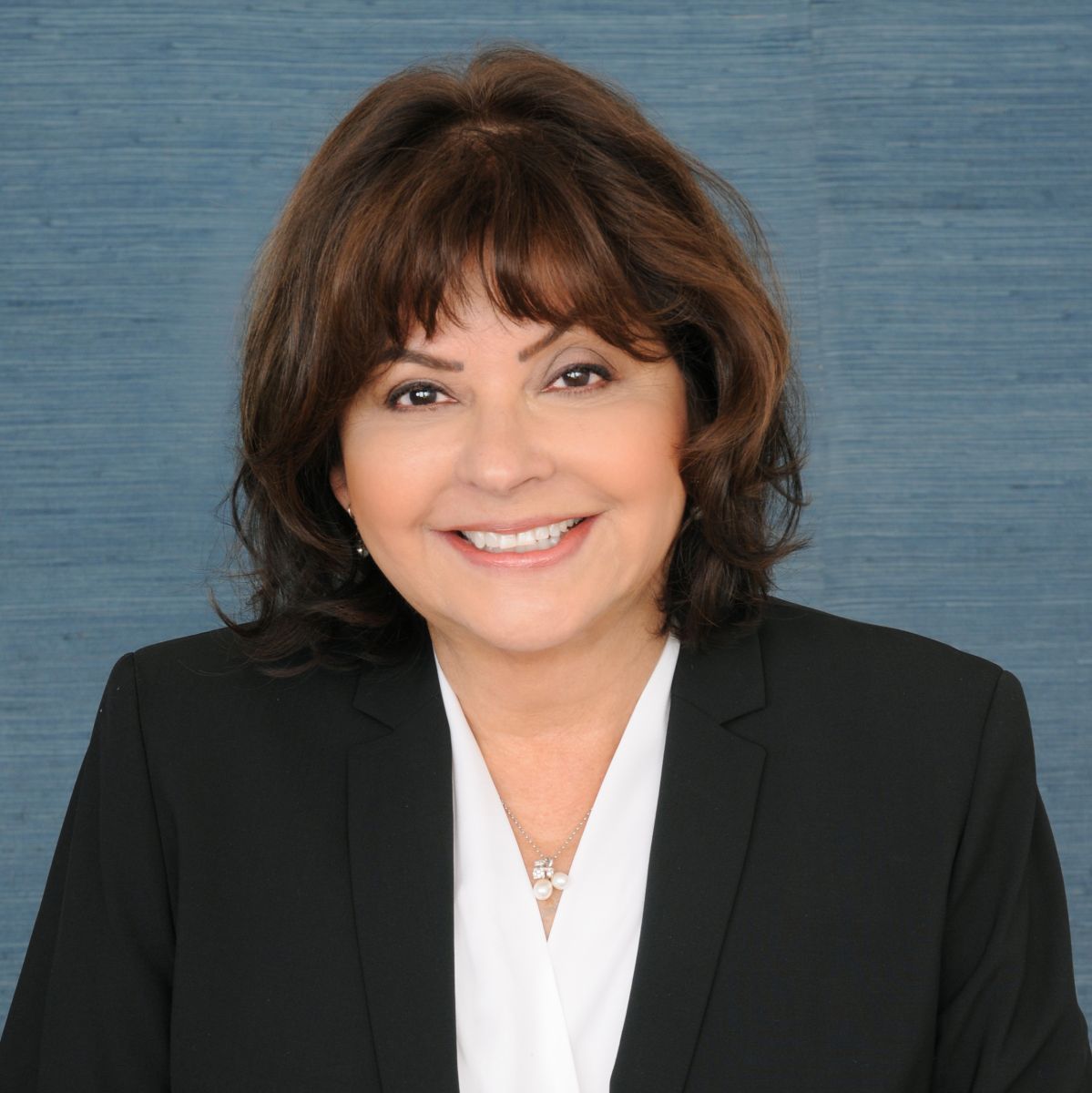 Zepeda has served on First 5 LA's Board since 2016 and has played a leadership role as the Program and Planning Committee Chair since 2017. As a lifelong advocate for bilingualism in early education, she has played a large part in bringing attention to the importance of dual language learning at First 5 LA and through all the various roles she has inhabited throughout her career. On behalf of First 5 LA, she recently authored an op-ed in La Opinion about how supporting dual language learners encourages inclusion and cultivates talent.  
"Your leadership on one of our — if not the most — important committees, the ways in which you have led people to understand each other and to communicate, the ways that you have led us all to think more broadly about these issues for our youngest children –– I am very, very grateful to you," Kuehl said, bidding a fond farewell to Zepeda.  
When it came time for her remarks, Executive Director Kim Belshé added: "Marlene is like the triple threat of early childhood development. You bring some really diverse and substantive skills that have just made such an impact. Your expertise is really unparalleled in so many ways."   
The consent agenda was unanimously approved. Key items included the following:   
Approval of a contract for legal services with Richards, Watson & Gershon (RWG), with the appointment of Serita Young as General Counsel to First 5 LA. For more details, click 

here

.  

 

Approval of an agreement with Health Management Associates, Inc

.

 (HMA) to support First 5 LA's Data Strategy.

 

This strategy is intended to inspire and enable a shared commitment to data priorities, coordinate efforts within First 5 LA and with partners, maximize available resources and use data as a tool for systems change and decision-making. For more details, click 

here

.  

 
Next on the agenda was a presentation on First 5 LA's refined 2022 Policy Agenda, given by members of the Office of Government Affairs and Public Policy, including Chief Officer of Public Policy and Government Affairs Charna Widby, Senior Policy Analyst Andrew Olenick, Policy Analyst Ofelia Medina and Senior Government Affairs Strategist Jamie Zamora. 
The Policy Agenda is the authorizing document that guides First 5 LA's policy and advocacy work in advancing policy goals related to First 5 LA's 2020-2028 Strategic Plan. The Policy Agenda serves as the blueprint for First 5 LA's public policy analysis and proposal development, primarily at the state and federal levels, Widby explained.  
Olenick spoke about how equity is embedded within the refined Policy Agenda, noting that it is directly called out in the preamble because it is foundational to all First 5 LA advocacy efforts. He also explained how First 5 LA's advocacy strategy, as it pertains to creating more equitable outcomes for all L.A. County kids, is encompassed in three goals. Namely, that advocacy efforts: 1) are geared toward closing race-based disparities across wealth, health, well-being and opportunity; 2) utilize the best available data and advocate for full, complete and disaggregated data; and 3) promote a holistic system of supports that is linguistically and culturally responsive.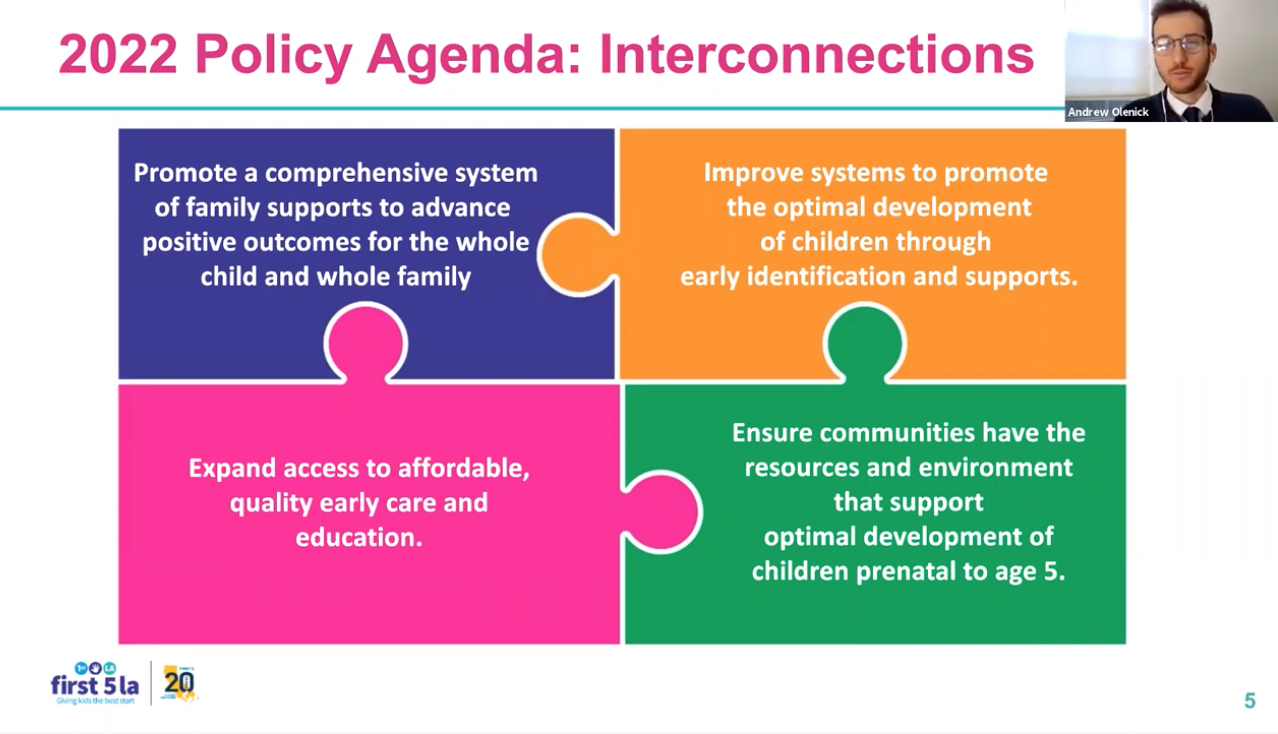 While the refined Policy Agenda features four priority areas — early learning, health, family and community systems — there's a greater emphasis on how these areas are interconnected within the refined Agenda, Olenick shared. This approach, called the "whole-child, whole-family" framework, acknowledges the interconnectedness of family-serving systems.
"The whole-child and whole-family framework is a still-evolving approach to First 5 LA's work. But broadly, it recognizes the interconnectedness of multiple domains of child development and holds that child well-being can't be separated from broader family stability and social determinants of well-being," Olenick said.
Medina gave examples of what the Policy Agenda looks like in practice and spoke about upcoming administrative opportunities related to new Medi-Cal benefits development. Other opportunities included the implementation of universal kindergarten at the state level; legislative opportunities at the state level, such as those related to the implementation of universal Pre-K in California; and federal opportunities like the inclusion of universal Pre-K, paid family leave and child care in the federal Build Back Better Act.  
Zamora gave an overview of First 5 LA's Advocacy Roadmap and the tactics the OGAPP team will deploy to engage legislative leaders on early childhood issues. He highlighted key legislative dates, including when First 5 LA will engage with the Board on budget and legislative proposals.  
To read the Policy Agenda, click here.  
"One thing we can't forget — and we're talking about staffing as well — but in these systems for child care, (there's) this dysfunctional system of compensation that goes on throughout the state," said Commissioner Romalis Taylor when it came time to comment. "So we really need to jump back in there and keep that on the legislators' minds, on creating a more unified system in order to get people to actually do this work. We have to make sure their compensation is properly given based on their skill levels."
Nationwide, there is a large-scale early education teacher shortage that is largely occurring due to a lack of fair compensation. For a deep dive into the issue, check out this recent First 5 LA story highlighting the problem.
Following a break, the Commissioners returned to consider an announcement given by Legal Counsel Craig Steele on amending First 5 LA's Bylaws that guide the legal requirements around the Commission.  
According to Steele, amending the Bylaws is a routine procedure that is a necessary step, given the Board's recent vote to update First 5 LA's procurement policy.  
The Board unanimously voted to approve the amendments. For more details, click here.  
Next on the agenda was an information item presented by Board Relations Manager Linda Vo on the 2022 Board Meeting Schedule.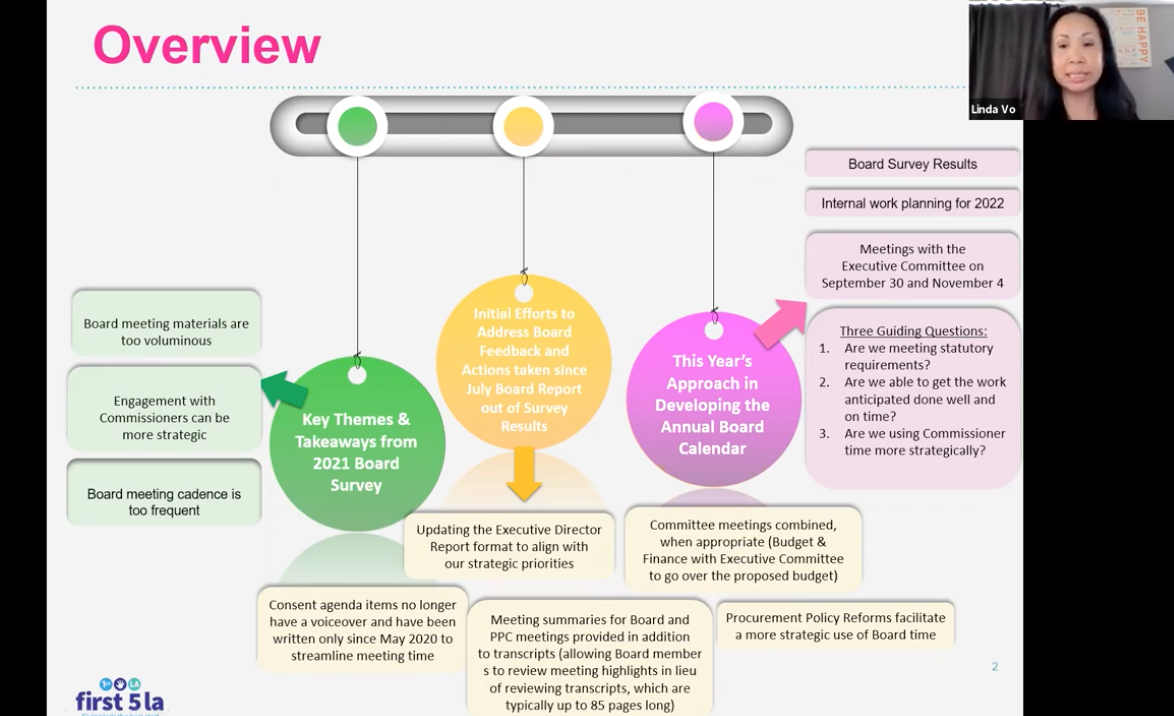 Informed by input from the July 2021 Board Survey, Vo shared that First 5 LA would be improving the cadence of 2022 Board Meetings to engage with Commissioners more efficiently and strategically.  
 The updated calendar includes eight regular meetings of the full Board and four meetings of the Program and Planning Committee, for a total of 12 Board meetings in 2022. Each meeting is scheduled for three hours.  
To view the 2022 Board Meeting schedule, click here.  
The Board of Commissioners will be on holiday recess during December and January. The next meeting is scheduled for February 10, 2022. For more details, visit www.first5la.org/our-board/meeting-materials closer to the date.