September 28, 2023
Building the Village is a special 4-part series focusing on the work taking place in neighborhoods throughout L.A. County to combat the disproportionately high rates of Black maternal and infant deaths and ensure that all Black families experience joyous and healthy births. Created and supported by L.A. County's AAIMM Prevention Initiative, local partnerships known as Community Action Teams (CATs) are bringing everyone together to raise awareness of the crisis and identify the solutions that work best for their community. In addition to the L.A. Department of Public Health, each CAT includes local residents (including mothers/birthing persons and dads/partners), community-based organizations, faith-based organizations, health care providers and plans/networks, birth workers such as doulas and midwives, First 5 LA, the L.A. County Department of Mental Health, local businesses, and other allies.
[This is the second story in the series. Click here for part one.]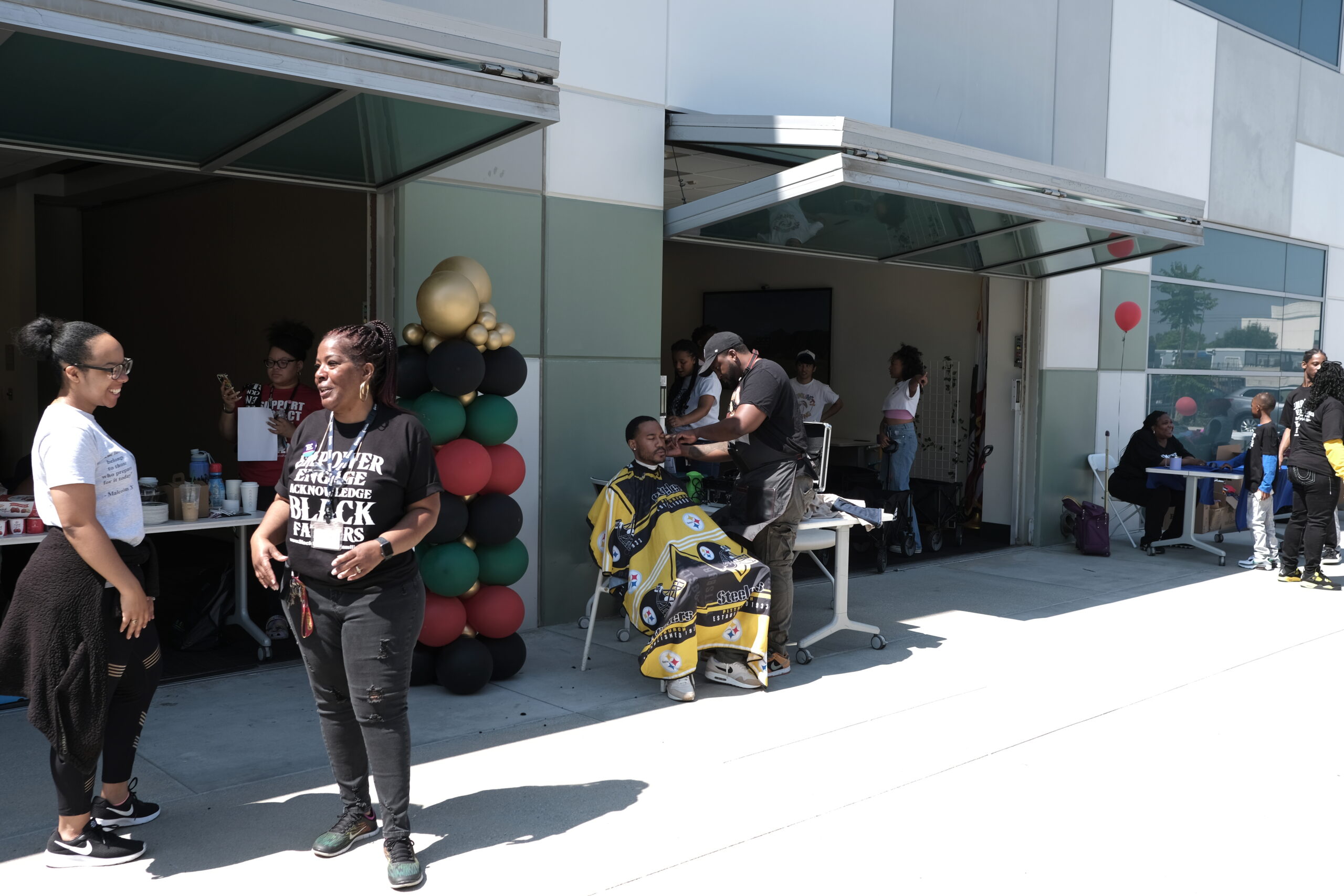 It's a hot, blue-bright Saturday morning in June, the kind that promises summer is just around the corner. Even though it's early, the pedestrian plaza at the Dr. Martin Luther King Jr. Center for Public Health in South Los Angeles is buzzing with activity. Volunteers are hustling to set up resource tables and banners. Off to the side, someone is carefully wheeling a delicate-looking machine through the wide glass doors of a screening room. And next to a pillar of balloons — black, yellow, green and red — a barber is setting up his station. 
The focus of these preparations is the second Juneteenth Father's Day Celebration, a full-day event highlighting the crucial role fathers play in promoting healthy birth outcomes for Black mothers and infants. Part community baby shower, part resource fair, the event offers expecting parents the chance to chat with doulas and prenatal experts, pick up free resources — like backpacks customized for diaper changing — and even catch a glimpse of their unborn babies in real-time, courtesy of a free 4D ultrasound screening.
Keeping everything in motion at the event is Adjoa Jones, the community outreach and engagement director for the AAIMM Prevention Initiative. Decked in a t-shirt emblazoned with the words "EMPOWER-ENGAGE-ACKNOWLEDGE BLACK FATHERS," she greets everyone warmly, even as she gently coaxes them to gather toward the front of the plaza. 
"This event is for you," she tells those gathered. "We want you to know that this is done with our love and real integrity. We are committed to keeping our foot on the pedal. We are committed to keeping our foot on the gas."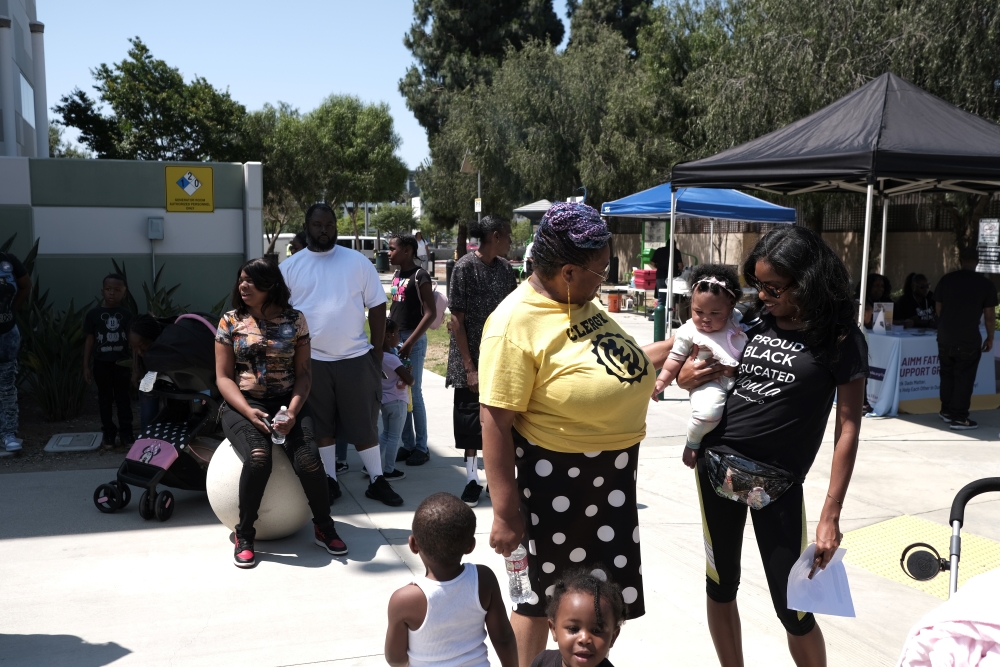 "Because we can't give up," she continues, her voice full of emotion. "We have to be the people who are out here to protect, support and believe Black women. We have to be the people that  make sure that Black women survive the pregnancy and childbirth journey." 
The event is the brainchild of the South Los Angeles/South Bay Community Action Team (SLASB CAT), a collaborative partnership dedicated to addressing African American/Black infant and maternal mortality in the South Los Angeles/South Bay community. Like other AAIMM CATs operating in L.A. County, SLASB's work is rooted in a pivotal truth: That racism is a root cause of maternal and infant disparities — not just in specific instances but in terms of how the cumulative effects of pervasive and persistent racism produce toxic stress that damages and weakens a mother's physical and mental health and that of her child.
Comprised of local community-based organizations, faith-based organizations, health care providers, community residents and local businesses, SLASB has been at the forefront of work. In August 2020, the team launched a Black Breastfeeding Week public awareness campaign that was later adopted countywide. In keeping with AAIMM's "Activate Your Village" theme, SLASB has also been carving out intentional spaces such as their monthly VirtualiTEA, an online space where expecting and future mothers, dads, partners and supporting families can learn and share their experiences.
More recently, the goal of carving out safe and supportive spaces has grown to meet the needs of a vital but often-ignored member of the Village: the fathers. Research shows that the active engagement of fathers during pregnancy results in improved health outcomes for both mother and child. Yet Black fathers, in particular, continue to encounter various challenges, from social mores that affect how fathers are treated and perceived in the context of the pregnancy experience to policies that limit paternal benefits in the workplace. 
To counter these challenges, SLASB has been working with AAIMM countywide to create dedicated spaces and resources for Black fathers. For Jones, this is a crucial undertaking — and a profoundly personal one.
"Having this relationship with my dad and four siblings, it was important for me to see Black men get involved in this," Jones explains. "To make sure they had the knowledge and awareness, and that they were engaged in the reproductive process…  Making sure they have in mind the risks associated with pregnancy is important."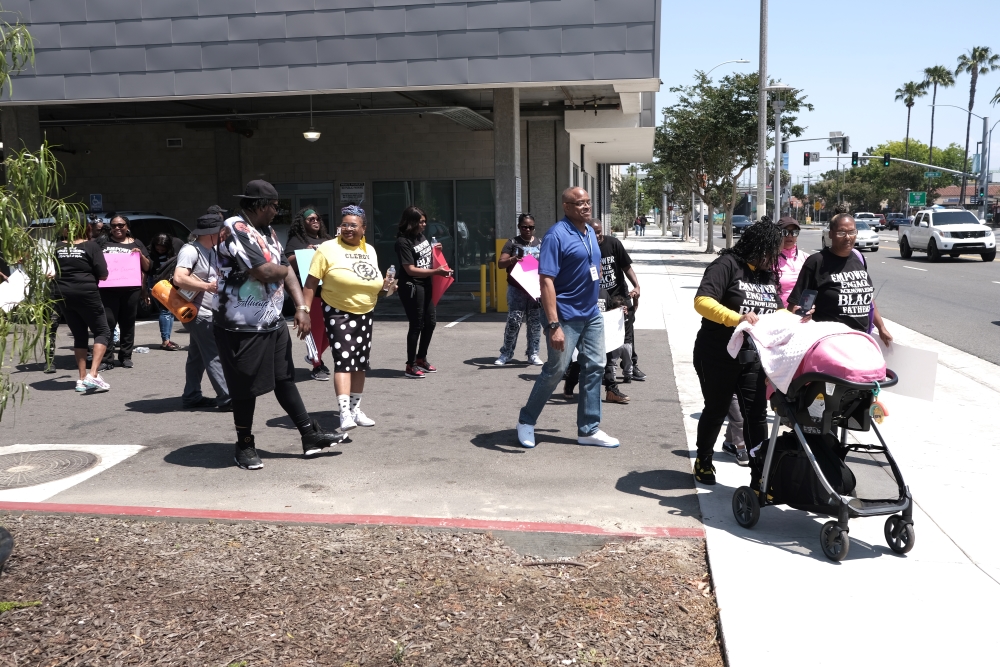 The Father's Day celebration isn't the only intentional space designed for Black fathers. SLASB is actively supporting several other father-focused AAIMM programs. For dads-to-be, there's the Expecting Fathers Group for Black Dads, a countywide effort funded by the Perinatal Equity Initiative. Fathers participate in a five-week session offering valuable education, support and navigation tools that focus on the prenatal, labor and delivery, postpartum and early parenting periods. There's also Black Daddy Dialogue, an ongoing support group where Black fathers supporting pregnant women or young children can forge connections with other fathers through their shared stories and experiences. 
Such connections, says Davion Mauldin, DPH's AAIMM fatherhood coordinator, are crucial in promoting a sense of excitement among participants about engaging in their partners' and children's lives.
"It's really great," explains Mauldin, who is himself a father. "Because once the guys get there and they're involved in this, then they start immediately hearing that they have the same type of stories. Different situations, different circumstances. But some of what's going on … You have the same type of feelings. You have the same type of concerns. You've had the same type of moments — when you first heard the heartbeat, or you first saw the sonogram. Things like that." 
Mauldin also emphasizes that these efforts would not be possible without one essential element. 
"Community action teams are the driving force," he says, noting how SLASB and other CATs have become indispensable partners within AAIMM. "Everything that's taking place, that's being done in advance behind the scenes — they're making sure that we're actually in the community and making things happen."
The work goes beyond just the public events, he adds. CAT members keep community members connected and supported — especially in times of crisis. 
"When there's a maternal death or infant death, they're the ones spreading the word," Mauldin observes. "Making sure everybody is aware of that loss and trying to put their driving force action behind helping those families and getting resources to those families."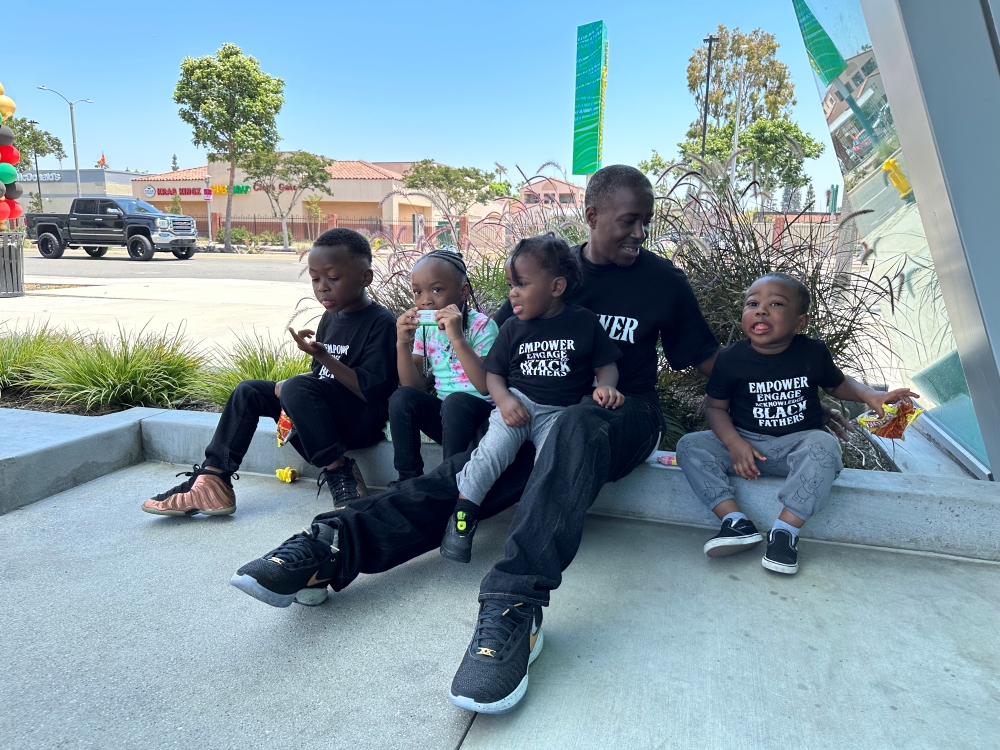 Two of those families are at the Juneteenth Father's Day Celebration. Off to one side is Freddie Cromer, who stands surrounded by his five children. Just six short months ago, Freddie and his wife Bridgette, a certified nurse assistant, were happily expecting their fifth child. But in March, Bridgette died hours after giving birth to their daughter, Divinity. Freddie and his children are still coping with the loss. 
"It's like every day is not the same," Freddie explains haltingly, his voice raw with emotion. "It's hard all day. But I also enjoy it, you know, being with my kids. And they have to be here, so I gotta take care of them. They're giving me strength."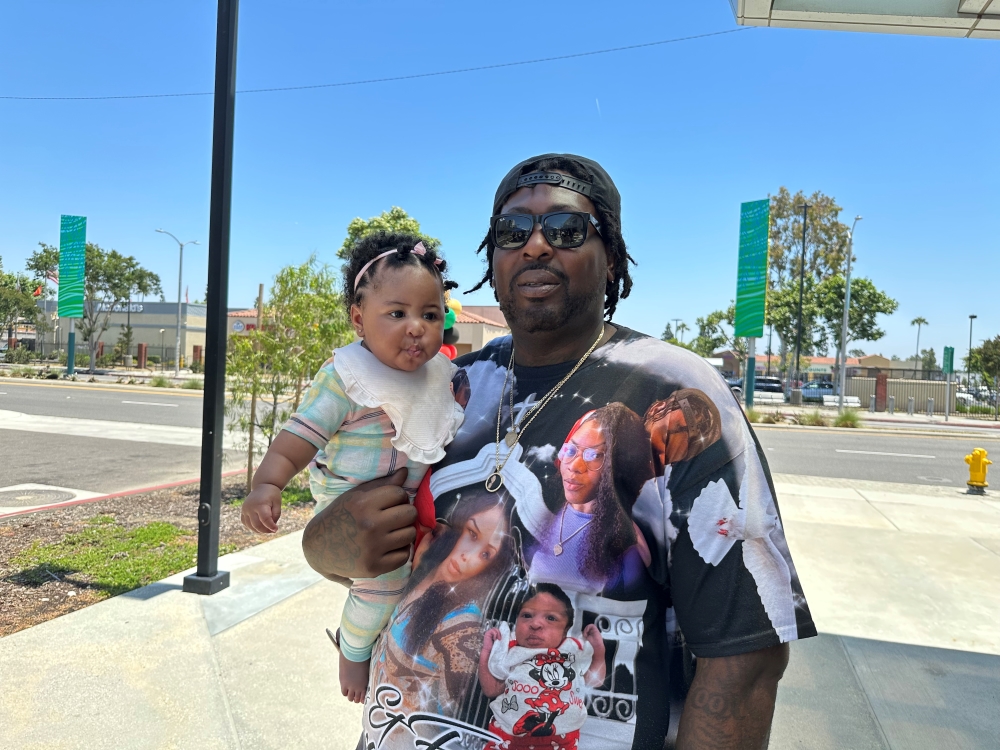 Also at the event are Nigha Robertson and his infant daughter Aniya. Earlier this year, Aniya's mother, April Valentine, died during an emergency cesarean. Now Robertson, a recent California transplant, is raising Aniya alone. 
"It's tough," Robertson says wearily. "Working 12 hours and then getting off work and taking care of a baby on your own… There's my mom and them. But you know, when you're a thousand or something miles away, they can only do so much."
SLASB is committed to ensuring that no Black family goes through these experiences alone. A core part of the team's work involves helping families navigate the different systems around them. Whether it be legal services, postpartum Doula support, mental health agencies, emergency funding, or much-needed supplies like diapers and other baby items, SLASB can help families make those connections. And for those who have experienced the loss of a mother, SLASB members are there to provide a constant, reassuring presence, checking in regularly with the fathers in the months after the loss of their partner.
Because dads can and do play a vital role in children's lives, Jones notes. She cites a conversation with one father who attended a CAT meeting, where he learned about the trauma experienced by many expecting Black mothers.
"He went back to his job and cried," Jones relates. "Then he found his children's mother and apologized."
Jones adds that the man found out last year that his daughter was pregnant but didn't have the health insurance she needed. Upon hearing this, the SLASB team helped the man secure a referral to the Legal Aid Foundation, where he received support so that he could help his daughter. 
"He was able to advocate for the hospital to cover the expenses," Jones says. "He told me, 'Had I not had that information, I never would have known this problem existed.'" 
.
About AAIMM 
The L.A. County African American Infant and Maternal Mortality Prevention Initiative (AAIMM) is dedicated to addressing the unacceptably high rates of Black infant and maternal deaths countywide and ensuring healthy and joyous births for L.A. County's Black families. AAIMM is a coalition of the Department of Public Health in partnership with First 5 LA and the L.A. County Department of Health Services, the Department of Mental Health, community organizations, mental and health care and mental health care providers, funders, and community members.