---
July 29, 2021
Los Angeles County Supervisor and First 5 LA Commission Chair Sheila Kuehl began the July 8, 2021, Board of Commission meeting by reflecting on the past year-and-a-half of remote work and asking how what we've learned from these experiences can be applied to approaches to in-person work in the future.   
"How we might better engage with our colleagues, with our staff, with the public, with our clients? And I think you'll hear some interesting statistics and feedback about what needs to be reworked and what actually worked pretty well," Kuehl said.  
"So here we are, like Janus, who the month of January is named, a two-faced god who faced backward and forwards. We're learning from the past and looking towards the future. Trying to be flexible, trying to be nimble, trying to be forward-thinking — and I really have a lot of confidence in our ability to continue to adapt and work this through." 
Noting a theme across the agenda items — which included presentations on First 5 LA's physical space as well as how First 5 LA connects and collaborates — First 5 LA Executive Director Kim Belshé added to Kuehl's comments, sharing updates on when Commissioners can expect to return to in-person meetings and plans for First 5 LA team members' return to the First 5 LA building.  
According to Belshé, Commissioners will likely have the opportunity to return to in-person Board meetings as early as October, given guidance from Public Health Departments and First 5 LA's legal team. In regard to First 5 LA employees' return to on-site work, Belshé shared how the organization had recently implemented an organization-wide survey to inform a future hybrid working environment.  
"We're currently in the process of conducting a staff survey reflecting, as the Supervisor was saying, looking back, how have we done, what's worked well, what's worked less well. And then as we look together towards a hybrid approach –– what are some of the key considerations that we need to be putting at the forefront as we develop the implementation of a hybrid approach," Belshé said.  
Following the opening remarks, Workplace Management Senior Director Carl Gayden gave a presentation preceding the Board's vote to approve the Design-Build Contract for First 5 LA's Capital Improvement Project (CIP).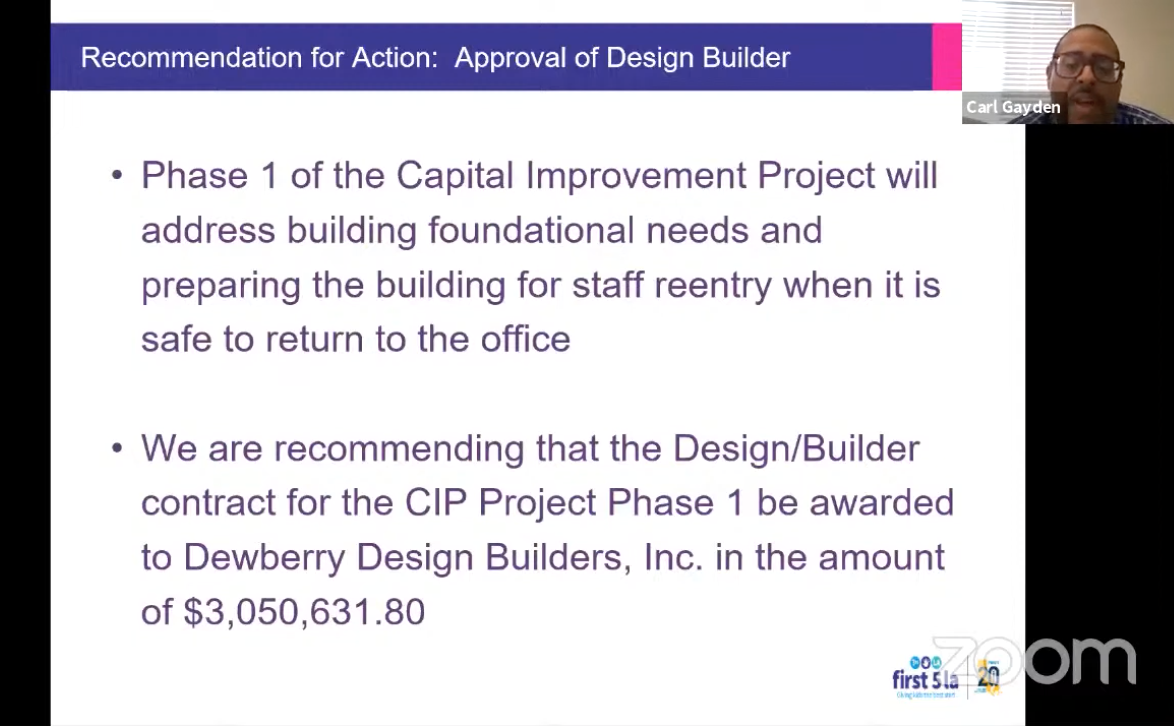 After reviewing the updates given previously to the Board at the June meeting, Gayden summarized that First 5 LA, along with its external consultants, is recommending that the Board award the Design-Build Contract to Dewberry Design Builder Inc. in the form of $3,050,631.80.  
In addition to approving the contract, Gayden also recommended that the Board reaffirm that the CIP is categorically exempt from review under the requirements of the California Environmental Quality Act (CEQA). Gayden reported that First 5 LA's legal team has determined that the project falls squarely in CEQA's existing facilities exemption, making it exempt from further CEQA review. 
The Board unanimously approved the Design-Build Contract award and reaffirmed CIP's exemption from CEQA review.  
The CIP's next steps will entail First 5 LA's legal team filing for exemption from CEQA, as well as a notice-to-proceed to Dewberry Design Builder Inc. to begin Phase 1 of the CIP. The project is anticipated to be completed by January 2022.  
Following the vote, Interim Chief Operating Officer/IT Director Jasmine Frost and Contract Administration and Purchasing Director Jennifer Eckhart gave a presentation on First 5 LA's a presentation on proposed changes to First 5 LA's procurement policy.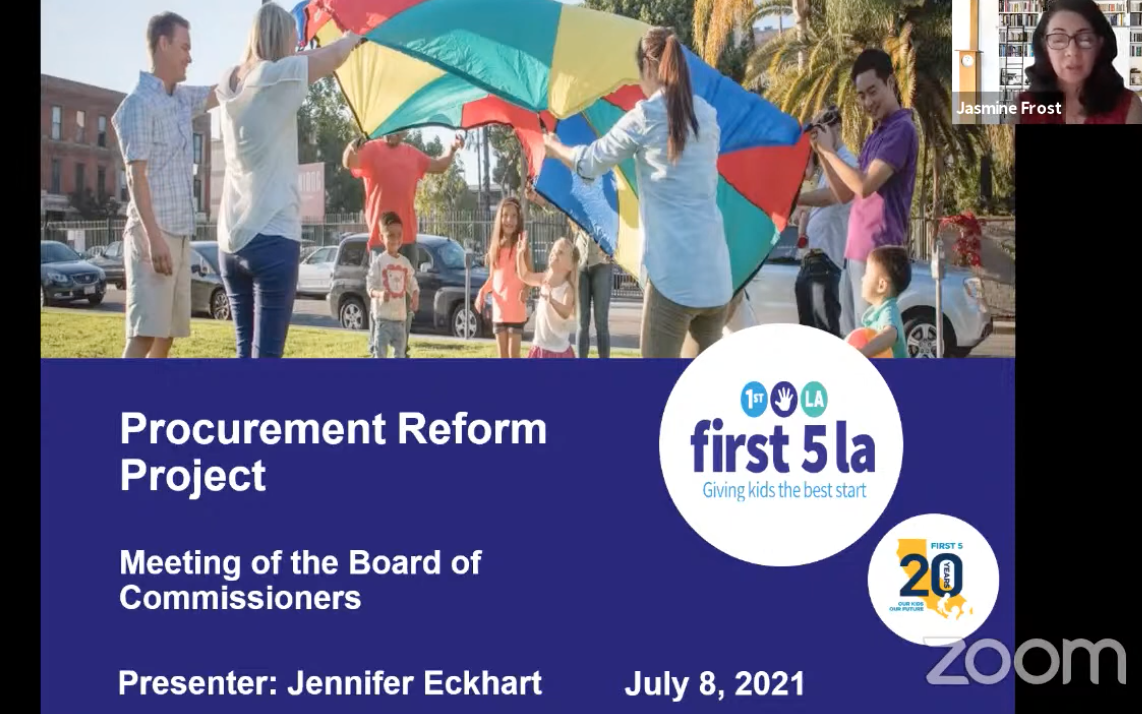 "This policy is being revised to address some of the challenges that were prevalent in the prior versions and to bring a more streamlined and more consistent decision-making process to our work," Frost stated when explaining the need for an updated procurement policy.  
Eckhart provided additional details on some of the challenges facing the previous procurement policy, including a lack of alignment with First 5 LA's current strategic plan and values, inefficiencies in addressing emerging practices like re-granting revenue funds, and other administrative obstacles such as delays in Board approval due to summer or holiday meeting recess.  
Moving onto the proposed policy changes, Eckhart shared that one of the main reforms being recommended was an increase in the executive director's contracting threshold from $75,000 to $150,000. Presently, contracts under $75,000 are approved by the executive director, while those over $75,000 must be approved by the Board.
According to Eckhart, staff focus groups revealed that this threshold does not consider the amount of effort needed to gain approval for such a small amount. She also shared that First 5 LA's thresholds are at or below that of other organizational peers. Focus groups with grantees also revealed that reform in this policy would reduce the time lapse between procurement and contracting. Therefore, adjusting the threshold would lead to greater efficiency, Eckhart said.
Another aspect of reform shared by Eckhart was how First 5 LA's procurement policy could better incorporate First 5 LA's values of Diversity, Equity and Inclusion (DEI). She shared that while First 5 LA currently has a DEI statement in the present policy, the reformed policy recommends strengthening the statement to articulate DEI goals that include establishing fair and accessible procurement practices, addressing barriers to participating, and collecting and monitoring data to track and use for continuous improvement.
"The intent is to make these funding opportunities accessible to all business types, including diverse suppliers like minority women, disabled veterans, social enterprise, disadvantaged business and LBGTQ enterprises," Eckhart said.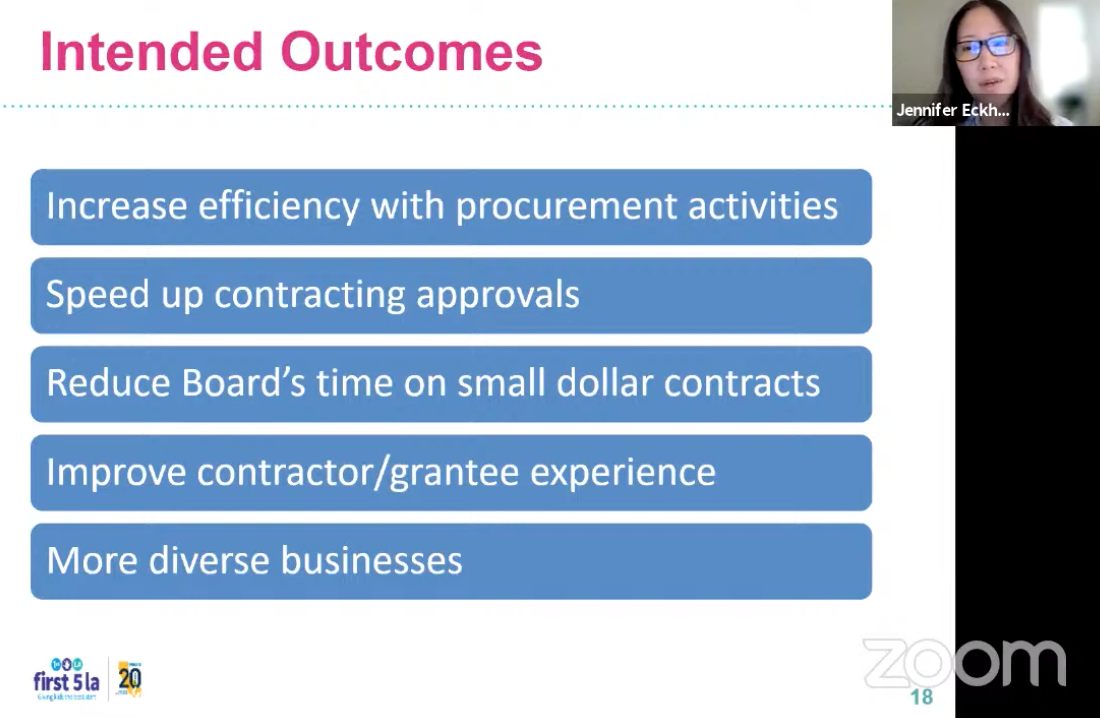 Commissioners will vote on the policy reform recommendations at the September Board of Commissioners meeting. For a full list of recommended policy reforms, click here.  
The third item presented on the agenda was an update from First 5 LA Legal Counsel Craig Steele, who shared information related to requirements of the Brown Act.  
At the start of the pandemic, California Governor Gavin Newsom waived certain requirements that mandated public agencies hold board and committee meetings in a physical location. Steel shared that Newsom is allowing the waiver to expire on September 30, 2021, meaning that under the Brown Act, Commissioners would again have to meet at a physical location as required by law.  
This information segued into the final presentation, given by Board Relations Manager Linda Vo and Executive Administrative Assistant Jaimie Knowles, about the results from a Board survey conducted in Spring 2021. The survey was conducted to solicit feedback on how First 5 LA can best support Board communications and learnings.  
Knowles shared results from the survey across three key areas: virtual meetings, topics of interest, and meeting time, communications & materials. According to the results, while Board members reported ease of use with virtual Zoom meetings, there were mixed responses on the effectiveness of virtual meetings, particularly with internet instability. In regard to topics of interest, survey participants said that they are most interested in learning more about First 5 LA's work in the areas of DEI, policy and advocacy and strategic priorities. Lastly, 100 percent of survey respondents reported that the Board meeting time and cadence are frequent enough to support effective governance.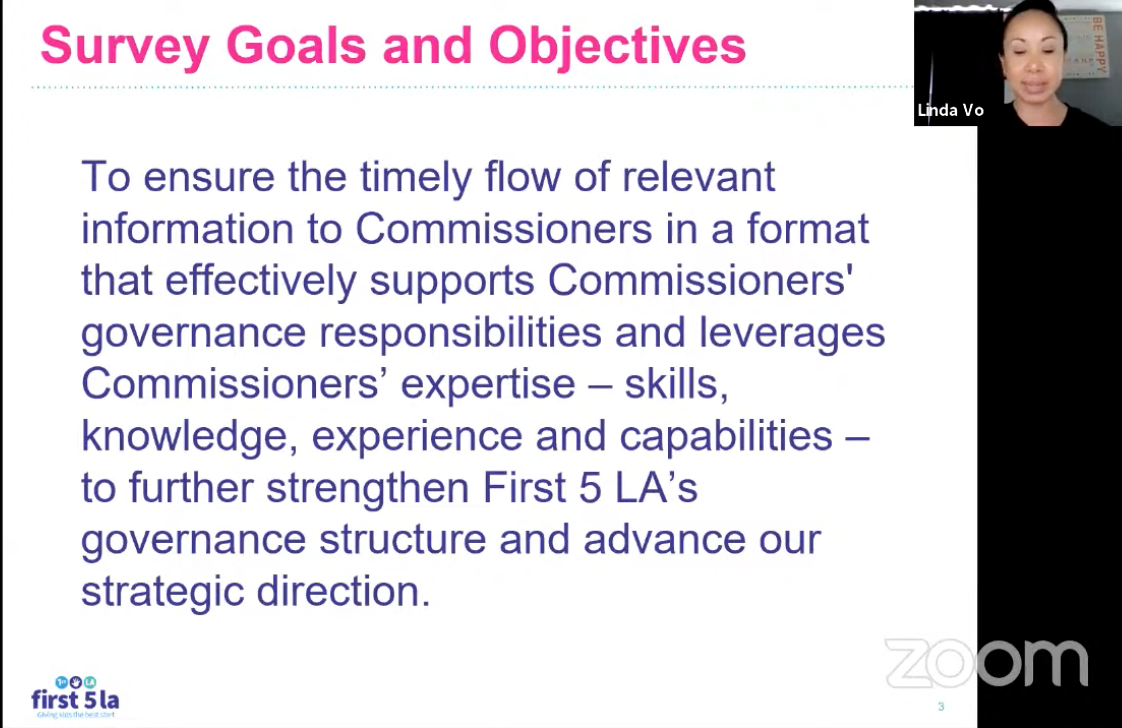 Vo shared how First 5 LA plans to use key takeaways from the survey and apply them to future Board relations, stating that a hybrid model of virtual/in-person Board meetings may be implemented in the future, and that shortened meeting times that had already been implemented at the start of the pandemic were likely to continue post-COVID.  
For a full list of findings from the 2021 Board survey, click here.  
The next Board of Commissioners meeting is scheduled for September 8. The Board will be on summer recess during the month of August. For more information, check www.first5la.org/our-board/meeting-materials.