---
April 13, 2021
Terika Hameth had heard all the grim statistics. Black women in Los Angeles County were four times more likely to die from pregnancy complications than mothers of any other ethnic group. Black infants were more than three times as likely to die in their first year than white babies and more than five times as likely as Asians. So when she became pregnant last year, she was overwhelmed by anxiety instead of joy. 
 "I thought, 'What if I die?'" she said.  
When she was five months pregnant, Hameth heard a radio ad about a free doula program for Black moms-to-be and signed up. The doula, a professional childbirth companion, was just what she needed. The doula answered her questions, gave tips on managing anxiety and stress, explained pregnancy and delivery options, and — when Hameth's labor started two weeks before her due date — was present via FaceTime in the delivery room. Hameth gave birth to a healthy 6-pound, 13-ounce boy named Kaleb. Post-partum, the doula checked in with her to ensure she wasn't depressed and was bonding well with the baby.  
"She made me feel more secure, more confident. I knew what questions to ask and how to advocate for myself," Hameth said. "I don't know why anyone wouldn't want a doula." 
The doula program for Black women is just one aspect of the Los Angeles County Department of Public Health (DPH) and First 5 LA's five-year initiative to reduce African American infant and maternal mortality (AAIMM) and ensure healthy and joyous births for Black families in Los Angeles County. The effort got underway in 2018 under the joint stewardship of Pritzker Fellow Melissa R. Franklin at First 5 LA and DPH, along with a host of agencies, community-based organizations, the March of Dimes and the LA Partnership for Early Childhood Investment. The County Departments of Health Services and Mental Health were other key partners and participated with the goal of reducing the gap between white and Black infant and maternal mortality rates by 30 percent by 2023.  
While DPH and First 5 LA have both contributed funds and housed the state's Black Infant Health (BIH) program that began in 1989, the AAIMM initiative is a county-led effort that was spurred by a First 5 LA-funded focus group that surveyed Black women on their experiences of childbirth. A common theme heard throughout the focus group was that Black mothers experienced racism, both directly and indirectly, when interacting with the health care system. These experiences led to feelings of stress, alienation and isolation, and contributed to a lack of trust in the medical establishment to provide care that was centered around the unique needs of each mother.   
This finding informed a 2018 DPH action plan, Pathway to Equity: A Framework to Close the Black-White Gap in Infant Mortality, which called out that Black mothers and infants in L.A. County died at significantly higher rates than other racial and ethnic groups, in keeping with a pattern seen across the United States. Furthermore, this pattern held true even when accounting for differences in socioeconomic and educational levels, as well as risk factors such as smoking and access to health care. For example, college-educated Black women experience poor birth outcomes at about the same rate as white women who did not finish high school. Black women who don't smoke have worse birth outcomes than white women who do. This stark data — plus the emergence of research around racism, stress and maternal and child health — places the root cause of racism, the physical and emotional stress it causes, plus implicit and overt bias in the health care system, as the primary driver behind the disparity in birth outcomes.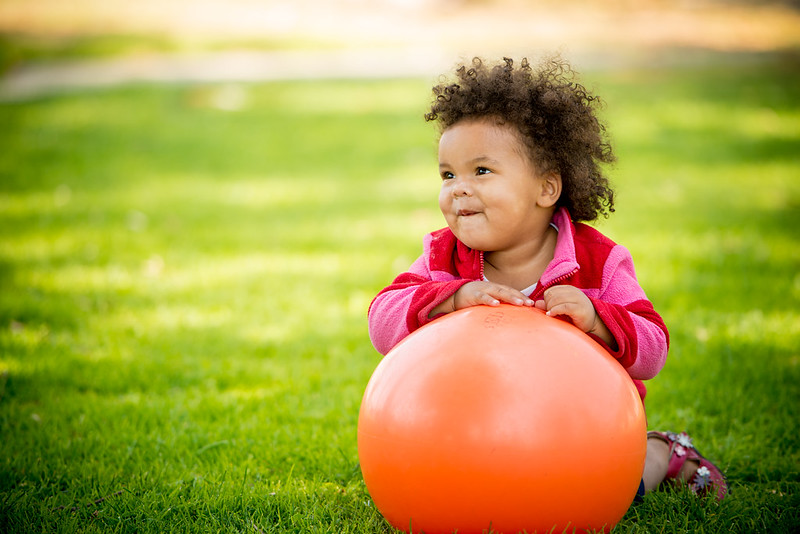 "It's this multigenerational exposure to the trauma of racism, intersecting with a system of support that has not effectively met the needs of Black individuals, that has wreaked such heartbreaking outcomes," said Franklin. "The question is not how do we change the behavior of a pregnant woman/person who is Black, but how do we transform the system that is to support her, and how can we "activate the village" to get families access to things we know foster joyous and healthy births." 
The LA County AAIMM Prevention Initiative launched out of this plan, aligning efforts with then-budding Community Action Teams (CATs) in the South LA/South Bay and Antelope Valley regions of Los Angeles, and later helping establish CATs in the San Fernando/Santa Clarita Valleys and the San Gabriel Valley. In 2020, the initiative launched a public awareness campaign with the theme of "a joyous and healthy birth takes a village." The campaign was one of the first comprehensive efforts in L.A. County to raise awareness on the longstanding racial disparities in birth outcomes; the role of racism in creating these differences; past and present interventions that sought to address the issue; and the role that families and stakeholders could play in decreasing Black infant deaths. Advertisements in both traditional and social media have reached 40 million people, Franklin said. The program has also reached out to educate specific groups — including hospitals, physicians and health care providers, health plans, and policymakers, as well as philanthropists — about AAIMM, anti-racism and implicit bias.  
AAIMM's largest funding source is the Perinatal Equity Initiative (PEI). PEI was established in the state Legislature's Budget Act of 2018 as the California Department of Public Health's response to the alarming statewide gap in Black infant mortality. PEI is designed as a complement to the state's BIH Program, a group-based service, information and social support program for Black mothers to buffer the negative effects of racism on their health. This funding has helped support the AAIMM initiative in assisting programs that span all facets of the AAIMM crisis, including group prenatal care, fatherhood support, preconception health, hospital quality improvement, paid family leave and earned income tax credit (EITC) education and assistance. In addition, the AAIMM initiative provides funding for the Village Fund community grants, service planning area (SPA) community actions teams and the Countywide Steering Committee.  
In the same spirit of "it takes a village," The Village Fund, a public-private partnership to support community-led efforts that reinforce AAIMM's goals, was created with $300,000 from 11 donors, including DPH and First 5 LA. The Fund has sponsored projects such as Mighty Little Giants, which provides support for families of color with preterm newborns in neonatal intensive care units.  
Creating Community Action Teams (CAT) in neighborhoods across the county is a crucial component of the "village." The CATs are regionally-based collaborative partnerships that comprise community-based and faith-based organizations, health care providers, county health departments, birth workers, such as doulas and midwives, and local residents and businesses. Their goal is to educate local community residents, as well as determine needs and solutions. "Our community was not aware of the stark disparity," said Adjoa Jones, Associate Director, Regional Collaboration for the County Department of Human Services, who developed the South Los Angeles/ South Bay AAIMM CAT. 
One of the results was Black Daddy Dialogue, a Black men's group developed by the South LA/South Bay CAT, which promotes the importance of having fathers involved during pregnancy and childbirth through social support and technical assistance. The Village Support Group, created in the Antelope Valley, provides mental health support for pregnant Black women. The CATs hold regular community meetings with nurses, midwives and doulas as educational speakers, and moved to virtual platforms during COVID-19. "It's critical to keep our community engaged and informed," Jones said. "We're building coalitions and increasing support." 
The AAIMM Doula Program, which was launched with 14 Black/African American doulas as a pilot, was developed specifically to address racial disparities in the pregnancy, labor and post-partum period. The pilot had 378 participants from the regions of the county with the highest Black infant mortality rates, surpassing its goal of 360. Michelle L. Sanders, AAIMM Doula Program Coordinator for the LA County Department of Public Health, said that women outside the county have called wanting a doula, indicating widespread need in the Black community. "Having someone who looks like you, who shares your lived experience and your anxiety and fear about statistics for Black women, is so important," she said. The pilot proved to be popular and, last November, was awarded $1 million annually from the California Department of Public Health to serve an additional 500 pregnant Black individuals by 2023.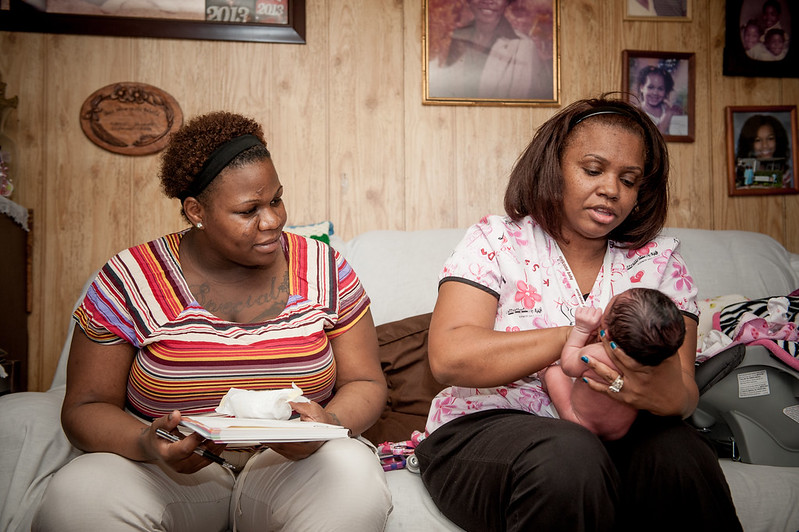 AAIMM, alongside state partners, has engaged Medi-Cal and other insurers around offering doulas as a covered service. To maximize the benefits to a family of having a doula, AAIMM is also training doulas on supporting all pregnancy outcomes, including pregnancy and infant loss, lactation, and financial wellness — such as Paid Family Leave and the Earned Income Tax Credits — that families may qualify for; other community members are also being trained to create awareness about these financial programs. A proposed next step is offering doula support to pregnant women who are or were formerly incarcerated, Sanders said. 
Cherished Futures for Black Moms and Babies is another program seeking to improve birth outcomes in South Los Angeles and the Antelope Valley. Cherished Futures brings together key decision-makers from local hospitals, public health agencies, health providers, community-based organizations and advocates to identify and implement systemic changes hospitals can make at the clinical, institutional and community levels, to raise the quality of care for Black patients to the levels experienced by other racial groups.  
A recent development coming out of the AAIMM Initiative is the concerted effort to create a Black Maternal Health Center of Excellence at the Charles R. Drew University of Medicine and Science in South Los Angeles. The Center will provide evidence-based group prenatal care by Black community midwives and perinatal wraparound services for Black women.  
The AAIMM Initiative additionally encompasses preconception health with a program to promote culturally competent reproductive health care, healthy behaviors and pregnancy intention screening as a standard component of primary care.  
Two years into the initiative, Franklin said she's encouraged and hopeful that the collective work that builds upon decades of efforts by primarily Black women-led organizations and programs like Black Infant Health will generate meaningful change that will result in healthy and joyful birth outcomes for all Black women. "We've gone from the idea of an initiative to a full-blown movement in a very short period," she said. "We're starting to see a shift in how people are talking about AAIMM and responding to it. The key to seeing this shift result in meaningful change will be for every person and organization possible to see themselves as a part of the village and act in a manner that centers Black individuals."