---
May 27, 2021 | 6 Minute Read
For Kirstie Basal De La Cruz, 2020 was a year of double trouble. 
And not because she is the mother of twins.
It began a year ago when the cost doubled to send her then 2 1/2-year-old daughters to day care. Because of the COVID-19 pandemic, she had to enroll them in preschool for twice as many days each week to continue full time as a cardiac rehab worker at a Glendale hospital.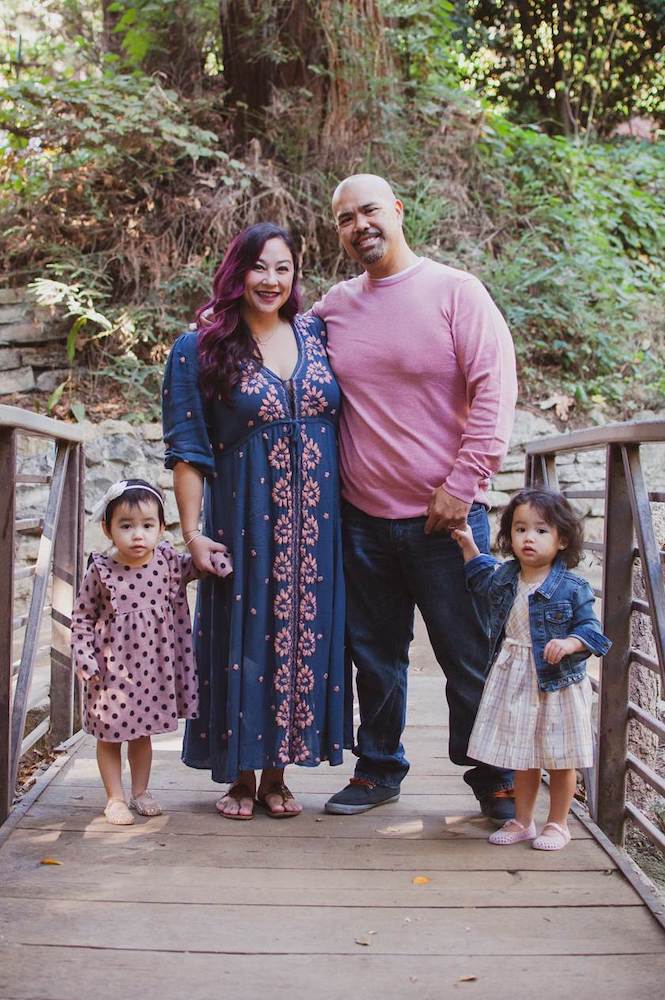 Fortunately, the state stepped in with emergency child care vouchers for essential workers like Kirstie, helping to pay the additional cost. As grateful as she was for the financial assistance, Kirstie was even more thankful for her daughters' early learning teachers. 
"Working during the pandemic was a huge risk and these wonderful teachers showed up every day with a smile on their faces," she said of the teachers at Woodbury Preschool Village in Altadena. "They were sanitizing every five minutes. Triple-washing their hands. It doubled their workload. And I'm sure they were concerned about getting the coronavirus. Little kids can't comply to a six-foot rule. Little kids have a hard time with masks. The teachers' sacrifice was being there, every day." 
Then the trouble doubled when the Bobcat fire broke out in September in nearby Monrovia. 
"My kids were safe at preschool while the fire was going on," Kirstie recalled. "They kept them indoors for three or four weeks straight. They didn't want to expose their lungs to bad air. Those teachers are magic. They had so many things to pull from to keep the kids entertained and learning." 
Recognizing the critical work of child care providers and early educators, First 5 LA joined with its partners on May 7, National Child Care Provider Appreciation Day, to thank them for their heroic efforts. 
Using the hashtags  #WeSeeYouECE and #ChildCareHeroes, an assortment of appreciations were posted on social media throughout the week. Thank yous from Los Angeles County Supervisor Holly Mitchell, L.A. City Council President Nury Martinez, early education leaders and parents were also captured in this video, which has garnered more than 2,800 views. Read more about the campaign here. 
The recognition project was a joint effort between the Child Care Resource Center, Child Care Alliance of Los Angeles, Los Angeles County Office of Education, First 5 LA, Child 360, and Quality Start Los Angeles.
Recognizing the work of child care providers has never been more important. 
Throughout the pandemic, child care providers risked their health and safety to care for children of essential workers. In addition to the added health risks, child care providers dug deep into their own pockets for cleaning supplies, masks and the necessary upgrades to Wi-Fi and technology required for children to learn remotely. 
The pandemic also negatively impacted the livelihoods of many providers. In Los Angeles County, research shows 20 percent of family child care providers and 36 percent of center-based child care providers have closed. The trends are similar across California. 
Last month, Early Edge California and Child 360 released Providing Early Care and Education (ECE) During the COVID-19 Pandemic: Perspectives from Los Angeles County ECE Professionals. Funded by First 5 LA, this report highlights the COVID-19 pandemic experiences of nearly 600 Los Angeles County ECE professionals. It provides critical data, recommendations and lessons learned that can help guide policymakers and ECE stakeholders as they consider what investments are needed to stabilize ECE programs and to support educators and families in the months ahead. Click here to watch the 40-minute webinar introducing the report.
Even prior to the pandemic, the state's early learning system was already struggling to adequately meet the needs of families, with inadequate funding, long waitlists and additional challenges faced by providers. 
While many early learning providers continue to operate and provide care, reports abound about a potential child care crisis around the corner. As people return to work from the pandemic, child care will be an essential element in the recovery and future of California's economy.  
During its Advocacy Day event (see related article), First 5 LA joined First 5s statewide in virtual meetings to urge Sacramento lawmakers to support legislation and boost investments in the state's early learning system. Some of the requests to lawmakers included raising child care provider compensation — which can amount to an unlivable $3 an hour — and supporting $7.8 billion in state and federal funding for early learning supports.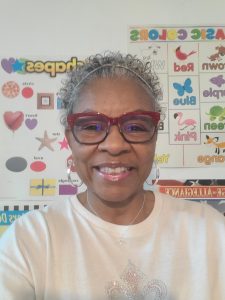 "It took years for us to finally get state legislators to not look at us like babysitters," said Tonia McMillian, who runs McMillian Family Child Care in Bellflower. She served on California's Blue Ribbon Commission on Early Childhood Education and currently serves on California's Early Childhood Policy Council. "There are so many child care providers who have so much talent. Yes, we work in our homes, so we are not out in the public for people to recognize the work that we do. People need to start honoring the work that goes on behind closed doors in these family child care homes." 
"We are a part of the fabric that helps put our children on pathways to success, keeps our economy going, helps parents go to work so they don't have to worry about their children," McMillian continued. "Those are a few reasons we have to be recognized and supported." 
National Child Care Provider Appreciation Day is a step in the right direction. Said McMillian: "I think celebrating early child care is amazing. Anybody who had a family child care provider — tell them thank you."
Jessi Martinez kept early learning going during the pandemic for the children at her Gonzalez Martinez Family Child Care in Palmdale. She agreed that while more needs to be done to support child care providers, the recognition of their — and her — hard work is much appreciated.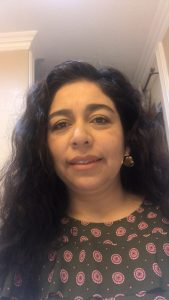 "The recognition motivates me to keep doing my job every day and to be a better teacher for my children," Martinez said of Child Care Provider Appreciation Day. "But the best recognition is from the children — when I cook for them and they say, 'Oh, Miss Jessi! I love your food!' It's like gasoline for me. It makes me go the extra mile for them."
For the preschool teachers who went the extra mile for her twins during the pandemic and the Bobcat fire, Kirstie showed her appreciation by giving them Bundt cakes, cupcakes, flowers and wine. 
"They gave me peace of mind," she said. "I did not have to worry about my kids. They were well cared for, on track for all their developmental milestones and it allowed me to focus on patient care."
But, she added, more needs to be done to recognize the sacrifices of all those who provide care and early learning for young children. 
"I do not think they get enough credit," Kirstie said. "Working with kids is hard and there is not enough recognition of how hard it can be, especially during a pandemic. Preschool teachers are a special kind of unicorn. They are magical."