---
June 29, 2021
If there is a silver lining to the COVID-19 pandemic, it is the resilience and adaptability of home visitors who continued to help thousands of families with child rearing across Los Angeles County despite challenges of communication, illness and economic hardship among clients, as well as their own families, speakers said at the 2021 Family Strengthening Network Virtual Annual Summit earlier this month.
"It was quite a journey, but we made it," said Sharlene Gozalians, executive director of the LA Best Babies Network, which supports home visiting programs with technical assistance and trainings across the county. "When this is all over, we may find we are stronger and closer than ever."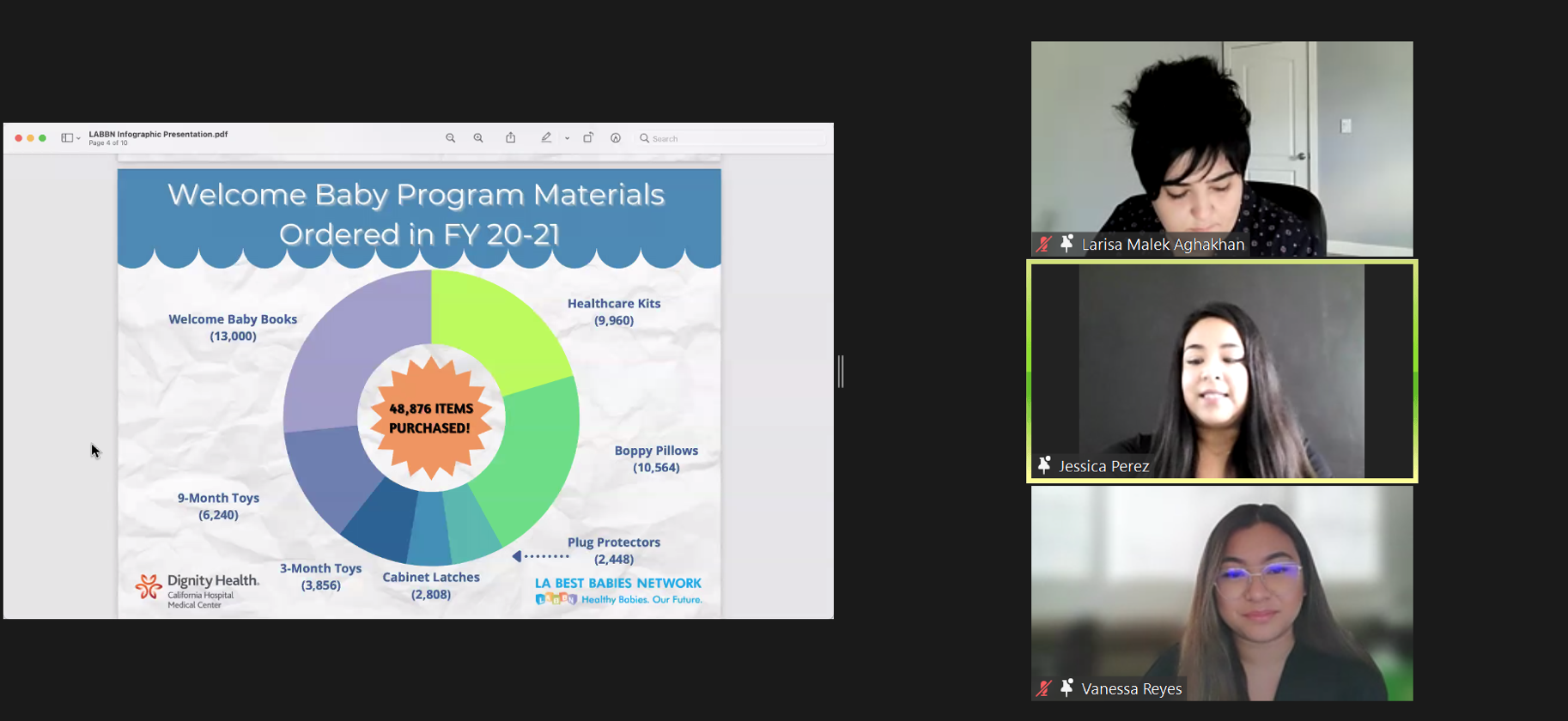 Endurance and flexibility emerged as the main themes at the event, which was the second held online due to the pandemic. The annual event recognizes and celebrates the achievements of home visitors in Los Angeles County, which has the nation's largest home visiting network and serves as a model for such programs. 
First 5 LA has long been a key proponent and funder of free and voluntary home visiting programs that provide families with a trusted partner who comes regularly to the home to offer information and support about child rearing, as well as connections to other programs such as food aid, health insurance and other public services.
Home visiting is delivered through the Welcome Baby program, which lasts from two to nine months, and the more intensive Healthy Families America and Parents As Teachers programs, which run from three to five years. Home visiting has been shown to strengthen parental capacity, enhance child development and increase child safety.
"Home visiting is meaningful work," John Wagner, executive vice president of First 5 LA, told the audience of around 600 people. "What you're doing matters." 
Deborah Allen, deputy director of L.A. County Department of Public Health (DPH), said she is working towards making home visiting a universal option for all families on Medi-Cal in Los Angeles County. "Home visiting works," she said.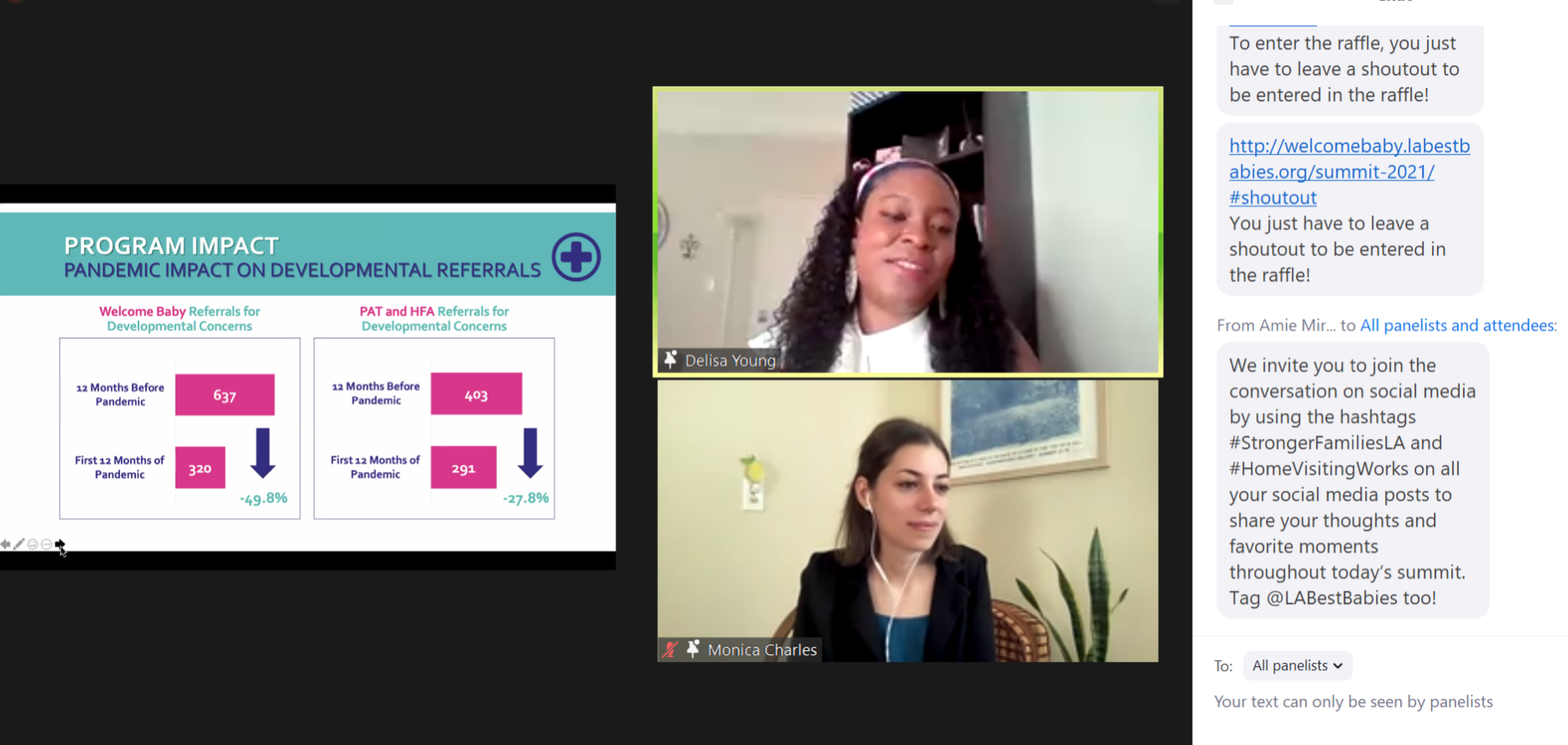 The pandemic forced home visitors to switch largely from in-person visits to virtual visits using video platforms such as Zoom. Staff reported that while the important observation component of visits — as well as the in-person contact that fosters building a relationship — was missing, virtual visits had a number of benefits. More fathers participated during online visits, and clients could continue participating if they were out of the country. Virtual visits could also be held in evenings, which made it easier for clients with school-aged children, said Delisa Young, data and evaluation manager for LA Best Babies Network.
The pandemic also resulted in a dip in enrollment due to the limited outreach opportunities during the lockdown, making it difficult to reach new parents either before or after giving birth. Still, the declines weren't significant. Welcome Baby saw 15,384 enrollments, down from 15,966 the prior year. The number of referrals to service agencies also dropped off, as many agencies were closed. However, the number of referrals for mental health services, operating via online visits, shot up by 35 percent to 2,668. 
Keynote speaker Junlei Li, the co-chair of the Human Development and Education program at the Harvard University Graduate School of Education, emphasized the key role that home visitors play as "helpers" — a term Li uses in describing people vital to the simple, everyday interactions that form the basis of developmental relationships. Home visitors, Li stated, share the common characteristic of finding ways to work through adversity so they can keep providing their services, because they know people count on them.

"Helpers bring more than their job to their communities," he said. "Helpers find that window and they keep helping. There's more than just one way to help people around us. There's nothing too small."
He urged home visitors to think of themselves as pebbles tossed in the water, creating ripples that touch the lives of others. "Who has been touched by your ripples? Being and having at least one person in your life matters. Be that person," he said.  
Lida Lim of Long Beach, who participated in the Welcome Baby program, said she was initially skeptical that home visiting would benefit her. But then she found she could have a parent coach, Sithary Ly, who is Cambodian like herself. Ly became a crucial support during the difficult time that Lim's son, born prematurely with various health conditions, had to remain in an incubator, particularly as Lim's own family is in Cambodia. "She's like my family," Lim said.
Sandra Masushige, a participant in the Parents as Teachers program, said home visitor Tamara Satterwhite has been instrumental in helping her make positive changes in her life. From living in a homeless shelter two years ago, Masushige now has her own apartment and a new job. Satterwhite not only helped her with material resources, ranging from diapers to furniture, but also provided the intangible elements of caring, encouragement and time. "She has a big heart," Masushige said. "It makes your life easier and makes you a better parent. Who wouldn't want that?"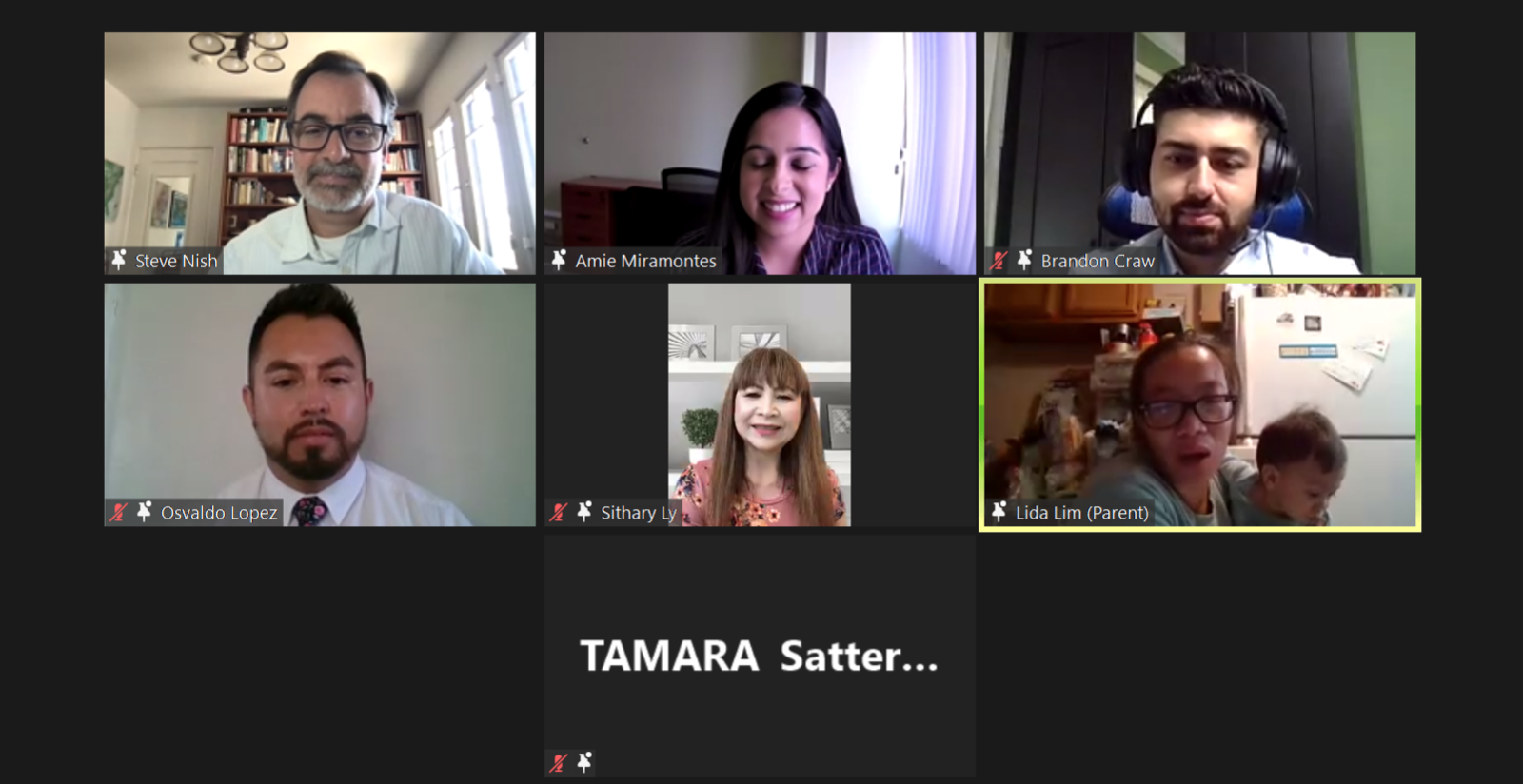 Satterwhite said building successful connections with families was about "meeting them where they're at" and sending the message that "we're going to be here for you." For instance, she said she calls referral agencies to ensure they can deliver the services, so clients are not disappointed or frustrated.
The event also featured a powerful spoken word performance by Avi Silver, who is studying to be a social worker. Silver, who has had nine eye surgeries since childhood to preserve his sight, wrote a piece specially to honor home visitors, noting that "families will never take you for granted." Additionally, U.S. Rep. Jimmy Gomez (D-Los Angeles) made a brief video thanking home visitors on behalf of working families.
DPH's Allen stressed to home visitors that they make a huge difference in people's lives. 
"These are life-changing contributions to families," she said. "Home visiting is a really powerful tool."