---
February 28, 2023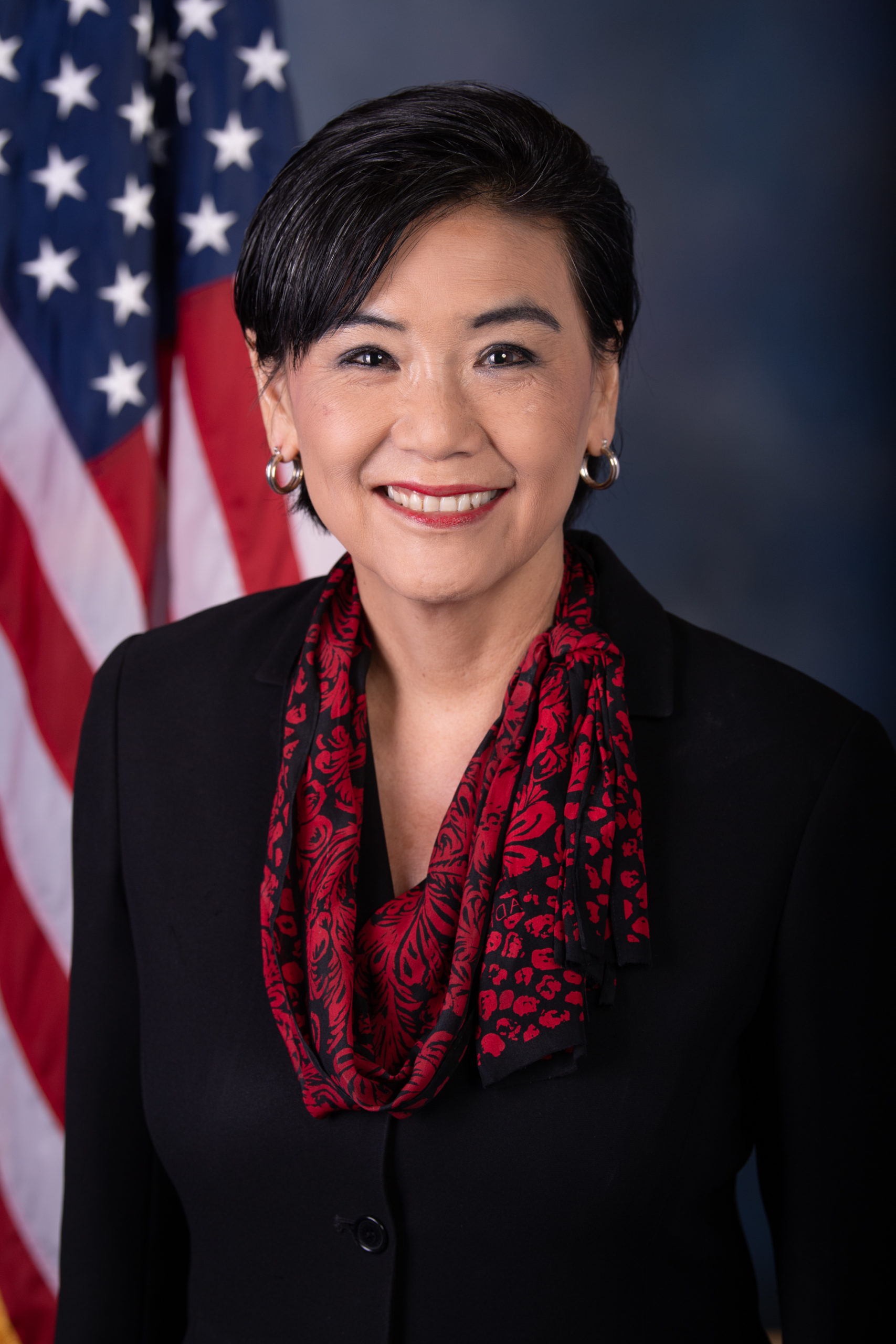 During the Ways and Means Committee markup meeting on Sept. 21, 2022, Rep. Judy Chu struck a powerful chord with the last words of her statement on the importance of the federal Maternal Infant and Early Childhood Home Visiting (MIECHV) program. 
"In Los Angeles County, where my district is located, 37,000 families were served through evidence-based home visiting models in 2021," shared Chu, who represents Los Angeles County's San Gabriel Valley. "But an estimated 750,000 more expecting and parenting families with children under 6 years old were eligible for home visiting services during the same year but were unable to receive them." 
Shortly after Rep. Chu's remarks, the House of Representatives voted to pass the Jackie Walorski Maternal and Child Home Visiting Act of 2022, a piece of legislation that reauthorizes the program, doubles federal investment in MIECHV for the next five years and grants the continued flexibility of virtual home visiting services. Part of ensuring that all eligible families receive home visiting services through programs like MIECHV, the legislation later made it to President Joe Biden's desk, where it was signed into law as part of the FY 2023 omnibus spending package, marking a huge victory in First 5 LA's advocacy efforts.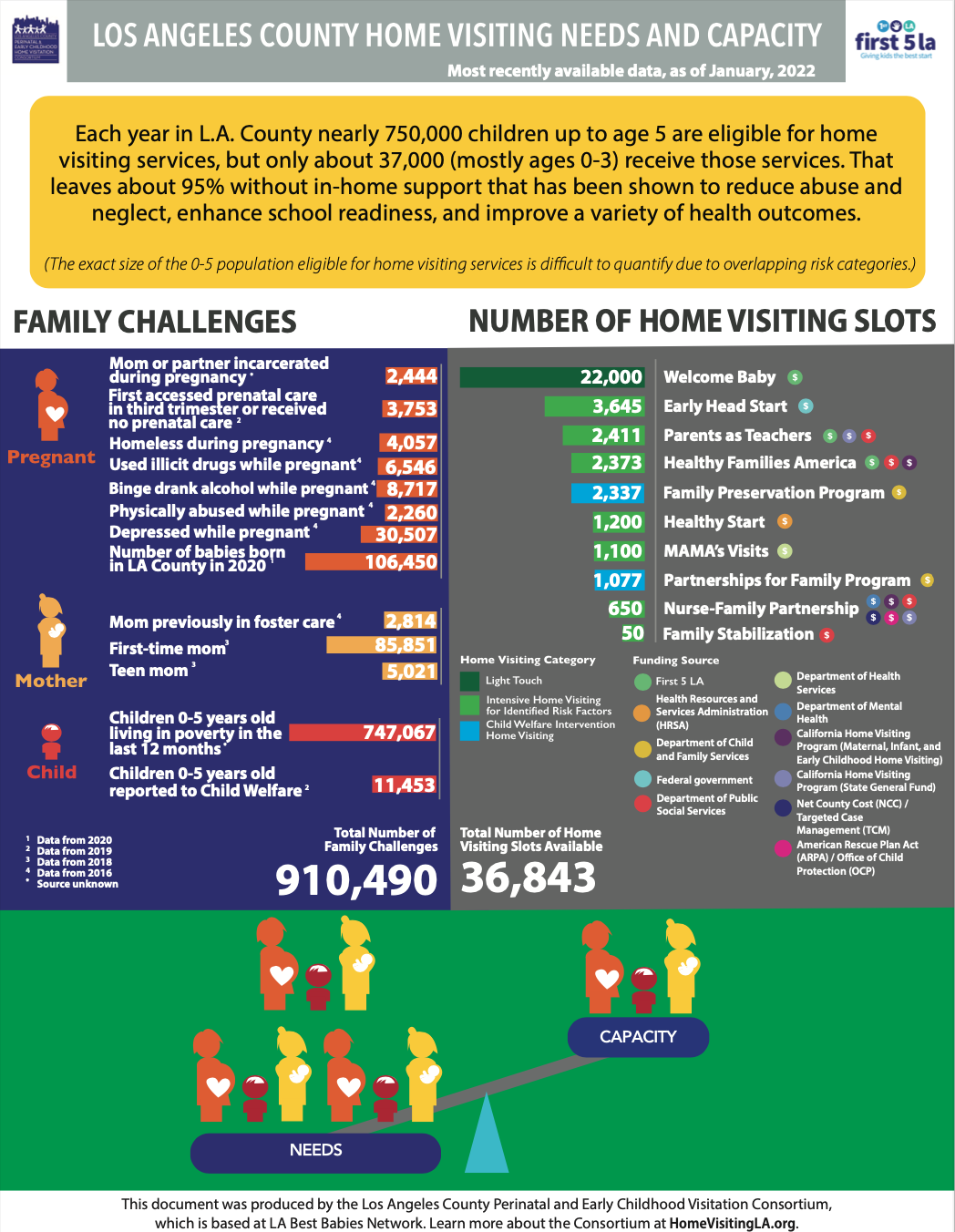 In the months and days leading up to the September markup meeting, First 5 LA played a significant role in MIECHV discussions. As a leader in the field with over a decade of investment in home visiting programs, the agency was invited by Rep. Chu to help bolster the argument for reauthorizing MIECHV." 
Advocacy efforts like these often go unseen but are an important ingredient when it comes to advancing First 5 LA's North Star goal: that all children in Los Angeles County will reach their full developmental potential throughout the critical ages of prenatal to five. Though Los Angeles County — home to the highest number of births per county in the state — uses a variety of federal, state and local public funds and other investments to support the home visiting ecosystem, MIECHV is an important funding stream when it comes to sustaining and scaling the system. 
First 5 LA advocacy efforts ramped up early last year when we sprang into fast action to spread awareness of the reauthorization deadline that loomed at the end of 2022. As a member of the National Home Visiting Coalition, a diverse group of organizations working to promote continued federal support of home visiting to strengthen families in communities across the country (and as an active member of its steering committee), First 5 LA was able to have direct insight into the advocacy journey needed ahead.  
This journey included reaching out to all 18 congressional members of the Los Angeles Delegation to make them aware of the deadline, utilizing stories and proof points from our home visitation investments to elevate the importance of MIECHV and garner support for its reauthorization. First 5 LA's Office of Government Affairs and Public Policy set meetings with several members who sit on the Ways and Means Committee –– including Rep. Chu and the office of Rep. Lucille Roybal-Allard –– and provided recommendations for the bill to include more flexibility for state administration and permanent support for telehealth; both recommendations were subsequently included in the final version passed.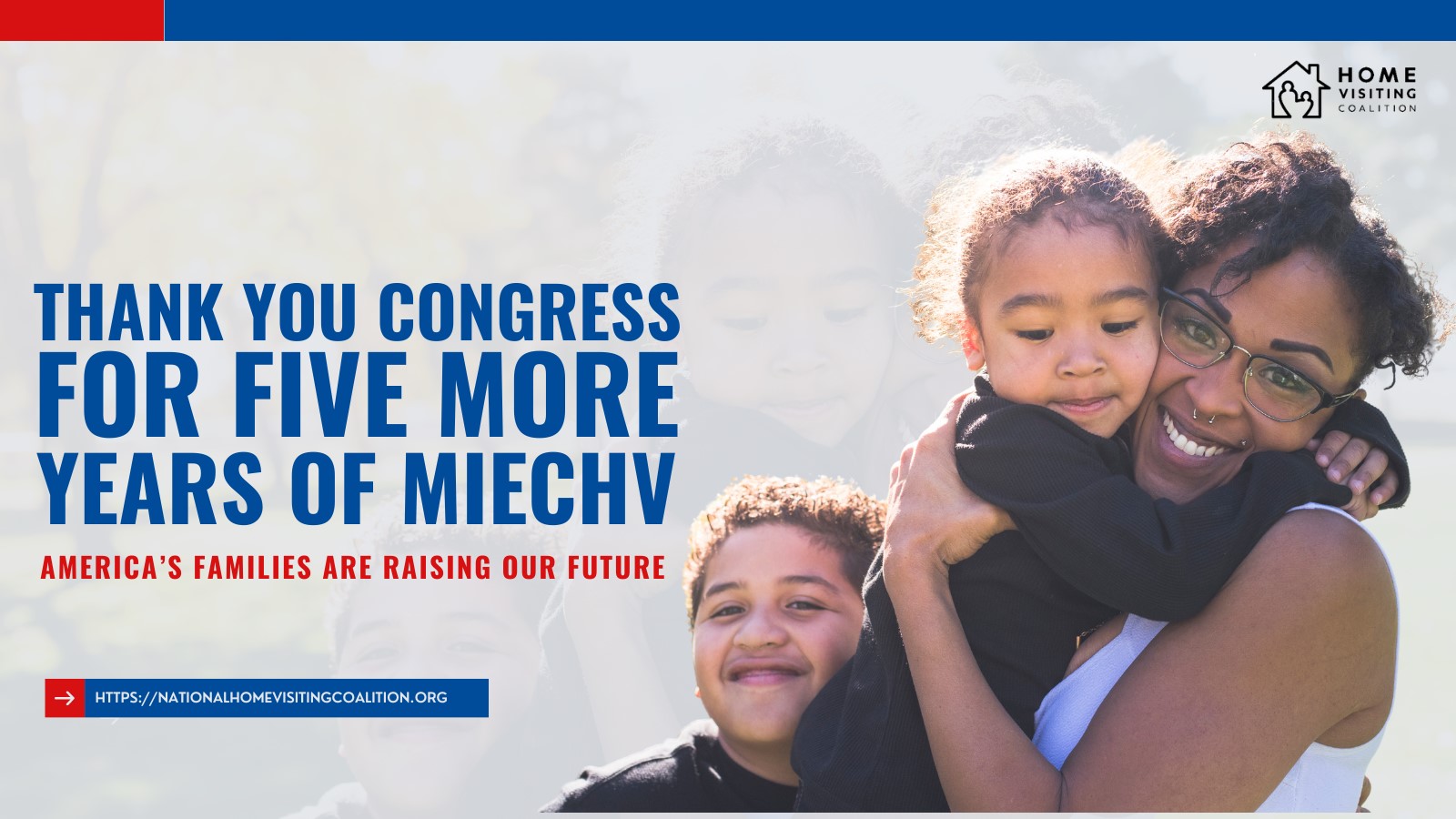 Our strong relationships were also key to our advocacy success. Alongside the First 5 network and with the backing of the National Home Visiting Coalition, we wrote a letter expressing our support for the program to the Ways and Means Committee that drafted the MIECHV legislation. Uplifting the impact MIECHV has on Los Angeles families, we called on Los Angeles members of the Ways and Means Committee to co-sponsor the MIECHV legislation, eventually securing co-sponsorships from 12 of the 18 delegation members. Finally, the entire Los Angeles House delegation voted to pass the legislation. Following the passage of the bill, we reached out to our senators to ask that they prioritize MIECHV in the omnibus package.  
This behind-the-scenes work reflects years of First 5 LA's federal advocacy that has grown over the last decade through consistent engagement, communication, collaboration and showing up as a resource to our delegation, which serves the largest municipal government in the nation. Our MIECHV advocacy efforts will continue as we work with the Health Resources and Services Administration to clarify promising practices within MIECHV and work with partners to implement the expansion of the newly reauthorized program. 
In the future, First 5 LA will continue advocating for the expansion of MIECHV, uplifting its value as a program that promotes practices that improve maternal and infant health — especially for families who face additional challenges and barriers — and generates more equitable outcomes for kids by providing families with the support they need during the most critical moments of their child's development. While the reauthorization marks a historic and much-needed investment, expanding the program sufficiently to serve every eligible family in Los Angeles County is an ongoing goal.