---
March 30, 2021
As the nation emerges from the COVID-19 crisis and a national reckoning over racism, now is the time to transform social systems so children of all backgrounds have equal chances at leading successful, productive lives. That was the theme at Child Watch 2021: The State of California's Children and Youth in the COVID Era, an online symposium held earlier this month by the Children's Defense Fund-California and sponsored in part by First 5 LA.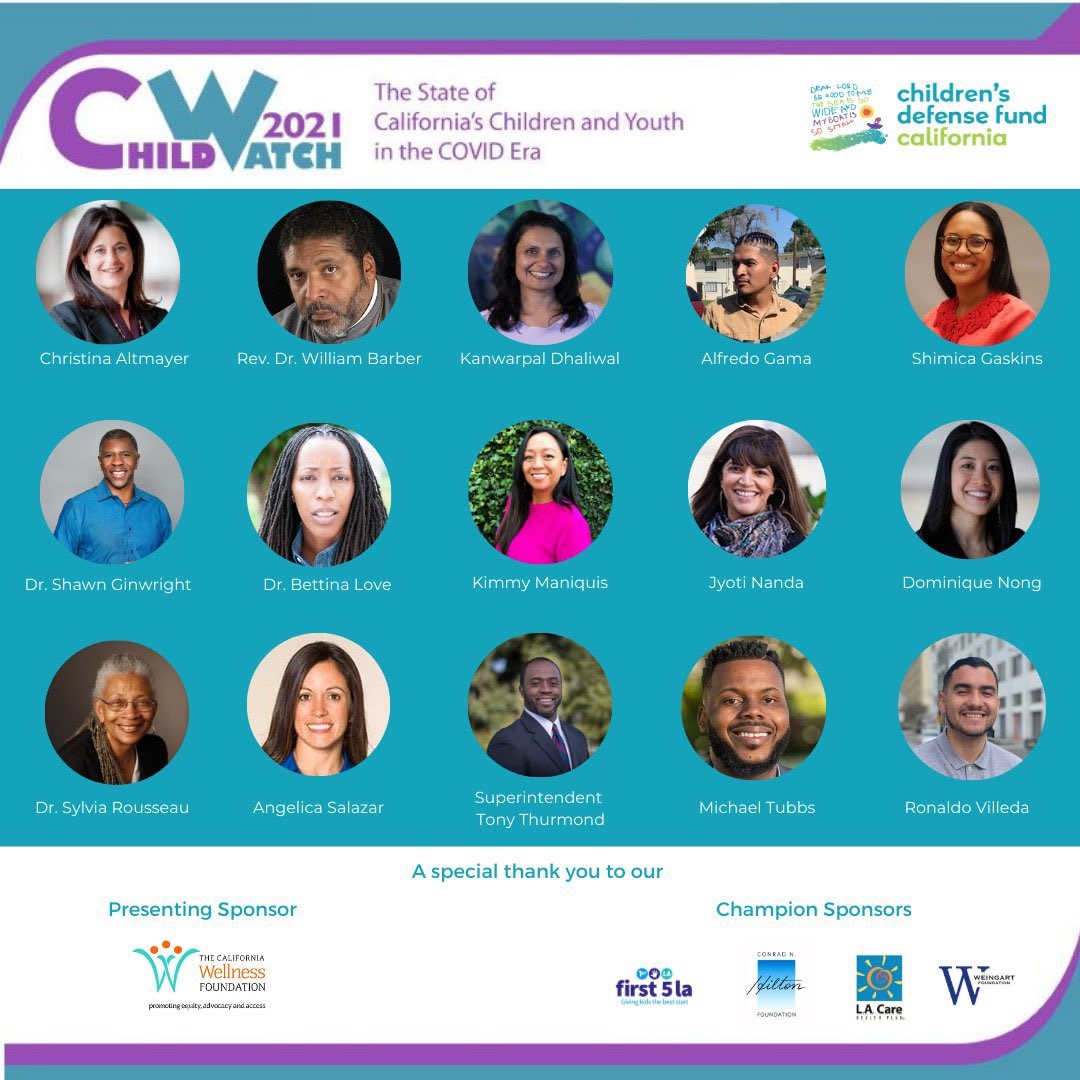 "COVID-19 revealed much of what does not work for California families," said Alex M. Johnson, program director at The California Wellness Foundation, the symposium's presenting sponsor. "This is a call for radical transformation."
Keynote speaker Rev. Dr. William J. Barber II, a leading national civil rights activist, noted that Martin Luther King Jr.'s words from the 1960s civil rights struggle are particularly applicable to 2021. The pandemic heightened awareness about health care disparities, and the George Floyd killing in Minneapolis led to global soul-searching about the justice system's treatment of minorities. "'Nothing could be more tragic than for us to stop where we are now,'" Barber said, quoting King. "'Normalcy never again.' We can't simply go back to where we were pre-COVID. This pandemic has exposed fissures."
Activists must press for transformational change to remedy systemic racism and poverty, job-based health care and the effects of ecological disaster, Barber said. "We don't have a scarcity of money in this country. We have a scarcity of will," he said.

California State Superintendent of Public Instruction Tony Thurmond, another keynote speaker, said his administration is implementing a host of new policies aimed at eliminating inequities in schools. These policies include reducing reliance on high stakes testing that puts children of color at a disadvantage; implementing an anti-racist training program for educators; and sponsoring legislation to seek more funding for school counselors, restorative justice initiatives and accelerated learning, such as tutoring, to make up for lost class time over the past year. "We're really putting the spotlight on these things," he said.
Three panels during the half-day conference addressed child well-being, juvenile justice and education, with noted experts.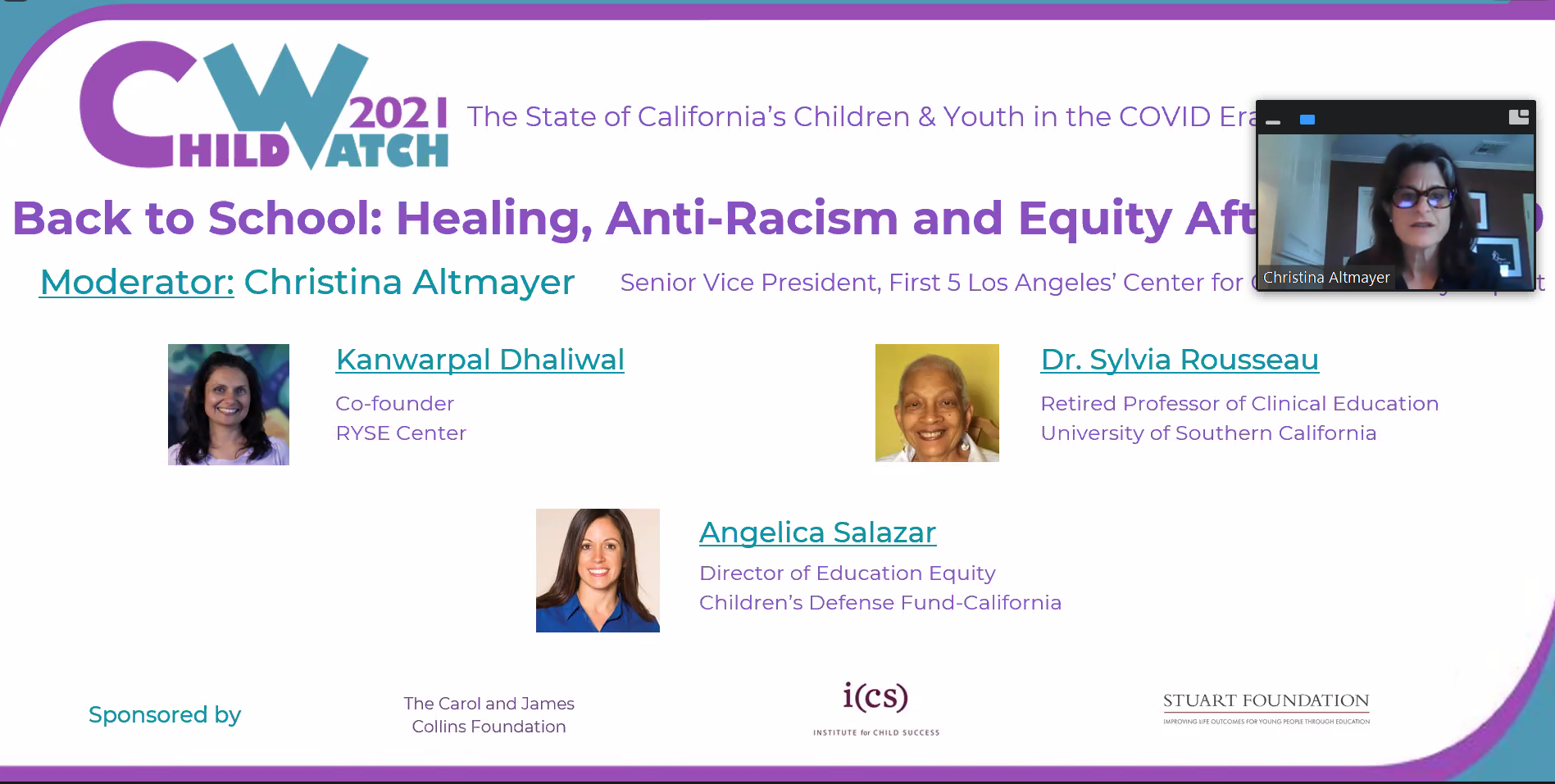 First 5 LA Senior Vice President Christina Altmayer, who moderated the panel "Back to School: Healing Anti-Racism and Equity after COVID-19," said Black mothers and infants, even when they have health insurance, have consistently poorer outcomes than all other racial and ethnic groups due to systemic racism. "The disparities that exist begin prior to birth and continue throughout life," she said, adding that outcomes in health and education are interconnected. 
"So much of health is outside the health care system," Altmayer said. She noted that a successful model is having health care organizations partner with community organizations.
Panelist Kanwarpal Dhaliwal, co-founder of the RYSE Center in Richmond, California, said racism is "atmospheric" in schools. "The education and health systems are just as dehumanizing as the police system," she said. "Systems may have to be demolished in order to be rebuilt."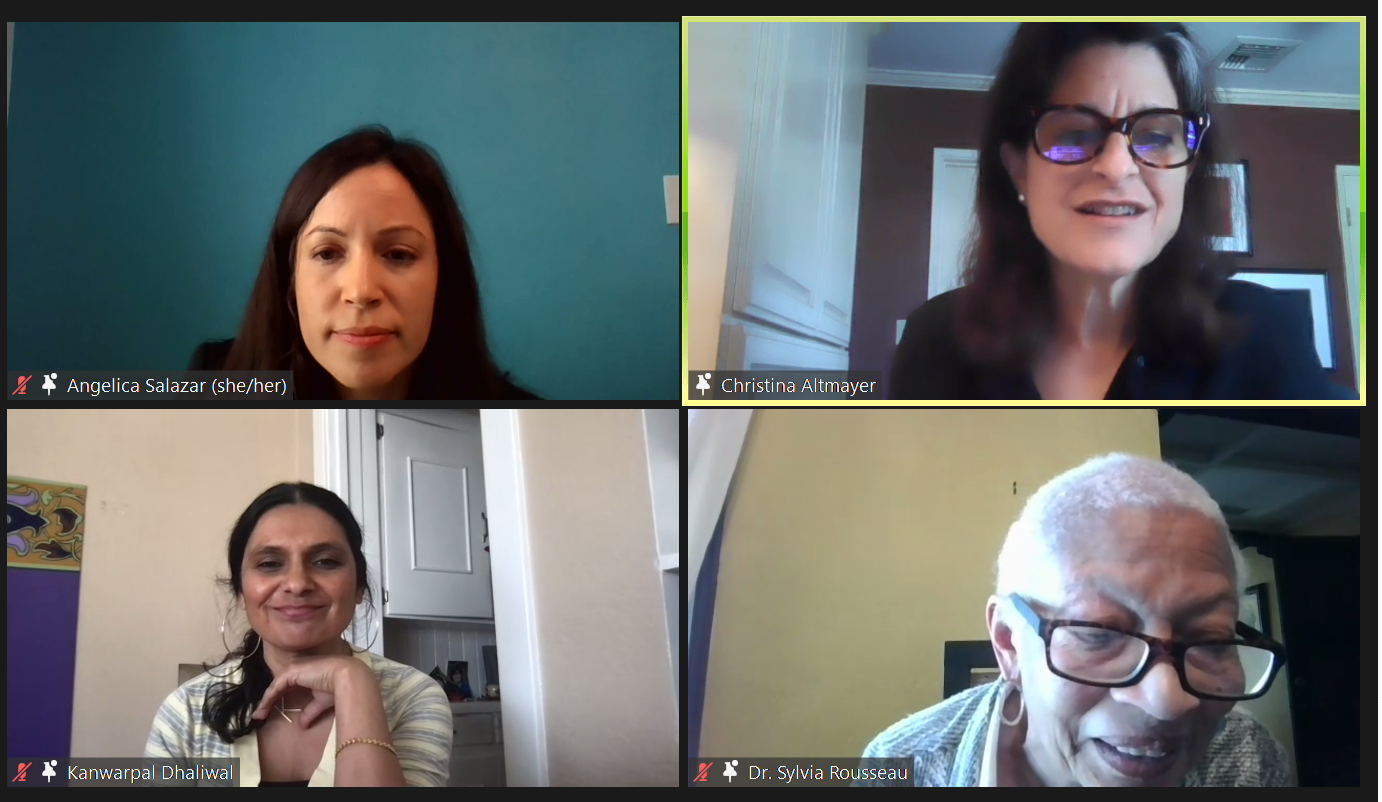 Another panelist, Dr. Sylvia Rousseau, retired professor of clinical education at the University of Southern California, said the litany of statistics showing that children of color underperform in schools is a storyline that needs to be changed. "Children internalize the narrative," she said. "It destroys their spirits." Instead, educators should focus on the contributions of people of color and their success stories beyond athletics and arts. "Children have to be at the center of all we do," Rousseau said.
Angelica Salazar, director of education equity at Children's Defense Fund-California, stated that schools need to teach children how to handle stress created by social inequities. "Students are traumatized at school. The strategy of socio-emotional support must be primary. We need to emotionally regulate before we educate," she said.
In another panel, "Child Well-Being: A Call for Radical Transformation," panelists addressed how to reform systems based on child welfare. "Kids aren't low-performing. The system is low-performing," said Dr. Bettina Love, education professor at the University of Georgia. "The system of education is carceral. The truth is we don't value black life. In other countries, they value human life."
"We have to have a new structure based on love, awareness and belonging," said Dr. Shawn Ginwright, professor of Africana studies at San Francisco State University.
Former Stockton Mayor Michael Tubbs, who oversaw a pilot program in universal basic income that provided 125 residents with $500 a month for a year, said the experiment was a resounding success and that fears that people would not work were unfounded. With less stress in their lives, parents were able to "show up more for their children" by reading them bedtime stories and taking them to the park, he said. 
"If we had political will, we could do it," said Shimica Gaskins, executive director of Children's Defense Fund-California.
The final panel, "Transformative Justice: Dismantling Destructive Models of Economic Stability and Public Safety," grew emotional as panelists discussed personal experiences with law enforcement. 
Ronaldo Villeda, a youth advocate of the Anti-Recidivism Coalition, related how he was first stopped as a suspected gang member at the age of seven. A decade later, he was facing life in prison. "The message was: 'We're going to throw you away. You're disposable,'" he said. "Once you're in the system, it's almost impossible to get out. There's a desperate need to recreate the system."
Alfredo Gama, president of the Central Alameda Neighborhood Council, recited a list of police shootings of youths around the state. Young people need mental health help and support, not punishment, he said. "We must stop the violence," he said.
Systemic inequities stem from the "disdain" that those in power have for certain sectors of society, said Jyoti Nanda, an associate law professor at Golden Gate University, who is working to end the incarceration of pregnant teens. "We have to seek to dismantle the system and work with the laws within the system to ensure inclusion," she said.
Youth incarceration rates are growing fastest for Asian Americans and Pacific Islanders, particularly those of Southeast Asia and Pacific origin, and this is leading to increasing deportation orders, said Kimmy Maniquis, executive director of Search to Involve Pilipino Americans. "There's a myth of Asian-American exceptionalism," she said. "This is not a monolithic group."

The symposium ended with a call to work together to transform society to improve the quality of life for future generations. "We must re-envision, revitalize and reform to ensure children have the opportunity to thrive," said Rev. Dr. Starkey Wilson, president and CEO of the Children's Defense Fund. 
[Editor's Note: At the time of publication, Christina Altmayer is no longer Senior Vice President of First 5 LA's Center for Child and Family Impact.]