---
April 29, 2021
Black women who do not smoke have worse childbirth outcomes than white women who do. Black women with private health insurance fare worse than white women on public health plans. Counter to what many may think, this pattern holds true across numerous variables, including education, age and socioeconomic level, with the result that Black women are four times more likely to die from pregnancy complications than any other ethnic group. 
"We don't find an explanation for the gap in adverse birth outcomes other than racism," said Deborah Allen, deputy director of Los Angeles County's Department of Public Health. "It's overwhelmingly striking. It's an astonishing gap."
First 5 LA recently joined the Department of Public Health and other partners in celebrating Black Maternal Health Week, which took place April 11-17. The goal of the weeklong event was to increase public awareness of birth outcome inequity and the efforts underway throughout the county to address the issue. 
"This is literally a life and death situation," stressed Melissa Franklin, the CEO of Growth Mindset Communications and one of the speakers during a Zoom panel that kicked off the weeklong event. During her talk, Franklin emphasized the importance of prioritizing healthy and joyous births for Black families. 
"It's time to lock arms and embrace these values," she stated.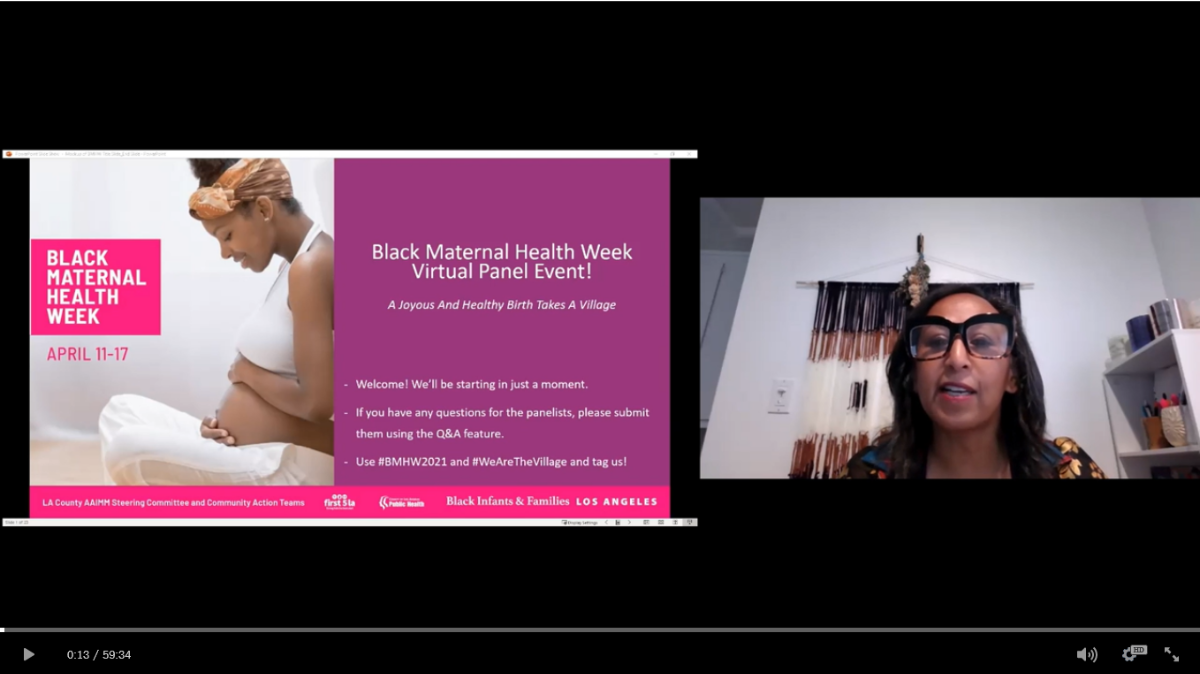 Franklin was awarded a Pritzker Children's Initiative Fellowship on behalf of First 5 LA to help launch the LA County African American Infant and Maternal Mortality (AAIMM) Initiative, a jointly-led, five-year initiative with the LA County Department of Public Health that got underway in 2018. AAIMM's goal is to reduce adverse birth outcomes — including premature and stillborn births, as well as maternal death — among Black families by 30 percent by 2023. 
"We've come an incredibly long way in three years," noted Allen of AAIMM's work. "But this is really the beginning."
While Allen said racism is primarily viewed as a social issue, evidence shows that it affects physical health through the ever-present stress of social interactions experienced by Black women. "The psychological experience affects the physiological experience," she said. "It becomes cumulative and takes a toll on every organ in the body. It's called weathering — the experience of being a Black woman in America ages you before your time."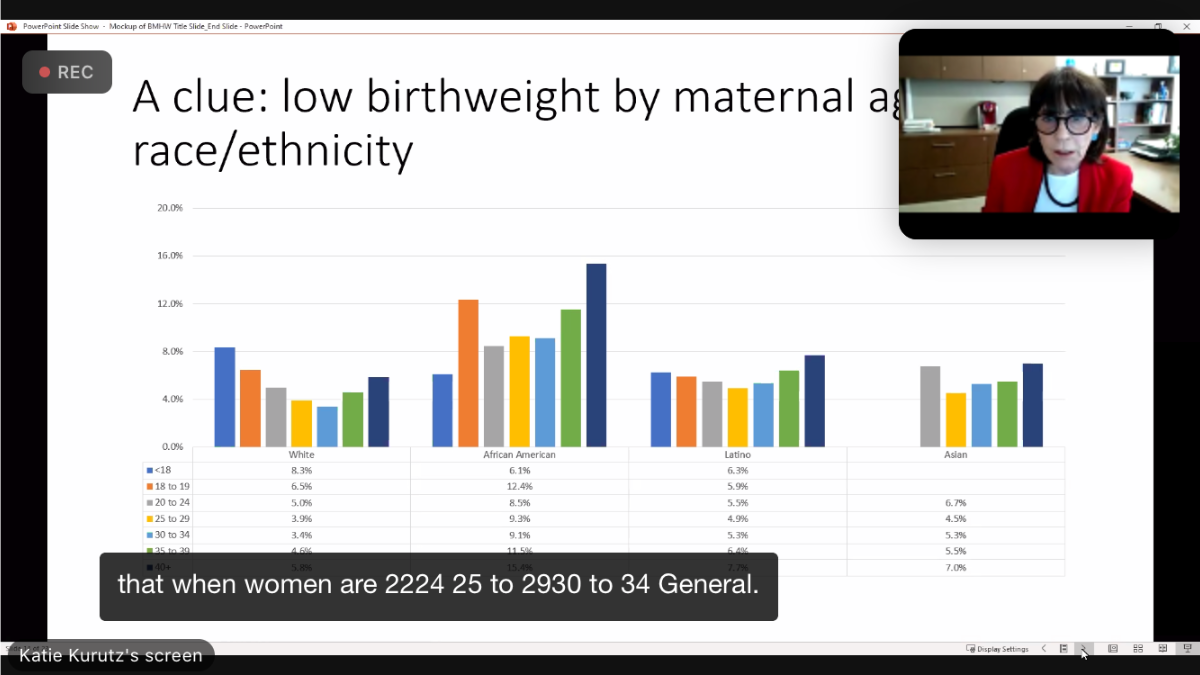 Several speakers during the panel detailed an array of programs now in place to support Black women before, during and after childbirth. Dana Sherrod, the birth equity and racial justice manager for Public Health Alliance of Southern California, discussed Cherished Futures for Black Moms & Babies, a multi-sector collaborative effort that brings together stakeholders, including hospitals, health plans, government agencies and community leaders. The initiative, funded in part by First 5 LA, aims to improve the quality of care for Black women in the county's major delivery hospitals, said Cherrod, who oversees the effort. 
First 5 LA is also one of 11 funders supporting the The Village Fund, a partnership of public-private agencies that fund Black maternal and infant health initiatives that provide valuable support and services to Black birthing mothers and their families but are less likely to receive or administer county contracts directly. Recent grant recipients include Mighty Little Giants, a Palmdale-based initiative that provides support, education and encouragement for parents experiencing preterm deliveries that result in long-term stays in NICU/NICCU.
In communities throughout the county, Community Action Teams do outreach and create grassroots initiatives, reported Adjoa Jones, founding leader of the AAIMM Community Action Team at L.A. County Department of Health Services Whole Person Care. One of the team's most recent victories is forming a group to support Black paternal involvement in ensuring healthy and joyous births for their partners during pregnancy and beyond the birth of their child called Black Daddy Dialogue. The session is facilitated by a coach, who is a Black father as well. "We're looking to see fruitful change," Jones said.
AAIMM's Black doula program recently transitioned from a pilot project to permanent status after the program's 14 trained doulas assisted nearly 400 women. As professional childbirth companions who provide emotional support, physical comfort, education and advocacy, doulas have been helping mothers before, during and after childbirth since 2019 through home visits and delivery room support. 
"Having someone who looks like you as part of your care team is so important," said Michelle Sanders, the Doula Advisory Committee lead in the county Department of Public Health. Doula care has been shown to reduce preterm birth, reduce cesarean sections, and increase breastfeeding, maternal satisfaction and family bonding.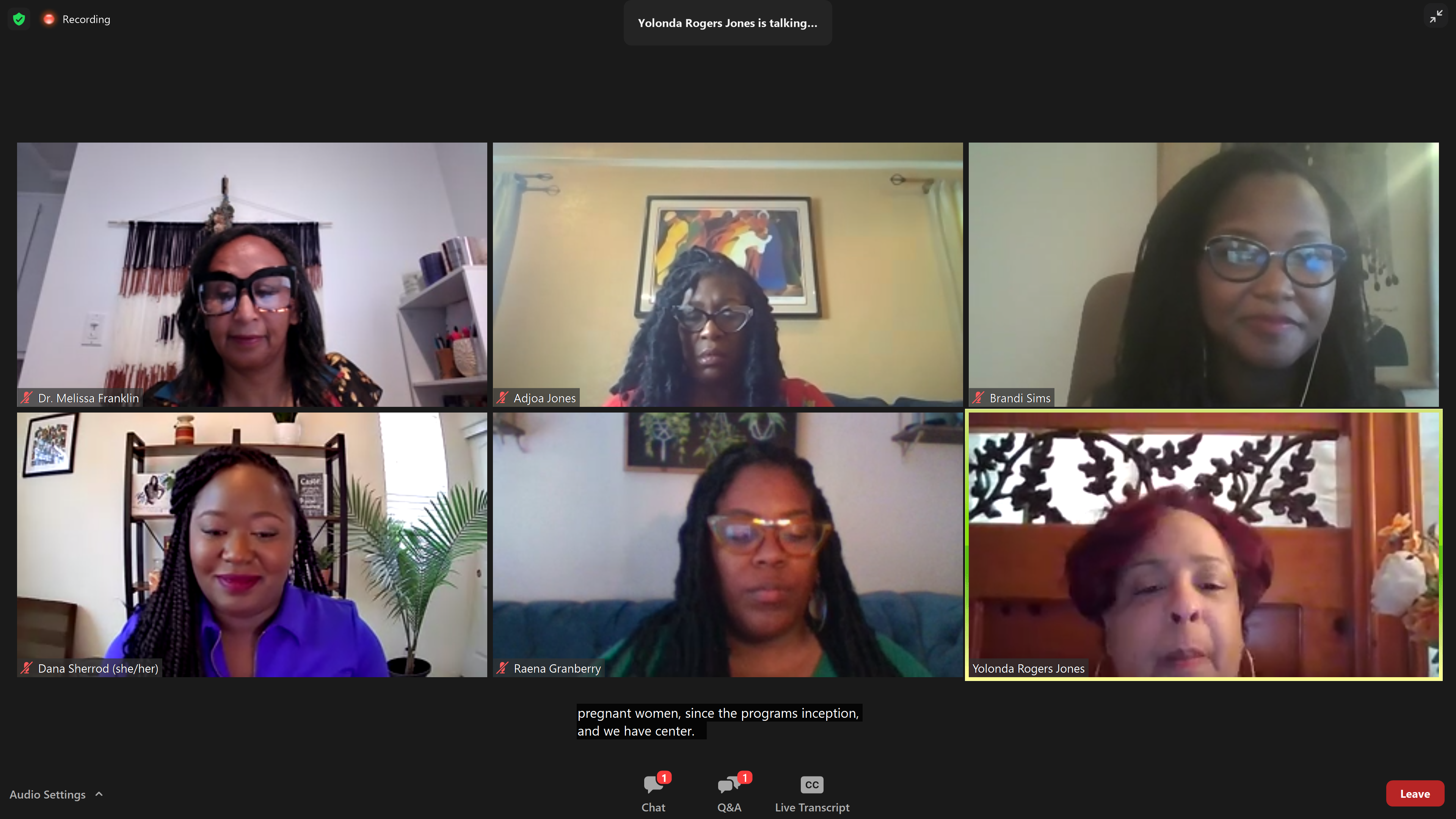 Raena Granberry, who detailed her own struggles in the medical system during two pregnancies, said her experience led her to get involved in the birth equity movement, eventually becoming the county coordinator of the state-funded Perinatal Equity Initiative (PEI). Granberry noted that PEI supports anti-racism training, community action teams and soon a fatherhood support program, among other efforts.
Another state-funded program, Black Infant Health (BIH), supports local prenatal and postpartum support groups implemented by community-based organizations. Yolonda Rogers Jones, the manager of L.A. County's BIH Program, noted that a key goal has been to place the black maternal experience at the center of all activities. 
"It is very frustrating to be ignored in maternal health settings," Jones noted. "To hear folks discuss what they perceive are our struggles, and to know that black mothers have not been included at the table as an integral partner in finding solutions that work for black women."
First 5 LA Health Systems Program Officer Brandi Sims, who also serves as an AAIMM leader, said First 5 LA is a strong supporter of efforts to reduce racial disparities in birth outcomes. 
"We want Black motherhood to be celebrated," she said. "We want to be able to birth without fear."
For more information, visit the L.A. County AAIMM Initiative's website at: blackinfantsandfamilies.org.