---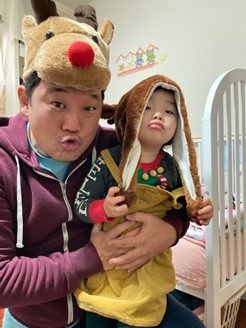 Hi folks!
My name is Jonathan Nomachi and I am a second generation (Nisei), heterosexual Japanese American who grew up in South Los Angeles (Arlington + Vernon). My whole life has been a journey in understanding what 'Asian American' means. From an early age, I never quite grasped the diversity and depth of that term 'Asian American'. Little did I know at the time that Asian American, Native Hawaiians, and Pacific Islanders (AANHPI) make up more than 50 ethnicities and over 100 languages and dialects. I just knew I was different from all the other kids that woke up every morning at 6 a.m. to catch a school bus across the street from a liquor store and cruised through a 'magical' tunnel (10 Freeway) that transported me and my friends to this beautiful ocean landscape called the Pacific Palisades. Additionally, I did not realize how my desire to please my parents and be the best student would somehow feed into the 'model minority myth' and even validate the challenge of an East Asian experience speaking on behalf of the entire AANHPI diaspora. I share this small personal story to shed light on the complexity of celebrating Asian Pacific Islander Heritage Month!
The term 'Asian American' was first used by UC Berkeley student activists (Go Bears!) Emma Gee and Yuji Ichioka in 1968 to unite different communities of Asian descent in order to create a more formidable protest bloc, an approach inspired by the Black Power movement. The 2021 article, The inadequacy of the term "Asian American," from Vox, takes a closer look at the label that aspires to unify a wide range of communities with common cause and shared experiences.
Additionally, 'Asian American' attempted to also challenge the previous language norm of 'Oriental' to describe communities of Asian descent. From this historical frame, it made sense to group our varying experiences together to strengthen our political voice and reach in the United States. However, the main experiences from the time focused on East Asian communities such as Chinese-, Japanese-, and Korean-American. As the Asian diaspora in America grew to include communities from Southeast Asia, South Asia, and the Pacific Islands, there were attempts to recontextualize or expand the understanding of the term 'Asian American.' As I mentioned, for Asian Americans the spectrum is vast. For example, 45% of Vietnamese people in the U.S. who had limited English proficiency (LEP) in 2017 compared to 13% of Japanese. Among Native Hawaiian/Pacific Islanders, 13% of Tongans had LEP compared to 2% of Native Hawaiians (US Census Bureau, 2017). To learn more, check out the SAMHSA article, One size does not fit all: Appreciating the diversity of Asian Americans, Native Hawaiians, and Pacific Islanders (AANHPIs) and the Implications for Mental Health.
And yet, as we celebrate the inclusive expansion of the term from 'Asian American' to 'Asian Pacific Islander,' we are still left with the challenge of limiting our vast experiences and stories as one perspective that many non-Asian communities still hold. This perspective still includes normalized language such as 'foreigner,' 'fresh off the boat,' 'exotic,' 'submissive,' 'not a minority,' 'crazy rich Asians' and 'you all look alike.' This troublesome language about Asian American, Native Hawaiians, and Pacific Islanders continues to magnify the tension in America on the need for a collective AANHPI voice for systems change that truly honors the diversity, equity, and inclusivity represented across our diaspora.
As we take this month to celebrate Asian Pacific Islander Heritage Month (originated in 1978…so I'm technically older than this recognized national celebration!!), you will hear from colleagues lifting up their perspective and lived experience on being AANHPI in America. Please understand that we only have four weeks to try and reflect on the experiences of over 50 ethnicities and 100 languages/dialects so let's collectively commit to spending the remaining 11 months before May 2023 to listen and learn from an AANHPI community you might not be too familiar with. Arigato and Gambattene!