First 5 LA's 5 Ways to Strengthen Your Family: Creating Connections
---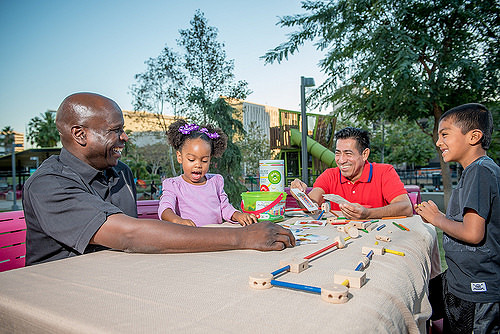 Leo Tolstoy once wrote that all happy families are alike. While that idea is up for debate, one thing is clear: Happy families tend to be strong families. And research shows that strong families tend to have some important things in common.
At the heart of strong families is connection: Connecting to family members, friends, other parents, and a larger community helps families grow strong and thrive. Connection to others can help families celebrate good times and get through the bad times, lets us know we are not alone, and offer support. Connection brings the skills, knowledge, inspiration, wisdom, and vast experience of a community to parenting, creating safe environments where children in families can learn and grow to their greatest potential.
Help your family become the best it can be. Look Around our site for more about the signs of strong families, explore how to create a great parenting network (or forge a fatherhood network), help your child to get the best start through engaging with your community, and grow your connection with your child by learning new approaches to communicating with them and responding to their ever changing needs
Parenting takes ideas, experience, and resources. And ideas, experience, and resources are all around you.