Strong Families are the foundation to First 5 LA achieving our North Star of all children in Los Angeles County entering kindergarten ready to succeed in school and life by 2028. Families are at the center of all of First 5 LA's work and recognized as the primary caregiver and educator of their children. First 5 LA believes that we can help families be their child's best support by connecting them to trusted health, early education and community-level services for children. An optimal system of family supports would provide net effective evidence-based, innovative, and community-responsive resources that assist in achieving strong outcomes for all families. In addition to offering high-quality programs and supports that prevent poor outcomes for children and families, comprehensive assistance would be offered in a coordinated manner that would facilitate access for families to the full set of community resources each family may need. Our work to support families is grounded in increasing access to high-quality, evidence-based and voluntary home visiting services, as well as ensuring that the services that families engage in most frequently during the child's earliest years, such as health and early education, are accessible, available and engage parents effectively.
First 5 LA has been a leading advocate and funder of voluntary home visiting services. A home visitor provides educational supports to help parents be their child's best teacher, assesses family and child needs, connects the family with additional social, medical and mental health services, as appropriate, and builds community-level social connections. First 5 LA and its countywide partners are working to build a universal voluntary system of home visiting services in Los Angeles County, launching a lifetime of community connection and support. Working with county, state and local community partners, First 5 LA is working to build a universal system of voluntary Perinatal and Early Childhood Home Visiting, a key strategy in overall readiness for school and the prevention of child maltreatment. Home visitors promote optimal child development and act as ambassadors to the early childhood stage of life and to associated community experiences and supports.
The evidence for the value of home visiting is strong. Home visiting has a proven evidence base of strengthening maternal-child bonding, increased reliance on breastfeeding, improved parenting practices, and improved child cognitive and social development. From a child's critical early years of life to the changing needs that come as they grow, having a coach through this period sets all families up for optimal results by providing anticipatory developmental guidance and support in garnering needed resources. Home visiting simultaneously supports the health of caregiver/child and caregiver/community relationships, with the intent of ensuring strong bonding and attachment for children and strong community navigation skills for families.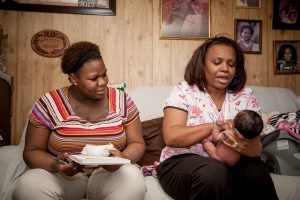 Policy
As an evidence-based approach to preventing child maltreatment and promoting positive outcomes for young children, home visiting is a benefit to the public sector and is linked to cost-savings for public institutions. First 5 LA seeks to ensure that all children and their families have access to in-home parenting support through trusted entities in their communities, including primary care providers and public institutions. Policies should reflect that there's no wrong door between families and individualized support in order to ensure children reach age 5 having received necessary support for their development. It is critical that policies reflect the significance of the early years as the foundation for positive lifelong outcomes. This includes increased public sector investment to expand voluntary home visiting, and removing barriers to resources and supports such as early intervention services and early care and education, so that all families have access to needed resources at the earliest possible point in their child's development.
The holistic approach of home visiting lends itself to embedding in-home parenting support into diverse public systems. Optimally, the healthcare system will facilitate families initiating contact with home visiting during the prenatal stage, when key information can help them make critical choices in preparation for their child's birth, and parenting. Further, as changes within families influence the type or intensity of supports needed, it may be necessary for them to re-engage or increase engagement to home visiting through other child and family-serving systems, including health, mental health, social service, child welfare and justice systems. Through improved policies governing these systems First 5 LA seeks to ensure that families are eligible and able to connect with home visiting services, as needed.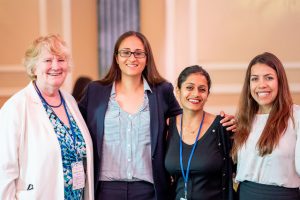 Systems Change
First 5 LA is working with representatives from health care, early care and education, and community-based agencies to build an integrated system of services and support. Multiple county services and local systems have a role to play. To this end, First 5 LA is working with key partners to ensure families' various needs are assessed at appropriate intervals and smooth pathways are built between critical systems. The field of early identification and intervention cites home visiting as a key strategy for assisting families in addressing mild- to moderate-developmental delays, making the connection between the Help Me Grow and Home Visiting systems a key element of a comprehensive early childhood system. Further, First 5 LA seeks to learn from and assist with replication of models, such as Project DULCE, that improve the pediatric system by increasing developmental screening in this setting and assessing families' exposure to toxic stress in order to enhance pathways from the primary care setting to basic, early intervention and other clinical resources. As families progress through the early years and begin to prepare for their child's entry into the K-12 system, they benefit greatly from a strong introduction to their child's primary education setting. As such, First 5 LA seeks to expand models for supporting this transition, such as Abriendo Puertas/Opening Doors.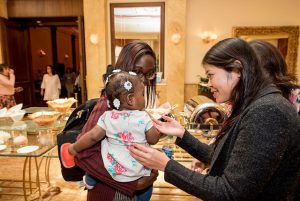 Practice
The intersection of family engagement and supportive practice is where policies and systems changes come to fruition. Together they create resources and pathways that must be accessed through one-on-one practice between families and community and institutional providers. As service-based and community practitioners better attune and respond to caregivers and their children the better families can take advantage of critical resources for their child's development. Trusting relationships between families and community representatives ensure parental and professional practice alignment for greater impact.
Providers in Home Visiting, Project DULCE and Abriendo Puertas are committed to engaging with families in a manner that is both strengths-based and trauma informed. High-quality practice depends on the building of strong, well-trained and consistently supported workforces, as well as nurturing relationships between providers, particularly providers across systems. Without strong relationships, new and enhanced pathways will go unutilized. Further, effective practice begins at the earliest stages of engagement, continues through completion of programs and services, and has an attitude of learning and ongoing quality improvement. Toward this goal, First 5 LA invests in comprehensive training and technical assistance for providers, such as Los Angeles Best Babies Network (Home Visiting), Center for the Study of Social Policy (Project DULCE) and Abriendo Puertas (Abriendo Puertas).
---
---
---
---
---
---
---
---