Overview
The evidence is undeniable: attending a quality early learning program is profoundly beneficial for young children, fostering healthy development, increasing thinking and social skills, and improving success in school and throughout life. In California, however, children from low-income communities and communities of color struggle to access early care and education (ECE) programs, with only 33 percent of children under the age of 5 who qualify for subsidized ECE being served. As a result, countless children enter kindergarten ill-prepared to succeed.
During the first five years of a child's life, 90 percent of brain development occurs and millions of new neural connections form each second. When a child misses out on the intellectual, social, and emotional stimulation that a quality early learning program provides, she can quickly and irreparably fall behind, impacting her success and well-being for years to come. The achievement gap starts at an early age and grows larger as time progresses, further increasing intergenerational inequities across racial lines that, if not addressed early on, will continue to inhibit our communities from reaching our fullest potential. Two primary, inter-connected pillars of the early learning landscape are at the heart of this issue.
1. Capacity: Los Angeles County faces an overall lack of capacity in early learning programs.
2. Quality: California does not provide adequate support to early learning programs that enable them to fully offer children the quality learning environments necessary to foster cognitive, language, and social skills.
Policy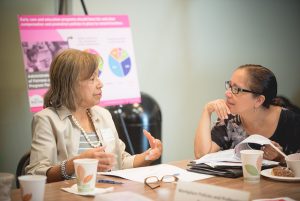 First 5 LA, in partnership with others, strengthens families, communities, and systems of services and supports so all children in L.A. County enter kindergarten ready to succeed in school and life. To achieve this mission, First 5 LA advances community-informed policies that coordinate and strengthen systems supporting families with children prenatal to age 5, and promotes the strength and stability of First 5 LA as a critical voice for L.A. County's youngest residents.
Within the ECE field, First 5 LA seeks to expand access to affordable, quality early care and education for all children birth to 5 in L.A. County. In order to achieve this goal, the agency works to increase public investment in quality care and education through advocacy and coalition building at the county, state, and federal levels. In a similar vein, First 5 LA supports ongoing quality improvement efforts, such as establishing uniform quality standards, in all publicly funded ECE settings. Finally, First 5 strives to strengthen the ECE workforce through increased compensation, competencies, and professional development.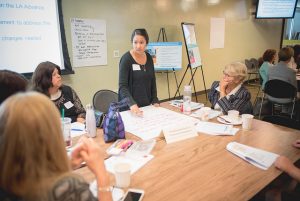 Systems Change
In order to ensure that every child in L.A. County receives a high-quality early education, First 5 LA funds multiple ongoing efforts. First 5 LA currently funds efforts to implement a uniform Quality Rating and Improvement System (QRIS) within L.A. County. Implementing QRIS at a higher rate across the county will help to gather the data and evidence needed to advocate for policy change, including more targeted programs and additional funding. First 5 LA also works with partners to strengthen the professional development system for ECE providers to ensure that educators have the tools, training, and support necessary to prepare children for a lifetime of learning and success.
Above all, research indicates that the most crucial factor in determining the quality of an early learning program is the teacher in the early care setting. Thus, First 5 LA funds the Partners in Education, Articulation, and Coordination through Higher Education (PEACH) consortium, which brings together a diverse array of stakeholders in the field to strengthen educational and professional development pathways for the ECE workforce in L.A. County. Moreover, given that quality of care is directly tied to the competency of the workforce, First 5 LA funds the Competencies Initiative, a technical assistance program that helps educators develop and refine their skills, share best practices, and receive one-on-one coaching.
Finally, in order to effectively assess the value that participation in early learning programs offers to a child, First 5 LA is investing in a tool that will shed light on the opportunity gap that children encounter even before entering kindergarten. This tool, a population-wide Kindergarten Readiness Assessment (KRA), provides insights into the importance of early education and highlights vulnerabilities in crucial developmental domains, such as cognitive development, social competence, emotional maturity, and communication skills. With the help of First 5 LA's investment and partnerships with school districts and community stakeholders, teachers across L.A. County will assess the majority of kindergarten students, which will provide the data needed to develop strategies for targeted improvements and advocate for the need to expand access to high-quality ECE, especially in low-income communities that stand to benefit most.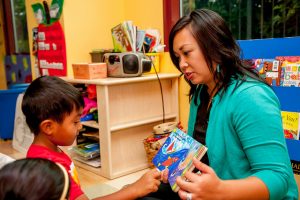 Practice
Educare – In early 2018, First 5 LA established a strategic partnership with the Long Beach Education Foundation to create Educare Los Angeles to serve children and families from birth to age 5 living in North Long Beach. Aimed at narrowing the achievement gap for low-income children, funds from First 5 LA will focus on expanding professional development opportunities for ECE educators, expanding access to mental health services, increasing family engagement practices, and evaluating the program and its impact. The school will serve as a model of how early learning programs can provide quality early childhood education, partner with families in the community, and advocate for lasting policy change. Currently, the Educare Los Angeles at Long Beach Center serves nearly 200 infants, toddlers, and preschoolers in 16 classrooms, each led by a highly qualified team of teachers. Through this partnership, First 5 LA is working to achieve its early care and education quality and accessibility goals by supporting a nationally recognized, research-based model that has been proven to prepare children academically, mentally, and socially for success in kindergarten.
ECE Workforce Competencies – In 2011, the California Department of Education and First 5 California released the Early Childhood Educator Competencies that describe the knowledge and skills that early educators need in order to successfully provide high-quality care. First 5 LA works to train the local ECE workforce on the competencies in two ways. First, through the Competencies Initiative, First 5 LA funds a local technical assistance provider (The Child Care Alliance of Los Angeles) to design a learning program and curriculum for a cohort of seven organizations that provide training to early educators. Additionally, First 5 LA pays for these organizations to participate in the trainings to help educators develop and refine their skills to align with the competencies, share best practices, and receive one-on-one coaching. Thus, given that the quality of an ECE program is closely tied to the skills of the workforce, it is imperative that the professional development system is aligned to these competencies and effectively trains early learning professionals to work with and prepare children for kindergarten and beyond.
Shared Services – Through a partnership with Opportunities Exchange, a nonprofit that provides support and technical assistance to ECE providers, First 5 LA funds the Shared Services Alliance. Shared Services helps early educators continue to improve upon their quality of care and maintain financial stability by working together to share resources such as information, professional development, best practices, and staff. Currently, there are three Shared Services Alliances in L.A. County representing 70 early care centers and family child care sites. Through Shared Services, early educators are able to maximize their assets, resources, and use their purchasing power to create a sustainable business model, which in turn allows them to create positive work environments and growth opportunities for staff, all while ensuring that children receive a high-quality early education in a nurturing environment.
---
In order to effectively assess the value that participation in early learning programs provides to a child, First 5 LA is investing in a tool that will shed light on the opportunity gap that exists before children even enter kindergarten…
---
As a way to evaluate and improve the quality of early learning programs, states across the country have begun to implement the Quality Rating and Improvement System (QRIS). Not only does participation in QRIS help families to identify high-quality programs, but it also helps the programs to improve their quality of care for participants…
---
Neuroscience research has discovered that stable, responsive, and developmentally appropriate relationships between children and caregivers are central to healthy brain development, and that quality instruction is the most important driver of a child's outcome. The relationship between the quality of an early learning program and its workforce is inseparable…