First 5 LA advocates for practice change to strengthen systems that serve children ages 0 to 5 and families to help all Los Angeles County children achieve their optimal development and overall well-being. Our goal is to ensure early screening and intervention to prevent the impacts of trauma exposure and developmental and behavioral delays. Working in partnership with other organizations, government agencies and funders, we strengthen existing systems and build upon promising practices that reduce stigma, improve outcomes and elevate the importance of early childhood development.
First 5 LA is implementing health policy and system change efforts in two key areas, countywide (listed below). Our strategies seek to strengthen the integration and coordination of child- and family-serving systems that impact health, so that they can appropriately respond to and meet family needs. Click here for a fact sheet.
Early identification of developmental and behavioral delays, which involves a combination of routine surveillance and screenings, greatly increases the likelihood that before a young child enters kindergarten with or at risk for delays will be identified and referred to prevention and early intervention services. Research shows that one in four children birth to 5 are at risk for developmental and behavioral delays and would benefit from early intervention services and supports. Navigating these services and the larger system, however, is difficult for many families. For instance, families often encounter challenges accessing timely screenings and early intervention services because of a lack of system-level coordination, complex eligibility and referral processes, and obstacles to data sharing, among other barriers. Breaking down these barriers is essential in helping families successfully navigate and access the programs, services and systems that support them and their children.
Trauma refers to the effects of a single event, a series of events and/or ongoing circumstances that are experienced or perceived as physically or emotionally harmful and/or life threatening. Toxic stress is frequent and/or prolonged adversity in the absence of protective relationships, which disrupts the body's stress response system. One of the most compounding and damaging factors in a child's development is the impact of trauma and toxic stress — experiences that often result in children facing lifelong physical, behavioral and emotional challenges. However, research shows that intervening as early as possible can buffer the impact of trauma on brain development. To identify and respond appropriately to a child who has been exposed to trauma, it is critical to ensure that systems serving children and families are equipped with knowledge, skills and resources necessary to provide trauma-informed services. Further, to effect a culture of healing and well-being, it is essential to recognize that trauma interventions cannot rest solely on the abilities of child- and family-serving systems. Efforts focused on addressing trauma and resiliency have the potential to positively impact the toxicity and stressors prevalent in the larger community.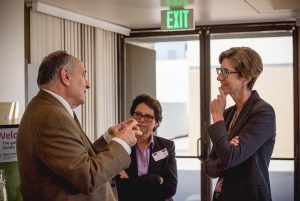 Policy Change
It is critical that policies reflect the significance of the early years of life. Strategies to influence policy include: 1) educating policymakers on state and federal developmental and behavioral screening requirements, and trauma and resiliency-informed approaches; and 2) advocating for policies that increase access to and quality of early identification, care coordination and intervention services. First 5 LA is working closely with the American Academy of Pediatrics – California Chapter 2 and Help Me Grow California to advance policy efforts.
Additionally, First 5 LA is a part of the California Campaign to Counter Childhood Adversity (4CA), which is focused on addressing gaps and structural inequities in systems so they can prevent and appropriately respond to childhood adversity, strengthen protective factors and build resilience.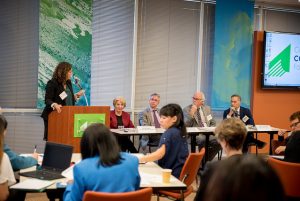 Systems Change
Strengthening coordination between child and family serving systems while at the same time building service delivery systems' capacity is necessary to ensure access to services to better meet families' diverse needs. First 5 LA is partnering with other funders and piloting systems change strategy demonstration projects to support the advancement of Trauma and Resiliency-Informed Systems Change (TRISC) in L.A. County. Examples include work with the City of Long Beach Department of Health and Human Services (DHHS) to pilot a cross-systems trauma and resiliency informed approach; and support of strategic planning for the Los Angeles County Department of Public Health's new Office of Violence Prevention.
Our Early Identification and Intervention (EII) systems change work includes the build-out of Help Me Grow-Los Angeles (HMG-LA). Help Me Grow is a national effort that promotes local cross-sector collaboration to bolster early identification of developmental and behavioral delays. HMG-LA will improve coordination among existing systems that serve children to strengthen early identification and successfully link children and their families to appropriate intervention services and supports. The Los Angeles County Department of Public Health partnered with First 5 LA over a five-year period to launch, test and refine the local Help Me Grow model. Pilot projects with L.A. Care Health Plan and within select learning collaboratives support a phased, data-driven rollout of HMG-LA.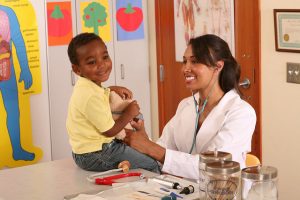 Practice Change
Innovative practice improvement offers the opportunity to inform policy and spark service delivery system transformation. Since 2014 the First Connections program, sponsored by First 5 LA, has been piloting innovative approaches for community-based health providers and practices to strengthen, embed and expand EII practices within their agencies and organizations. Equipped with training and practice change strategies, First Connections grantees have successfully embedded developmental screening within care provider workflows and strengthened their referral processes.
First 5 LA's partnership with L.A. Care Health Plan is another important effort to initiate practice improvement to inform systems change. Together they are developing, and in late 2019 will launch, a pilot project engaging health providers and practices in integrating early developmental-behavioral screening and referral protocols into practice workflow and increasing community and family awareness of the importance of EII. The partnership also represents an important element of HMG-LA's Child Health Provider Outreach core component strategy, which seeks to raise EII standards across all health service sectors.
---
---
---
---