Throughout the COVID-19 pandemic, First 5 LA will be gathering information and sharing resources to help partners, parents and L.A. County residents impacted by the crisis.
Click below to be taken to a specific category:
COVID-19 — also known as Coronavirus — is a contagious virus that is part of a large family of coronaviruses that cause diseases of varying severities, ranging from the common cold to more severe diseases. COVID-19 is also called a novel coronavirus because it is a new strain of coronavirus that has not been previously identified in humans.
In general, transmission of coronaviruses is spread through:
Droplets produced through coughing and sneezing

Close personal contact, such as caring for an infected person

Touching an object or surface with the virus on it, then touching your mouth, nose, or eyes before washing your hands
The symptoms of COVID-19 include fever, cough, difficulty breathing and loss of taste/smell. 
The best way to prevent the spread of COVID-19 is to receive a COVID-19 vaccine, practice good hygiene with frequent hand washing and by avoiding close social encounters. For information on finding a vaccine, visit: http://www.first5la.org/article/covid-19-resources-where-to-get-the-covid-19-vaccine/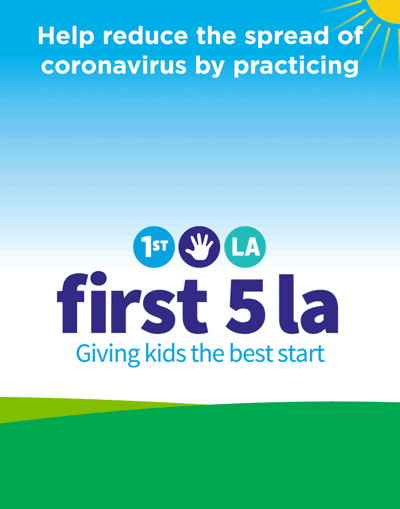 More County, State and Federal Resource Sites:
The State of California's COVID-19 Resource Page
L.A. County Department of Public Health: Coronavirus
L.A. County Responds: Confronting COVID-19
Center for Disease Control and Prevention: Coronavirus
211 L.A. County Resource Line – 211 LA is the central source for providing information and referrals for all health and human services in LA County. It is open 24 hours, 7 days a week, with trained Community Resource Advisors prepared to offer help with any situation, any time.
---
11/2/21 
CDC Recommends Pediatric COVID-19 Vaccine for Children 5 to 11 Years
Today, CDC Director Rochelle P. Walensky, M.D., M.P.H., endorsed the CDC Advisory Committee on Immunization Practices' (ACIP) recommendation that children 5 to 11 years old be vaccinated against COVID-19 with the Pfizer-BioNTech pediatric vaccine. CDC now expands vaccine recommendations to about 28 million children in the United States in this age group and allows providers to begin vaccinating them as soon as possible. 
COVID-19 cases in children can result in hospitalizations, deaths, MIS-C (inflammatory syndromes) and long-term complications, such as "long COVID," in which symptoms can linger for months. The spread of the Delta variant resulted in a surge of COVID-19 cases in children throughout the summer. During a 6-week period in late June to mid-August, COVID-19 hospitalizations among children and adolescents increased fivefold. Vaccination, along with other preventative measures, can protect children from COVID-19 using the safe and effective vaccines already recommended for use in adolescents and adults in the United States. Similar to what was seen in adult vaccine trials, vaccination was nearly 91 percent effective in preventing COVID-19 among children aged 5-11 years. In clinical trials, vaccine side effects were mild, self-limiting, and similar to those seen in adults and with other vaccines recommended for children. The most common side effect was a sore arm. 
For more information, click here. 
9/15/21
L.A. County plans to require proof of vaccination at indoor bars, nightclubs, breweries, wineries
Proof of COVID-19 vaccination will be required at indoor bars, wineries, breweries, nightclubs and lounges in Los Angeles County under a forthcoming health order aimed at further armoring the region against the pandemic.
The mandate, which will be issued by Friday, will require both patrons and employees to have at least one vaccine dose by Oct. 7 and be fully vaccinated by Nov. 4, according to Public Health Director Barbara Ferrer.
Learn more: https://www.latimes.com/california/story/2021-09-15/la-to-require-covid-19-vaccines-at-bars-nightclubs-breweries-wineries 
8/9/21
LAUSD Classrooms Set to Reopen for In-Person Learning: Here's What to Know
Schools are planning to reopen fully for in-person classroom learning for the first time in a year and parents are wondering about COVID safety measures.
The LAUSD, the nation's second-largest district is requiring everyone, regardless of whether they've been vaccinated, to get COVID tests weekly.
The LAUSD plans on offering full-day instruction five days a week, and will offer after-school programs.
The district said in a statement that its preparations for the start of the new school year include "continuing to require masking for all students, staff, and visitors; maximizing physical distancing as much as possible; continuing comprehensive sanitizing efforts, including frequent hand washing; upgraded air filtration systems; regular, ongoing COVID testing and community engagement; and collaborating with health partners and agencies to support free COVID vaccination."
The testing began on Aug. 2. More information can be found here.
7/15/21
L.A. County Community Transmission of COVID-19 Increases from Moderate to Substantial; Reinstating Masking Indoors for Everyone – 1,537 New Confirmed Cases of COVID-19 in Los Angeles County and 3 Deaths
Community transmission of COVID-19 has rapidly increased from Moderate to Substantial, based on the trend in daily new cases of COVID-19. The Los Angeles County Health Officer Order will be modified to require masking for everyone while indoors, regardless of vaccination status, as Los Angeles County sees more than a seven-times increase in new cases since the June 15 reopening. Wearing a mask when indoors reduces the risk of both getting and transmitting the virus. This additional layer of protection can help to slow the spread and does not limit business occupancy and operations.
Learn more: http://publichealth.lacounty.gov/phcommon/public/media/mediapubhpdetail.cfm?prid=3240
5/14/21
CDC ANNOUNCES NEW REGULATIONS FOR VACCINATED INDIVIDUALS 
If you are fully vaccinated, you can resume activities that you did prior to the pandemic.

Fully vaccinated people can resume activities without wearing a mask or physically distancing, except where required by federal, state, local, tribal, or territorial laws, rules, and regulations, including local business and workplace guidance.

If you haven't been vaccinated yet, find a vaccine.
For more information: https://www.cdc.gov/coronavirus/2019-ncov/vaccines/fully-vaccinated.html
5/3/21
COVID-19 VACCINE NOW AVAILABLE 
All L.A. County residents age 16 years and older, regardless of immigration status are eligible.

No appointment needed. See below for locations.*

Vaccine is free, no health insurance needed.

Pfizer, Moderna, and Johnson & Johnson available.

Updated website: https://corona-virus.la/VaxAlert
*Eligible Angelenos can still book an appointment for a vaccination at Coronavirus.LACity.org/GetVaccinated or by calling 1-833-540-0473.
WALK UP SITES LOCATIONS (NO APPOINTMENT REQUIRED) 
HOURS: Monday – Saturday 8 a.m. – 3 p.m. 
California State University Los Angeles (Walk-up with parking or drive-thru)
5151 State University Dr., Los Angeles, CA 90032
Offering Pfizer 
University of Southern California (Walk-up with parking)
3701 Flower St., Los Angeles, CA 90007
Offering Pfizer
Lincoln Park (Walk-up with limited parking)
3501 Valley Blvd., Los Angeles, CA 9003
Offering Pfizer
Pierce College (Walk-up with parking)
20498 Victory Blvd., Woodland Hills, CA 91306
Offering Moderna and Johnson & Johnson
San Fernando Park (Walk-up with limited parking)
208 Park Ave., San Fernando, CA 91340
Offering Moderna
Los Angeles Southwest College (Walk-up with parking)
1600 W. Imperial Hwy., Los Angeles, CA 90047
Offering Pfizer
Century City (Walk-up with parking)
2000 Avenue of the Stars, Los Angeles, CA 90067
Parking is located off of Constellation Blvd. in the underground lot
Offering Pfizer and Johnson & Johnson
MOBILE SITE LOCATIONS 5/4 – 5/8 (NO APPOINTMENT REQUIRED)
All mobile sites are offering Pfizer and Johnson & Johnson.
HOURS: 
Standard: Tuesday – Saturday 9 a.m. – 2 p.m.
**Extended Evening Hours: Tuesday – Saturday 9 a.m. – 9 p.m.
South Park Recreation Center – South Park
345 E. 51st St., Los Angeles, CA 90011
**EXTENDED NIGHT CLINIC HOURS 9 a.m. – 9 p.m. 
Teatro Frida Kahlo Theater – Westlake
2332 W. 4th St., Los Angeles, CA 90057
Andres and Maria Cardenas Rec Center – Panorama City
14740 Blythe St., Panorama City, CA 91402
Sylmar Recreation Center – Sylmar
13109 Borden Ave., Sylmar, CA 91342
Luther Burbank Middle School – Highland Park
6045 York Blvd., Los Angeles, CA 90042
Banning Recreation Center – Wilmington
375 N. Ave 63, Los Angeles, CA 90042
Baldwin Hills Crenshaw Plaza – Sears – Baldwin Hills/Crenshaw
3755 Santa Rosalia Dr., Los Angeles, CA 90008
North Hollywood Senior Center – North Hollywood
5301 Tujunga Ave., North Hollywood, CA 91601
Visit our mobile clinic page for information and the most up to date sites: https://corona-virus.la/MobileVax
MORE LOCATIONS AND INFORMATION 
To find hundreds of other locations in L.A. County, you can visit MyTurn.CA.gov
To find out more information about the vaccine, you can visit VaccinateLACounty.com.
The COVID vaccine is safe and effective in lowering the chance of death and severe illness from COVID-19. Vaccinations are free, no insurance is necessary, and are available to all Los Angeles County residents, regardless of immigration status.
If you are experiencing COVID-19 symptoms, you can sign up for a free COVID test here:  Coronavirus.LACity.org/Testing. You are not eligible for a vaccine unless you are symptom-free. Please consult your healthcare provider if you have further questions.
Click here for more information on this alert.
3/8/21
CDC Releases New Guidelines For Fully Vaccinated Americans
People who are fully vaccinated against Covid-19 may safely gather with small groups from other households without wearing masks or physical distancing, even if those people have not yet had their shots, the Centers for Disease Control and Prevention said Monday.
This is the first federal public health guidance aimed at resuming some kind of normal activity for people who have received both doses of the Pfizer or the Moderna shots, or one shot of the single-dose vaccine from Johnson & Johnson. A person is considered fully vaccinated two weeks after the final dose, giving the body time to build antibodies against the virus.
For more information: https://www.nbcnews.com/health/health-news/cdc-releases-guidance-safe-activities-after-covid-19-vaccination-n1259969?cid=sm_npd_nn_tw_ma 
2/26/21
MORE PEOPLE ELIGIBLE FOR VACCINES NEXT WEEK IN L.A. COUNTY, INCLUDING TEACHERS, CHILD CARE WORKERS AND OTHER ESSENTIAL WORKERS
Los Angeles County is ready to soon expand vaccination appointments to teachers and essential workers.
Vaccine eligibility is expected to expand starting next week, but the availability of appointments will depend on how many doses the county expects to receive – and county officials won't know that figure for another day.
There will be nearly 400 sites in L.A. County administering the vaccines. The new people eligible will include food and agriculture workers, teachers and other education and childcare workers, and emergency services employees and first responders.
The expansion comes even as more good news is on the horizon, with Johnson & Johnson saying its new vaccine could be available in a matter of days.
Read more: https://abc7.com/la-county-vaccine-los-angeles-vaccination-dr-barbara-ferrer-lausd/10368156/ 
1/25/21
California Lifts Statewide "Safer-at-Home" Order
California is lifting stay-at-home orders for all regions in the state, including Southern California, the Bay Area and the San Joaquin Valley — the three regions that had still been under the order — citing a drop in intensive care unit projections. But health officials warn that most counties still need to follow strict guidelines.
For more information: https://covid19.ca.gov/safer-economy/#county-status
12/2/20
Los Angeles City issues targeted stay-at-home order
The Coronavirus is widespread in our community, and the latest data from the Los Angeles County Department of Public Health shows more Angelenos are infected with COVID-19 than ever before. Our City is now close to a devastating tipping point, beyond which the number of hospitalized patients would start to overwhelm our hospital system, in turn risking needless suffering and death. These unfortunate facts about the spread of COVID-19 in our City mean that we must resume some of the more restrictive measures we instituted in the Spring. The way to avoid that dreaded scenario is clear. We must refrain from gathering with people from outside our household wherever possible. Angelenos have shown what is possible when we cooperate, listen, and protect our family, friends, neighbors, and favorite businesses. This most recent surge in COVID-19 cases presents us with an opportunity to work together, again, to reduce its spread and flatten the curve. We must minimize contact with others as much as possible. Even if you believe that the virus does not present a particular threat to you, consider the impact that your choices have on others. Because COVID-19 can be transmitted by someone who is unaware that she is carrying it, one person could be unknowingly infecting many people if she is not careful. The better we are now at staying apart, the sooner we will be able to come back together.
Under the provisions of Section 231(i) of the Los Angeles City Charter and Chapter 3, Section 8.27 of the Los Angeles Administrative Code, I hereby declare that the Safer L.A. Order, dated June 1, 2020 (subsequently revised), is temporarily withdrawn and superseded by this Order, which is necessary for the protection of life and property in the City of Los Angeles and is effective immediately: https://www.lamayor.org/sites/g/files/wph446/f/page/file/20201202%20Mayor%20Public%20Order%20Targeted%20SAH%20Order%20Updated.pdf 
10/29/20
California imposes "limited" curfew due to COVID-19 surge
Gov. Gavin Newsom has announced a mandatory overnight stay-at-home order that will be instituted throughout most of California to combat a surge in new coronavirus cases, a measure that comes just days after the governor enacted a dramatic rollback of reopening in much of the state.
The order issued by the California Department of Public Health will prohibit most nonessential activity outside the home from 10 p.m. to 5 a.m. in counties in the strictest tier of the state's reopening road map — the purple tier. The restriction goes into place on Saturday and lasts through Dec. 21, though it could be extended.
Read more: https://www.latimes.com/california/story/2020-11-19/california-limited-stay-at-home-rules-covid-19-surge
10/12/20
Los Angeles Remains in Tier 1 Reopening
5/13/20
Mayor Eric Garcetti has issued an order requiring Angelenos to wear face coverings outside their homes.
The order will aid the fight against COVID-19, as restrictions are gradually eased to allow more people to return to work and outdoor recreation. The order exempts young children who are at risk of suffocation and people with certain disabilities from being required to wear a face covering.
Face coverings help stop the spread of the virus, and wearing them in public creates a layer of protection. However, a face covering is not a substitute for other critical measures to slow the spread of COVID-19 — most importantly, staying home as much as possible, washing hands frequently, and practicing safe physical distancing of at least 6 feet in all settings.
For more information, click here.
5/7/20
IN STAGES: ROADMAP TO SAFELY ADJUSTING THE SAFER AT HOME ORDER IN THE CITY OF LOS ANGELES
Starting May 8, the City and County of Los Angeles will enter Stage II and begin the process of slow and gradual adjustments to the Safer at Home order. Physical distancing, face coverings and other safety measures will remain in place and will be even more important.
A gradual approach is necessary to safely navigate the COVID-19 pandemic. The goal is to slowly taper restrictions so we can avoid a surge of new COVID-19 cases that could overwhelm our healthcare and other systems. This strategy will be slow, deliberate, coordinated, and driven by data and public health criteria.
The first stage — where Los Angeles has been over the last several months — is crisis management mode, which has the goal of saving as many lives as possible.
The second stage aims to transition Angelenos back to a "new reality," with a slow and gradual change to some restrictions, while always ensuring that there are adequate safety measures in place.
In the third and fourth stages, the City will transition to a state of monitoring, and aim to lift additional restrictions. In the fifth and final stage, the City will be fully reopened and turn its attention to reimagining itself in a post-COVID-19 period.
Stages ultimately become less restrictive as they progress. Key milestones must be reached before the City can transition to the next stage of recovery.
To learn more about the stages of recovery, visit: https://corona-virus.la/SaferLA
4/30/20
Los Angeles County expands free coronavirus testing to all residents
The City of Los Angeles, in partnership with the County of Los Angeles and CORE (Community Organized Relief Effort), is providing free COVID-19 testing to ALL Los Angeles County residents, whether or not you are experiencing COVID-19 symptoms.
Priority for the same or next day testing is still given to people with symptoms, such as fever, cough, shortness of breath, chills, muscle pain, headaches, sore throat, or a new loss of sense of smell.
Testing is also prioritized for certain critical front-line workers who interact with the public while working. Click the Testing for Front Line Workers button for more details.
Testing is by appointment only. To book an appointment, visit: https://lacovidprod.service-now.com/rrs
4/13/20
LAUSD to remain closed for the rest of the school year
Los Angeles Unified School District campuses will remain closed for the remainder of the school year and courses through the summer will continue online amid ongoing coronavirus concerns, Superintendent Austin Beutner announced April 13.
For more information, view Beuter's announcement here: https://www.youtube.com/watch?v=0XVAHpwQxVM
4/10/20
Los Angeles County extend stay-at-home order through May 15.
Los Angeles County health officials shared the latest COVID-19 modeling and warned Friday that the region needs to significantly increase physical distancing to slow the spread of coronavirus and that stay-at-home restrictions could remain into the summer.
For more information, click here.
4/2/20
The City of Los Angeles has issued new guidance to L.A. residents on the importance of wearing face coverings in public. The California Department of Public Health has also issued public guidance on the use of face coverings.
Early data suggests that many who are infected with COVID-19 are not symptomatic, which is why we recommend all members of the public wear cloth face coverings when leaving the house for essential activities. However, a face covering is not a substitute for other critical measures to slow the spread of COVID-19 — most importantly, staying home as much as possible, washing hands frequently, and practicing safe physical distancing in all settings.
For more information, visit: https://corona-virus.la/FaceCovering
3/25/20
Los Angeles County issues new self-quarantine and self-isolation orders
The new orders ensure that individuals who test positive for COVID-19, and those who are told by a clinician they are presumed to be positive for COVID-19, are required to self-isolate and self-quarantine

Self-quarantine is required for anyone exposed to a person diagnosed with or likely to have COVID-19. Individuals must stay in quarantine for 14 days from the last time they had contact with the ill person, and they cannot leave their place of quarantine, with the only exception being for medical care

Self-isolation is required for anyone diagnosed with or showing symptoms consistent with COVID-19 within 14 days of being in close contact with a person who had or was believed to have COVID-19. Individual self-isolation periods must last at least 3 days without symptoms, including being fever free without taking medicine, and 7 days since symptoms started, whichever is longer, and the individual notify anyone they've had close contact with while symptomatic to self-quarantine themselves. The only exception is to leave self-isolation for medical care.
3/19/20
As of March 19th, Gov. Newsom has ordered Californians to stay at home except for leaving for essential needs. The order will be in place through April 19, 2020 and is subject to extension. For more information, visit: https://covid19.ca.gov/stay-home-except-for-essential-needs/
Here are the key parts of the "Safer at Home" order:
Angelenos are directed to stay in their residences and limit activity outside of their homes beyond what is absolutely necessary for essential tasks — including to secure food and health care, safety and medical necessities, as well as to care for children, older adults, and people with disabilities.

Many businesses — including malls, many shops, companies, and nonprofit organizations — must stop operations that require workers to be present in-person.

No public and private gatherings that would occur outside of a single home will be allowed.
There are exceptions to this order. Please see this Safer at Home FAQ for a list of the essential activities and businesses that will remain open and other important information.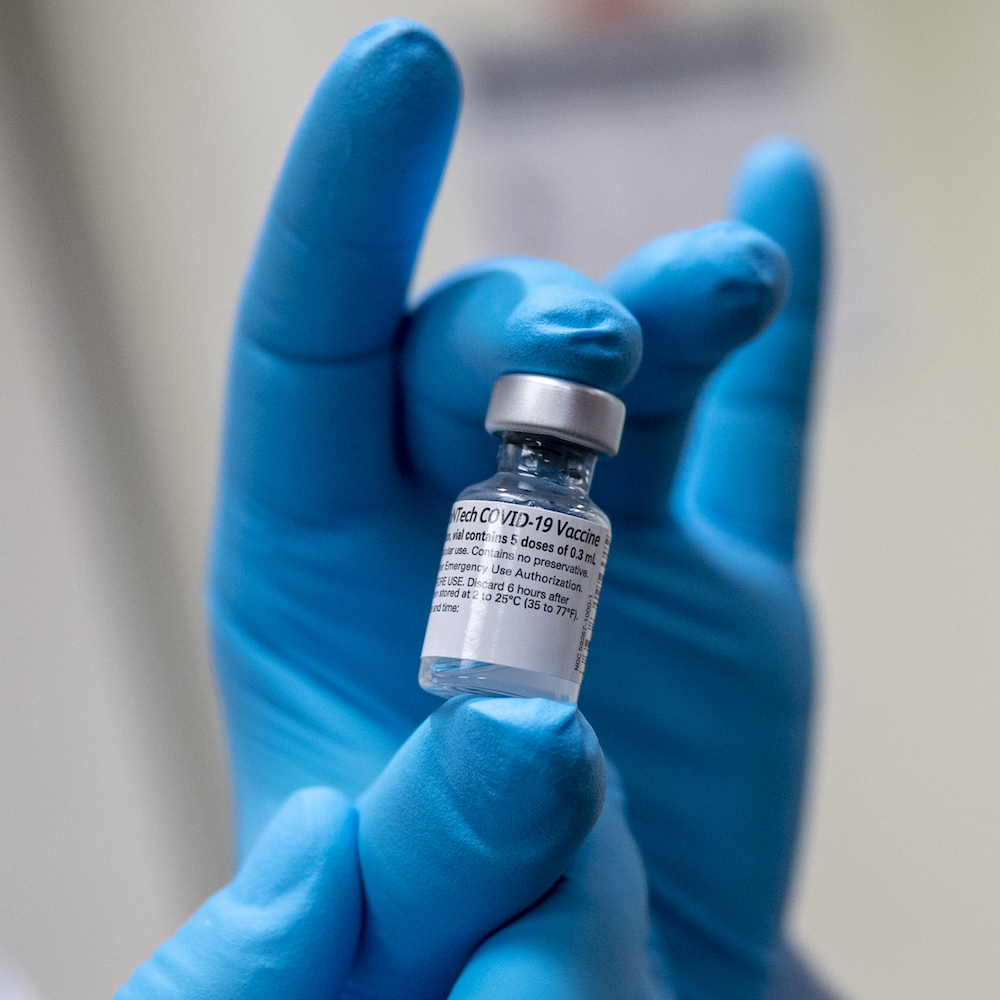 While the COVID-19 pandemic is not yet over, receiving any of the three FDA-authorized COVID-19 vaccines is the best way to protect you and your family from COVID-19 and its variants, according to the Los Angeles Department of Public Health. The vaccines are extremely...