---
March 30, 2022
When it comes to street art, Wilmington has a unique piece that is literally art on the street: a decorative crosswalk featuring symbols of the South LA neighborhood that not only makes the busy intersection of Figueroa and L streets a lot more colorful but a whole lot safer.
The story behind the crosswalk is a three-year-long saga that underscores how community-led advocacy, boosted by training and guidance from First 5 LA and its partners, can push through the red tape and the slow-moving wheels of government bureaucracy.
"It would've been so easy for this to never happen," said Christina Hall, a program officer for the Nonprofit Project –– First 5 LA's regional network grantee working in Best Start Region 4, which includes Wilmington and Long Beach. "It was way out on L.A. DOT's (Department of Transportation) priority radar. It's a testament to community engagement and empowerment."
The project started back in 2018 when Los Angeles Walks, a nonprofit that advocates for safer, walkable streets, alerted Best Start community leaders to a city grant opportunity for safer streets. Best Start is a signature First 5 LA investment that aims to cultivate community partnerships where parents and residents can become powerful catalysts to achieve positive outcomes for families in five underserved regions around L.A. County.
 A priority in Wilmington was the congested intersection of Figueroa and L streets, which has historically seen many traffic accidents and fatalities. Figueroa is a six-lane street that runs parallel to the Harbor (110) Freeway and often serves as an alternate route for truck traffic to and from nearby oil terminals as well as the Port of Los Angeles, one of the nation's busiest seaports. L Street is the four-lane main entrance to L.A. Harbor College, which also hosts the popular Harbor Swap Meet on weekends.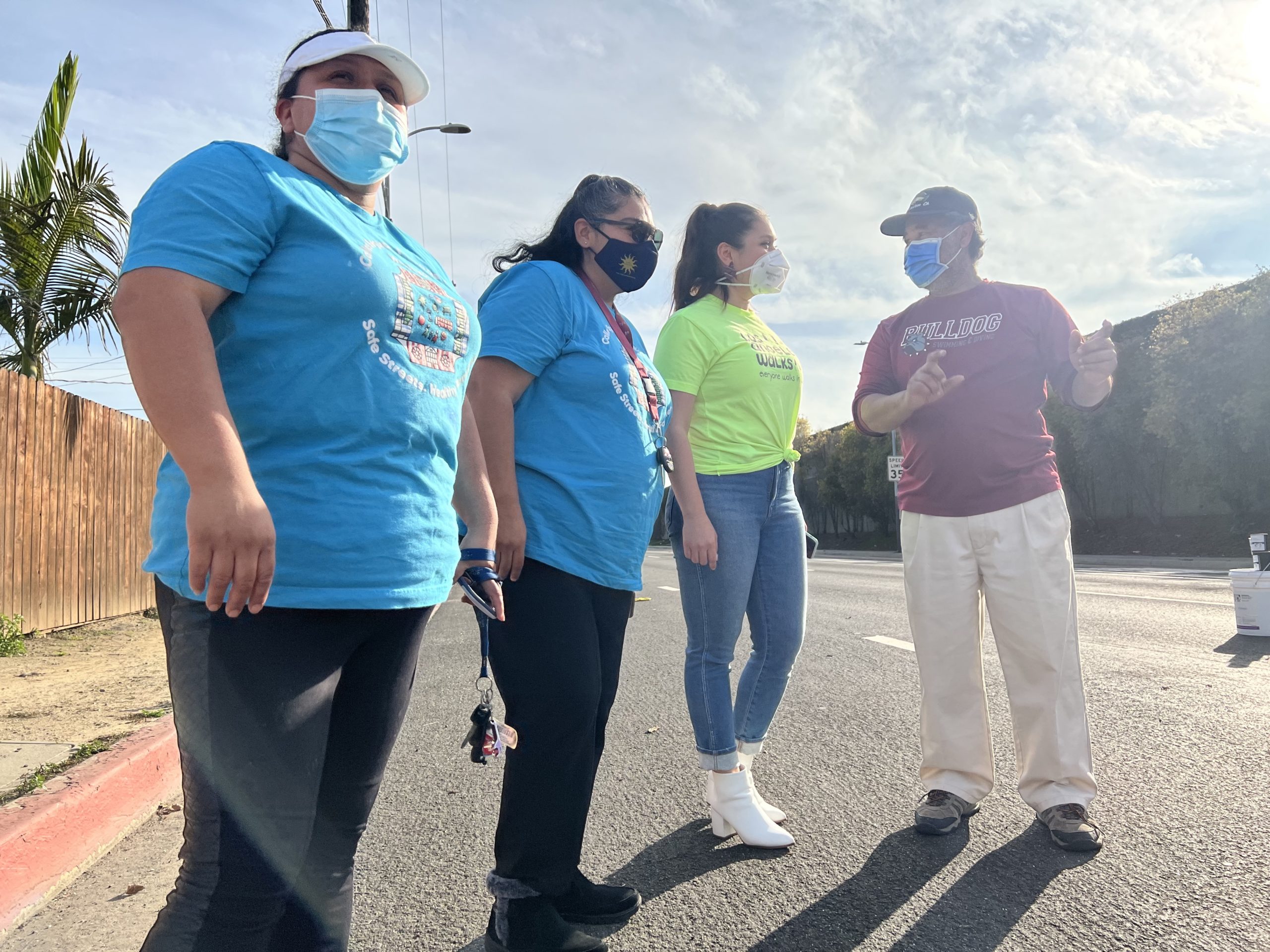 Guided by L.A. Walks and Best Start Region 4's community network grantee, Providence Health Services, Best Start community leaders or "promotoras" –– the Spanish term for community health worker ––  Gaby Dora Segovia and Nancy Cid Gomez started gathering materials for the application, including letters of support from local Councilmember Joe Buscaino, Harbor College and other community members and representatives. They also had to figure out administrative pieces, such as who would be responsible for handling the funding and how to obtain $1 million in liability insurance coverage for DOT workers. At the same time, they had to learn computer skills — such as how to use email, the internet and Zoom — to coordinate the efforts around applying for the grant. 
"It wasn't easy," Gomez said. "There were a lot of requirements."
During this time, Segovia and Gomez also held a contest that encouraged local artists to submit a design for the four-way crosswalk. Local artist Luis Soto won the competition with a design that highlighted elements emblematic of Wilmington, including depictions of a tiller, a boat and Banning House, a local historic house and museum. 
After extensive work, Gomez and Segovia filed the grant application with the LA DOT. But then, nothing happened. The project appeared to have ground to a halt.
"It's a typical example of the city failing to meet community needs," said John Yi, executive director of L.A. Walks. "They really dragged their feet. This became about pressuring the city to fulfill their end of the bargain."
The project was also set back by changes in personnel and then the pandemic. "It was tiring and stressful," Segovia said.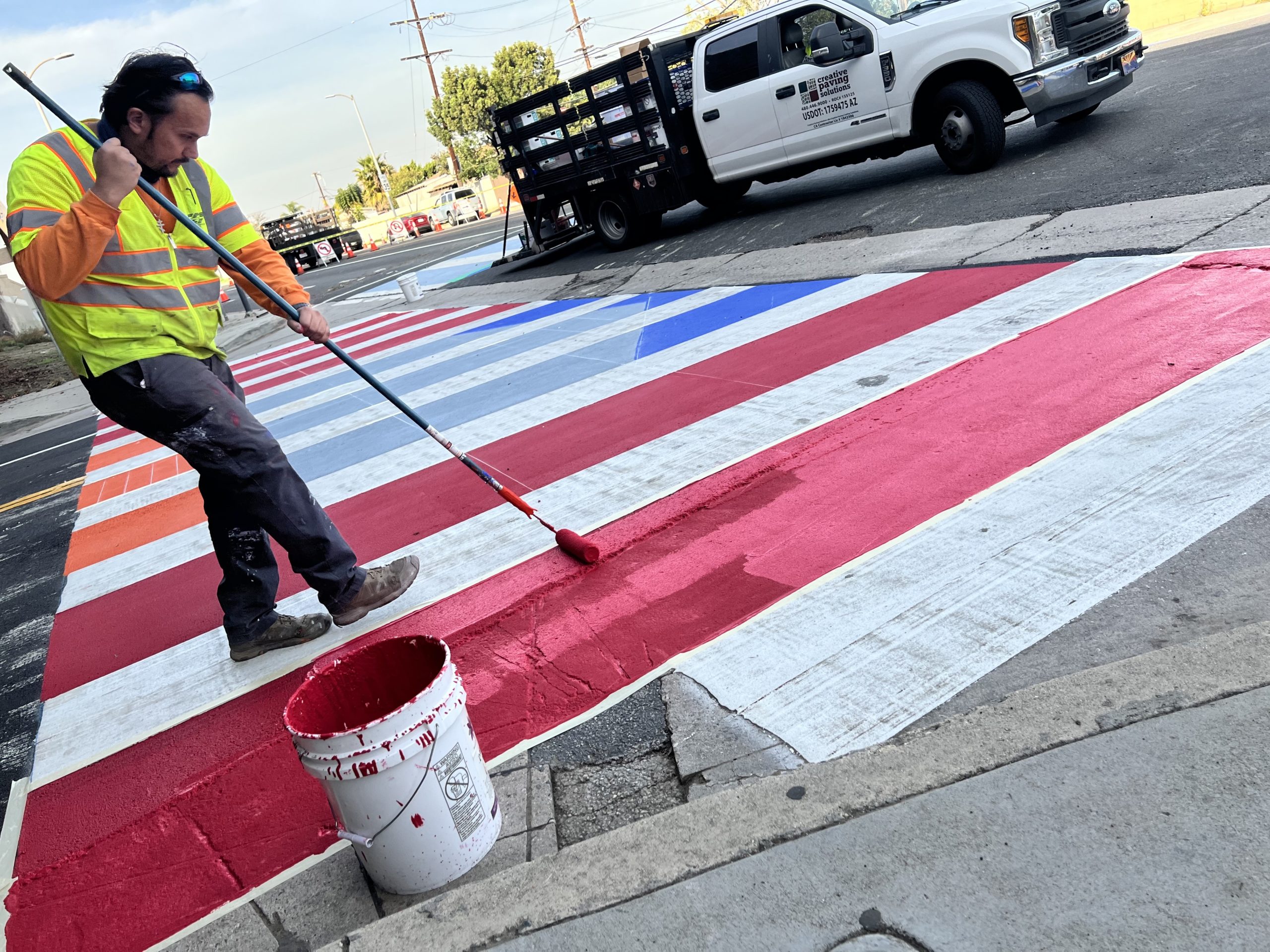 In the meantime, both Segovia and Gomez were appointed by Councilmember Buscaino to the L.A. Pedestrian Advisory Committee, which helped them widen their networking and knowledge base. And they didn't give up.
"The key was maintaining communication with the city," said Maribel Amaya, supervisor of the community health initiative of Providence Health Services. "And we continued training people… to advocate for themselves."
Their efforts finally came to fruition on January 15, when the crosswalk was painted. "It's something beautiful," Gomez said. "We'd like to see this on every corner."
The new pedestrian crossing comes at a critical time. According to a recent Los Angeles Times article, the number of L.A. pedestrians severely injured by motorists increased by 35% in 2021, while pedestrian deaths rose 6%. Researchers have noted that this trend is especially alarming given that immigrants, low-income individuals and people of color continue to represent a disproportionate number of pedestrian deaths.
While Gomez and Segovia take pride in their accomplishment, they said the experience has yielded far more personal results. 
"Best Start Wilmington gave us the tools to grow," Segovia said. "We gained a lot in three years."
Gomez said she was so shy when it came to speaking in public that she found herself shaking at a press conference. But she made herself do it because she had to. Now, she no longer trembles.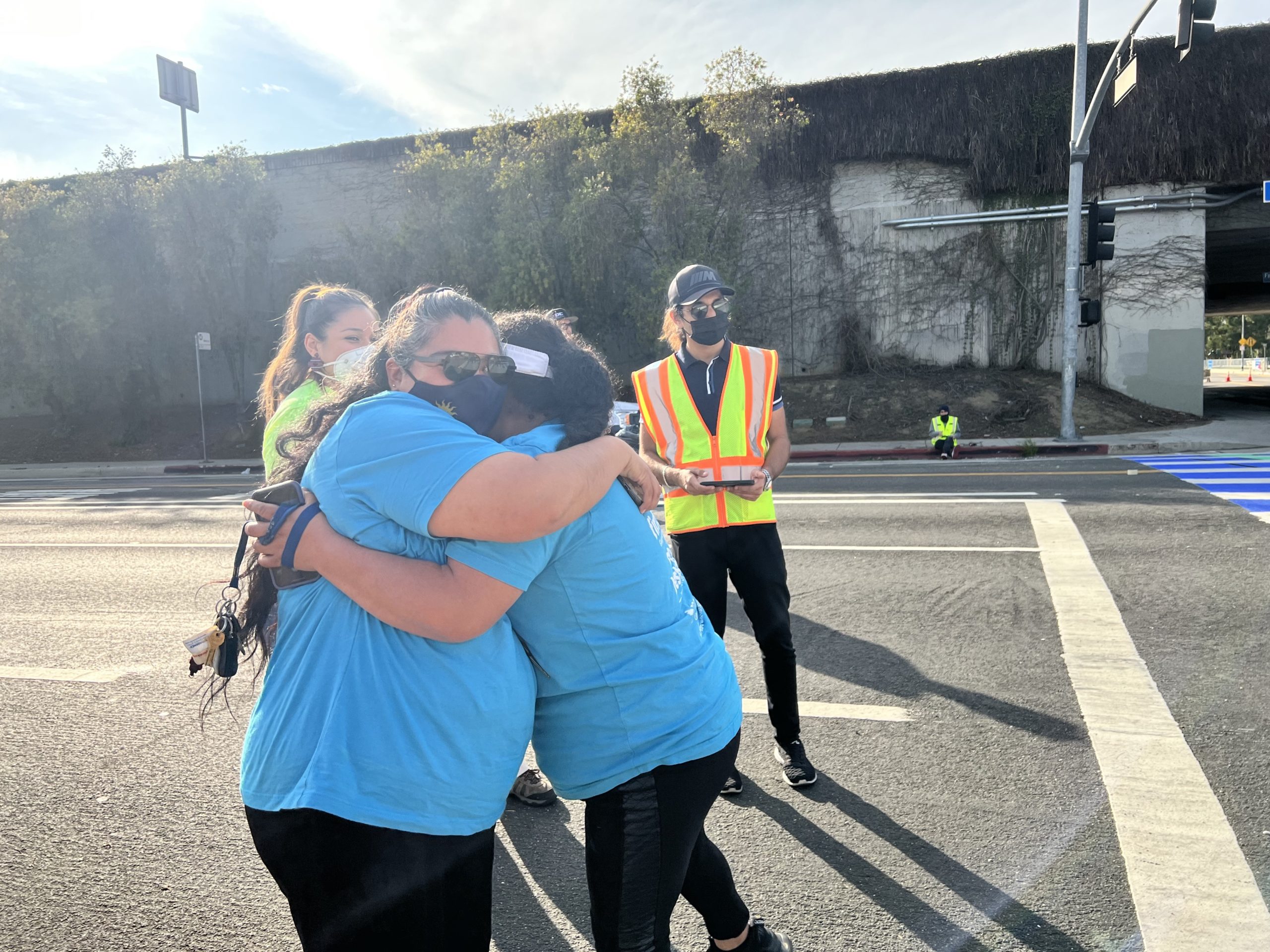 "The education has given us confidence," she said. "It has made us believe in ourselves." 
The intersection of Figueroa and L streets now attracts photographers instead of vehicle crashes, and Gomez and Segovia are setting their sights on their next project: a mural to beautify a pedestrian bridge and a community workshop to share what they learned. Said Segovia: "This experience has given us a lot of motivation and the tools to keep working for community change."