COVID-19 Tips & Resources for Families with Young Children
---
Throughout the COVID-19 pandemic, First 5 LA will be gathering information and sharing resources and tips to help families. View below for a list of categories/resources:
COVID-19 & Parenting/Families:
Resources for Free Internet:
Tips for talking to your child about COVID-19:
Information related to the COVID-19 vaccine & kids: 
Although fewer children have been infected with COVID-19 compared to adults, children can:
Be infected with the virus that causes COVID-19
Get sick from COVID-19
Spread COVID-19 to others
CDC recommends everyone 12 years and older should get a COVID-19 vaccination to help protect against COVID-19. Widespread vaccination is a critical tool to help stop the pandemic. People who are fully vaccinated can resume activities that they did prior to the pandemic. Learn more about what you and your child or teen can do when you have been fully vaccinated. Children 12 years and older are able to get the Pfizer-BioNTech COVID-19 Vaccine.
Learn more: https://www.cdc.gov/coronavirus/2019-ncov/vaccines/recommendations/adolescents.html?s_cid=11581:12%2015%20covid%20vaccine:sem.ga:p:RG:GM:gen:PTN.Grants:FY21
Virtual and Indoor Activities For Kids:
Keeping Kids Physically Active During Shelter-At-Home Orders:
Learning Resources:
Resources for ECE Professionals:
Resources for Finding Child Care:
Mental Health Resources:
Domestic Violence:
During the COVID-19 pandemic, stress and isolation may contribute to greater instances of domestic violence. Help is still available to all who need it. Please visit: http://nodvla.org/get-help/resources/ to be connected to a domestic violence resource in your neighborhood or call 1-800-799-SAFE (7233) for the National Domestic Violence Hotline. You can also call L.A. County's hotline at 1-800-978-3600.
Community Resources:
Financial Resources for Those Impacted by a COVID-19 Death:
The COVID-19 pandemic has brought overwhelming grief to many families. At FEMA, our mission is to help people before, during and after disasters. We are dedicated to helping ease some of the financial stress and burden caused by the virus.
Under the Coronavirus Response and Relief Supplemental Appropriations Act of 2021 and the American Rescue Plan Act of 2021, FEMA is providing financial assistance for COVID-19 related funeral expenses incurred after January 20, 2020. More information: https://www.fema.gov/disasters/coronavirus/economic/funeral-assistance
For Workers Impacted By COVID-19
South LA COVID Retraining & Recovery (CORE) Fund –– CORE offers scholarships to South LA residents furloughed/laid-off due to COVID-19 to enable them to retrain in careers that are likely to be in high demand in a post-COVID economy, particularly in the healthcare and technology fields. For more information, visit: https://www.sola-resources.com/core-fund
The Angeleno Campaign helps low-wage hourly workers who had jobs in homes and restaurants, seasonal workers, and other precarious workers such as day laborers, street vendors, or self-employed individuals who are experiencing financial hardship because of COVID-19. This economic hardship may be due to job loss, severe reduction of work hours, or furloughs.
To be eligible, applicants must be residents of the City of Los Angeles with a household income that falls below the Federal Poverty Level. Applicants must have been denied unemployment insurance benefits, be ineligible for public benefits, and/or applied for unemployment insurance benefits and have not received their first check. The City of Los Angeles has 16 FamilySource Centers, which are operated by vetted non-profits. These centers will assess applicants and household needs and provide financial assistance via grocery gift cards and/or no-fee debit cards enabled by Mastercard's City Possible network.
To apply, call 3-1-1 to be connected to the nearest FamilySource Center or visit https://hcidla.lacity.org/family-source-centers.
The Paycheck Protection Program prioritizes millions of Americans employed by small businesses by authorizing up to $349 billion toward job retention and certain other expenses.
Small businesses and eligible nonprofit organizations, Veterans organizations, and Tribal businesses described in the Small Business Act, as well as individuals who are self-employed or are independent contractors, are eligible if they also meet program size standards. Learn more: https://home.treasury.gov/policy-issues/top-priori…
The County of Los Angeles — in partnership with Goldman Sachs, Wells Fargo Foundation, Citi, and others — has created a new application portal for small businesses and nonprofits seeking to apply for the federal Paycheck Protection Program (PPP), a forgivable loan product created by the federal Coronavirus Aid, Relief, and Economic Security (CARES) Act.
To access the portal, visit: https://crfusa.com/ppp/la-ppp-inquiry/
L.A. Countywide Rent Relief
California Tenant and Landlord State Resources: https://landlordtenant.dre.ca.gov/
Los Angeles County, August 17, 2020 – In an effort to assist renters with limited means affected by the COVID-19 crisis, the Los Angeles County Board of Supervisors has provided $100 million in Coronavirus Aid, Relief, and Economic Security (CARES) Act funds to create a COVID-19 Rent Relief program, operated by the Los Angeles County Development Authority (LACDA). The program is set to launch on Monday, August 17, 2020, and will remain open for a two-week period, closing on Monday, August 31, 2020. The program's goal is to assist between 8,000 to over 9,000 households. To apply, visit: https://211la.org/lacounty/rentrelief
With the rent due, the Mayor reminds Angelenos that the city's eviction protections remain in place for both residential and commercial tenants facing hardships due to the pandemic. For free legal assistance, please visit our LA Represents page.
Councilman Bonin's office Eviction / Renter rights: https://11thdistrict.com/covid-renter-resources/?f...
From Supervisor Sheila Kuehl's office Eviction / Renter rights: Questions? The County of Los Angeles Department of Consumer and Business Affairs is here to help. Learn more and contact DCBA: (833) 223-RENT (7368) rent.lacounty.gov, [email protected]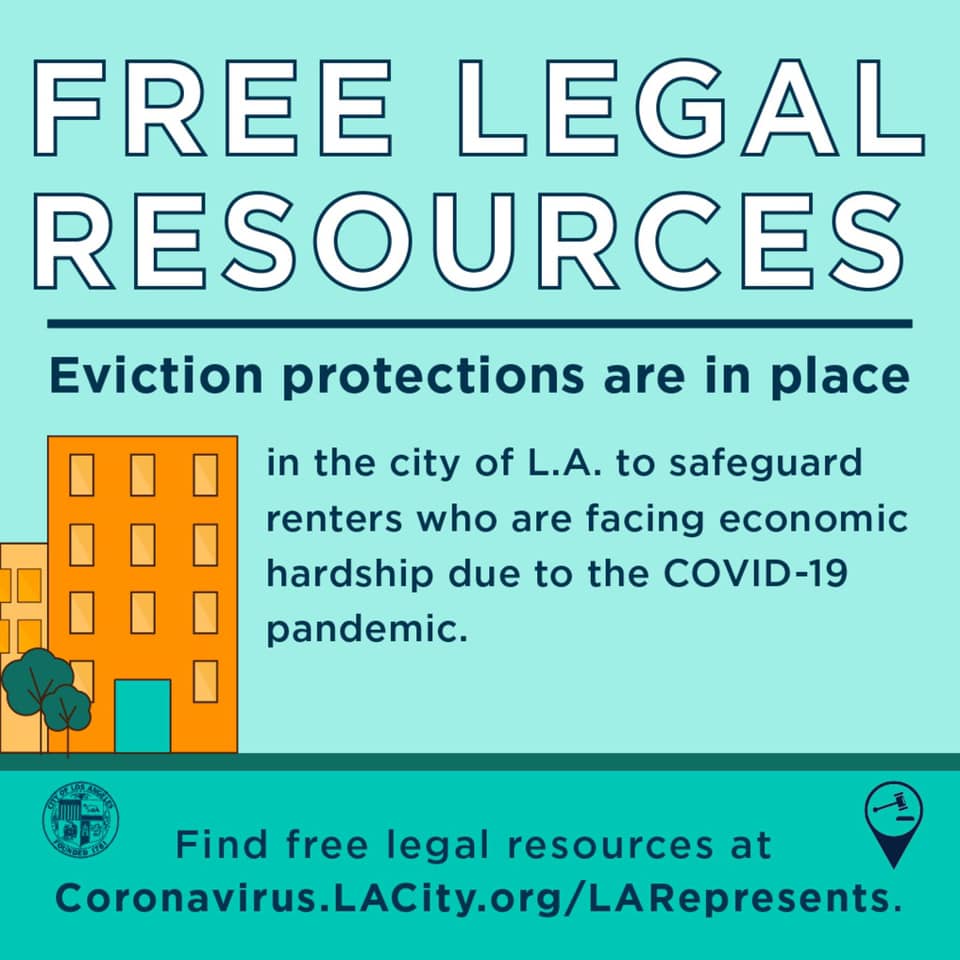 Long Beach Rental Assistance Program:
The City today announced a new rental assistance program that will help provide relief to qualified tenants affected by the COVID-19 pandemic, as unanimously approved by the City Council.
For more information, visit: https://docs.google.com/document/d/e/2PACX-1vSgbwHA-qJHx9laWx0aS-3v6jEQvcCMMl39ZMoTYr2yrzZkwl2LGBkKwy1mxQxuRvOhiDrW8QVFi0O1/pub
L.A. County and State Resources:
WIC Benefits:
The Women, Infants, and Children (WIC) Program continues to serve families in need during the COVID-19 emergency. To protect all families and staff, local WIC offices may be offering services by phone or online until further notice. Families should call the WIC office rather than go in person for enrollment or other assistance. If you have additional questions, please contact the state WIC office at [email protected] or (800) 852-5770. Click here for more information: https://www.cdph.ca.gov/Programs/CFH/DWICSN/Pages/WICCovid19Info.aspx
DPSS
All DPSS Benefit –– Medi-Cal, CalFresh, CalWORKS and General Relief benefits will be issued without interruptions through the mothers of March, April and May 2020.
While DPSS centers are currently closed, services are continuing to be provided via website and phone. You can now enroll and apply online.
Click here for more information.
Resources for Immigrants:
Office of Immigrant Affairs
L.A. County Office of Immigrant Affairs: FAQ – Coronavirus Information for Immigrants
Individuals seeking any medical care/treatment related to COVID-19 will not be factored into in any future application for immigration status. LA County residents that are uninsured should utilized, MyHealthLA, a program provided by the County. Services provided will not count against people in a public charge test. Mix-Status Families. People who are eligible for benefits should continue to access them and it will not be count against other members in the household who will be applying for residency in the future. Office of Immigrant Affairs can be reached at 1-800-593-8222.
The Los Angeles County Public Defender
The Office of Los Angeles County Public Defender has a team of 700 attorneys working to protect the rights of immigrant population in the county and reduce the impact of criminal convictions on the County's immigrant population.
Public Defender Office is focusing on lowering the prison population to reduce the harm of spread of coronavirus.
Public Defenders Office provides legal representation to individuals in custody that face immigration consequences.
Public Defender's Office is available to help and answer any questions around immigration and incarceration.
Los Angeles County Public Defender's Office can be reached at 213-974-0572 or 1-833-974-3003.
CHIRLA (Coalition for Humane Immigrant Rights Los Angeles) manages a free hotline people can call if they think they have the Coronavirus, 888-624-4752.
Health Resources:
Information on COVID-19 Vaccine Distribution
Getting the Vaccine: 
Get Out the Shot: a volunteer-run collective that is seeking to remedy and specific and pernicious harm – there are barriers to vaccine access in the communities that have been hardest hit by COVID-19. Los Angeles is struggling to get vaccines into the people that need them most. Get Out the Shot is matching the need to appointments for those that are eligible. Individuals looking for help for themselves or a loved one can call 213.986.7604 or complete the help form. A volunteer will call them back in the language they specify to get pertinent information for an appointment, including how far they can travel, whether they want walk-up or drive-thru and when they are available.
https://myturn.ca.gov/ – Sign up to find out when it's your turn to get the vaccine!
Testing:
Go to http://Coronavirus.LACity.org/Testing to learn more about new COVID-19 testing available from the City of L.A. and to see if you're eligible.
The City and County's contact tracers reach out by phone to everyone who is a close contact of someone who tests positive to collect potentially life-saving information. Please answer the call if you get a phone call from "L.A. Public Health".
(6/3/20) LA County Supervisor Hilda L. Solis, in partnership with the Governor's Office, launched the following testing sites in the First District:
Cal State LA, 5151 State University Drive, Los Angeles, CA 90032
Chap Care 10408 Vacco Street Suite A, South El Monte, CA 91733
At the above testing sites, you do not need to experience symptoms to be tested. However, those with symptoms will receive priority consideration.
Testing for Employees and Staff
Your organization can block off appointments on a particular day so that staff can be tested. We encourage you to pursue this option by contacting Norma Casas, DHS, at [email protected] to make this arrangement.
Individual Testing
Appointments are available now! Individuals can schedule an appointment to be tested here — https://lhi.care/covidtesting. There are many appointments available this week.
Health Insurance Resources:
The State of California has announced that all health insurance plans are required to provide no-cost care to members seeking coronavirus testing, screening, or treatment.
Because of COVID-19, you or someone you know may be newly eligible due to job loss and can apply for Medi-Cal online at coveredca.com

For more information on how to keep your Medi-Cal during a pandemic: healthconsumer.org/covid19

Maternal and Child Health Access will assist individuals who have Medi-Cal but are experiencing issues accessing it. Call 213-749-4261 and receive a call back within 24-48 hours from a blocked number.
The California Department of Public Health: Women & COVID-19 Resource Page, including information on: