Special Needs? Don't Wait to Advocate with
S.C.H.O.O.L.
---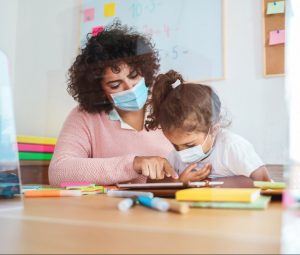 November 16-20 is American Education Week, a great reminder that every child deserves a quality education.
Good schools are just the start: By law, public education must be free and appropriate to each child's needs. That means children with learning challenges and disabilities can qualify for extra support. Fortunately, you don't have to wait until kindergarten to access programs that can help your little one thrive. Think S.C.H.O.O.L.:
Start early. Experts agree: The earlier the intervention, the better. According to the National Center for Learning Disabilities, children with learning issues can be high achievers with the right support. So if your baby, toddler or preschooler is missing milestones, see your pediatrician right away. They can refer your child for developmental screening and appropriate resources.
Connect with Programs and People. Los Angeles County offers families free or reduced-cost services for developmental issues. Check out Family Resource Centers Network of California (FRCNCA) and LA County Home Visiting Programs, and the L.A. County Early Start program (click here to find the regional center nearest you).   If you're having trouble accessing services you believe your child deserves (note that minority students are most often underdiagnosed and underserved), 211LA.org can help you connect to the right place.
Hold professionals accountable. If there's a long wait to see a specialist, get on their cancellation list. Call to follow up. Be persistent. According to the National Center on Learning Disabilities, teachers and others may blame learning difficulties on laziness or naughtiness — and may need to be reminded that kids with learning issues require professional support. Children do not "outgrow" learning disabilities.
Opt-in and stay in. If there's a chance a program might help your child, give it a try. Your child's specialists may assign homework: Make sure it gets done. Every exercise you do, every small hurdle you manage, is helping your child reach their highest potential. If a program is working, stick with it. Continuity of care is key, especially if your child will require aides, individual education plans (IEPs) or other accommodations in kindergarten.
Organize your paperwork. Keep thorough records. Document screening results (you can use this screening passport as a start) and be sure to get diagnoses and recommendations in writing — especially anything that identifies the supports your child needs to succeed in school. Make copies to share with schools; never give out your originals.
Learn and lead the way. Educate yourself. Many learning or development issues have dedicated foundations and websites full of useful information. You'll also find disability parenting resources and tips from other parents. Think about how and when to talk with your child about their disability. And keep your eyes and heart open to the many inspiring success stories that remind us anything is possible.