Reading and Learning Activities: March 31 is César E. Chávez Day!
---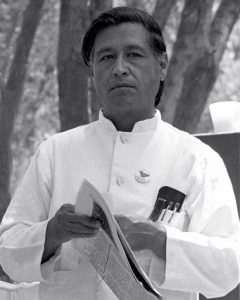 We celebrate the birth and legacy on César Chávez Day, a U.S. federal holiday, on March 31. Learn more about Chávez and his extraordinary life here:
César E. Chávez grew up working on farms along with his parents. They would work long hours picking fruits and vegetables. César noticed how unfairly the workers were treated, as they were often not provided with basic necessities like fresh drinking water or bathrooms. The long, hours in the hot sun with no shade were only made worse by the incredibly low pay the workers received. It was a terribly unfair way of living and working. Something had to be done.
When César Chávez grew up, he made it his mission to help the farm workers and others who were not treated fairly. He educated people on their rights and on how to advocate for their communities. He led non-violent protests, helped workers get better pay and working conditions, and fought for the respect and equality the workers deserved.
On March 31, we celebrate the birth and legacy of César E. Chávez. His tireless work and achievements in civil rights and the labor movement helped give a voice to many people. He will forever be remembered for his courage, hard work and the steps he took for fairness and justice.
César E. Chávez Day Learning Activities:
'Treat Others the Way You Want to be Treated' Activity: Come up with three scenarios for your child (for example, your child sees another child get bullied at school or your child sees another student fall at the playground). What would they do in these scenarios? How would they treat others the way they want to be treated?
Make a Cesar Chavez Day Fruit Salad: Cesar Chavez helped the people who work so that we can eat fruits and vegetables. With your child, make a fruit salad. Talk about the hard work involved in picking each fruit. Discuss the importance of the people who do farm work, and share why you are thankful for the food that you have to eat.
Make a "Respect Book." Cesar Chavez worked to help people feel dignity and respect. What do those things mean to you and your child? How can you show respect for other people? How can others show respect for you? Make a "Respect Book" with illustrations of ways to be kind and respectful.
Read and Learn: Learn more about Cesar Chavez with these books: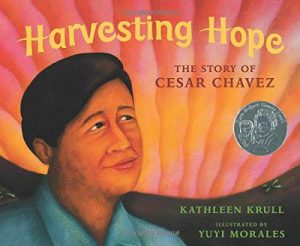 Harvesting Hope: The Story of Cesar Chavez by Kathleen Krull, Illustrated by Yuyi Morales
This story of one of America's greatest civil rights leaders focuses on his childhood, how he always knew things needed to change and how he could make a difference. Ages 4–7.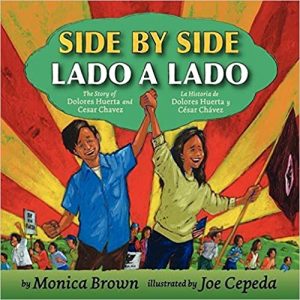 Side by Side: The Story of Dolores Huerta and Cesar Chavez by Monica Brown, Illustrated by Joe Cepeda
A bilingual retelling of the lives of activists Cesar Chavez and Dolores Huerta. This beautifully illustrated book teaches children about the power of teamwork and how childhood experiences can lay the foundation for a bright future. Ages 4–8.
César Chávez: Champion for Civil Rights by Anne Ross Roome
A great biography of César Chávez, an important leader in the movement toward fairness in the workplace. Accompanied by photographs, this book is a great introduction to an awesome figure in American history.