When California legislators return to the State Capitol in August from a summer recess spent in their respective districts, one of their primary goals will be to debate and vote on several hundred bills by the September 11 legislative deadline. Among those bills are several pieces of legislation on First 5 LA's Legislative Agenda which have the potential to improve the health and school readiness of young children.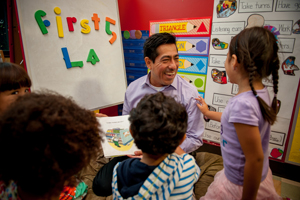 One of the newer additions to the Legislative Agenda is AB 47 by Assemblyman Kevin McCarty (D-Sacramento). The bill intends to increase preschool opportunities by requiring that eligible children have access to the State Preschool Program if they do not have access to transitional kindergarten or Head Start. If enacted, AB 47 would fulfill the commitment to California's preschool-age children made by state leaders in the 2014-15 budget to provide every low-income 4-year-old with access to preschool.
Another addition to First 5 LA's Legislative Agenda is AB 50, authored by Assemblyman Kevin Mullin (D- San Mateo). The bill requires the State Department of Health Care Services to develop a plan for making evidence-based home visiting programs available to Medi-Cal eligible pregnant and parenting women. Home visiting programs offer family support and coaching and include a broad range of services, such as consultations for pregnant women, newborn visits, and health and education services for children up to 5 years old and their families.
As part of its 2015-2020 Strategic Plan, First 5 LA supports Welcome Baby, a free and voluntary home visiting program that helps parents develop the skills needed to create a supportive home-learning environment.
High-quality home visiting programs have been shown to make a positive difference for children and families on a range of outcomes, including child health and development, school readiness, and prevention of child abuse and neglect. When quality programs are properly implemented, they lead to stronger families with access to the information, positive social connections and services they need to best support their child's development.
Welcome Baby represents a significant First 5 LA investment in enhancing the child-parent/caregiver relationship and the health, safety and security of children and their families.
Other bills First 5 LA supports cover a variety of issues, including developmental screening and childhood immunization. The full list can be found online here. For more information on First 5 LA's legislative priorities, please contact Ruel Nolledo at [email protected].