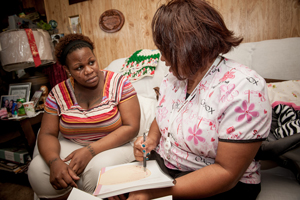 By Pegah Faed, First 5 LA Research Analyst
Information for this article came from articles on ACESTooHigh.com and interviews by Jane Stevens, Founder and Editor of ACESTooHigh and ACEsConnection.com.
Our experiences as children can impact how we raise our own. That's why it's critical for pediatricians and other caregivers to ask about the childhood experiences of parents, which may impact the future well-being of their children.
While it may sound like prying, or even opening "Pandora's Box" (as one physician commented), a recent study found that parents called talking about their own childhood experiences with their child's doctor to be therapeutic.
Adverse Childhood Experiences (ACEs) are experiences in childhood that are unhappy, unpleasant and hurtful. ACEs are sometimes referred to as toxic stress, childhood trauma, or childhood adversity. Examples of ACEs include substance abuse, divorce, mental illness, and experiencing or witnessing recurrent physical, emotional, or sexual abuse, as well as emotional or physical neglect.
At First 5 LA, we have identified the health, mental health and substance abuse systems in Los Angeles County as the focus of our trauma-informed care work in our new 2015–20 strategic plan. One trauma-informed practice we are eager to learn more about is pediatricians taking a few minutes to ask parents about any ACEs experiences.
"Our key message to parents is that 'You're not alone; it's not your fault; and I will help you.'" – Dr. R.J. Gillespie
Identifying the adversity experienced by parents can allow pediatricians and other family-serving systems to help develop self-care skills, teach them to ask for help, and to refer them to resources needed. These may include education about healthy parenting, such as how to play with their child and using discipline that is appropriate for the child's age, and to help them improve their child's social and emotional environment.
Dr. Nadine Burke Harris, a pediatrician at the Bayview Child Health Center in San Francisco, firmly believes that just as pediatricians ask parents if there's lead paint in their home since exposure to lead can harm children, they should also ask about a child's exposure to ACEs.
In 1995, Stevens reports, 17,000 Kaiser Permanente members volunteered to participate in research on the long-term effects of childhood adversity as part of the CDC-Kaiser Permanente Adverse Childhood Experiences Study (ACE Study). The study revealed the remarkable prevalence of ACEs – 64 percent of study participants had at least one – and how childhood adversity leads to the adult onset of chronic disease, mental illness, violence and being a victim of violence.
The two principle investigators of the ACE Study – Dr. Robert Anda and Dr. Vincent Felitti – thought that as soon as other physicians found out about the impact of ACEs from the study that was published in 1998, physicians would rush to be the first to integrate ACEs into their practices.
Unfortunately, their assumption was wrong. Says Stevens: "Less than 1 percent of U.S. pediatricians have integrated ACEs into their practice."
More recently, two pediatricians, Dr. Teri Pettersen and Dr. R.J. Gillespie, from Portland, Oregon, have implemented the ACEs screening in their practice at The Children's Clinic and explained the relationship between parental childhood adversity and their children's future.
As Stevens writes: 
It's an understatement to say that raising a kid is a challenge, and not for the faint of heart. The many stressful moments of an infant or a toddler's life include tantrums, colic, toilet training, sleep problems, colds, hitting and biting, say Pettersen and Gillespie.
"At some point, a toddler is likely to hit or bite Mom and Dad," says Pettersen. "How will they respond?"
If parents have grown up with a lot of adversity in their lives and little help in understanding how that adversity affects their behavior and how they react to stress, they're more likely to pass that on to their children, even if they don't intend to, by reacting without thinking in typical "fight, flight or fright (freeze)" mode. They may hit the child, walk away from the child who's asking for attention (albeit in a negative way), or freeze, only to be bitten or hit some more. None of that helps grow a healthy child or a healthy relationship between the parent and child.
The physicians at the Children's Clinic have been asking parents about their own childhood adversity with hopes of preventing their children from experiencing childhood trauma and adversity.
There are a few common responses you will get from physicians about why they don't screen for ACEs: "There's no time." "It would just open a Pandora's Box." "I don't know what to say." "We don't have the resources." "Asking the questions might make the patient have a full mental collapse."
After two years of conducting the ACEs screening at the Children's Clinic in Oregon – with more than 1,500 parents having taken the survey – none of those excuses were actualized. The average time spent on the topic was three to five minutes, with no parents breaking down.
Of the pediatricians who were surveyed about the results, there were a few things that surprised them. Parents seemed willing to discuss their ACEs, were very grateful that they were being asked the questions and had a sense of relief at no longer having to keep their experiences a secret. Also, those parents who had suffered severe abuse were extremely resilient. Overall, the pediatricians felt that it was easy to have the conversations with parents about their ACEs.
That shows that "listening is therapeutic," Gillespie told Stevens. "Our key message to parents is that 'You're not alone; it's not your fault; and I will help you.'"
So far, there is not an American Academy of Pediatrics-certified screening tool for ACEs, but there is strong support from the AAP leadership to better understand how to incorporate this into the training and work of pediatricians nationally. First 5 LA has the opportunity to shape this work as the momentum continues and will work diligently with our local, state and national partners to advocate for trauma-informed care services in the child- and family-serving systems.