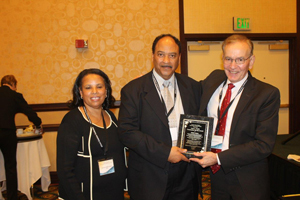 Meet Romalis Taylor, a fitting choice for our inaugural "Personal Best" article – a series that highlights those outside of First 5 LA who put their best foot forward for young children and families in Los Angeles County communities.
Taylor, Best Start Compton-East Compton's leadership chair, was awarded last month as a Mental Health Champion at the 2015 African-American Mental Health Conference ("Holistic Wellness for African-American Families and Communities"). Taylor's 30-plus years of advocacy efforts in various Los Angeles County services roles has raised awareness on the effects of mental health issues and how these issues affect families – a factor in his selection for the award. 
"I've known Romalis for 20 years, and I am happy to see him awarded," said Carlotta Childs-Seagle, Deputy Director of Older Adult System of Care Bureau at the LA County Department of Mental Health. "Romalis has carried the banner for cultural competency, championing the need for mental health treatment services to be delivered in a culturally sensitive way. And he has continued to advocate since retiring."
"These 14 Best Start communities help the people move forward. It is an empowerment approach, one that helps them become resilient. I believe not only in hope and recovery, but resilience." – Romalis Taylor
Taylor's advocacy has formed measurable and positive influences on his community.
 "One of my last county assignments before my retirement was in Child and Family Services, working with Eric Martz and instituting the Point of Engagement program," said Taylor. "The program sought to fill a gap we'd identified – that, in high numbers, children of ethnic background and heritage were being detained and put in foster care and it seemed nothing in the existing system was lowering those numbers. We tested Point of Engagement to knit together a continuum of support that previously had gaps. We looked at what we could do at each step in the process to help families move forward constructively and, where possible, avoid detainment."
"Our goal was to create a unit that goes between Emergency Response, which functions as the front end of the system, and Family Maintenance, which functions as the back end," he added. Filling that gap between the two helped provide services to families quicker and reduced reasons for the courts to be involved.
His efforts found success. As a result of instituting the program, Taylor witnessed his caseload drop by half. 
"We saw recidivism rates drop dramatically, with more than 80 percent of the people served not coming back into the system," Taylor said. "The other 20 percent needed a higher level of service, which we created, and could focus funds where they were needed most. We found that if you give families help, they do better and become more successful. Bottom line – through mitigation, we can change the trajectory and the outcome for these families."
Taylor is retired and continues to advocate, in a voluntary capacity, for keeping families together and reducing the number of children that are being placed in foster care. He has been integrally involved in with the Best Start Compton-East Compton Partnership the last five years and has been the chairperson for the last two years.
"Romalis has been very vocal on behalf of the community residents," said Alex Wade, First 5 LA Program Officer for Best Start Compton/East Compton. "He encourages members of the partnership to take the lead in meeting planning and discussions. Although his voice is strong, he consistently motivates others to take charge and take action in their community."
Taylor describes his continuing passion to influence as born from a belief in the value of what First 5 LA is doing in the community.
 "First 5 LA is giving a voice to people who don't otherwise have one," Taylor said. "These 14 Best Start communities help the people move forward. It is an empowerment approach, one that helps them become resilient. I believe not only in hope and recovery, but resilience."