New U.S. Dietary Guidelines for Infants and Children: Skip the Sugar
---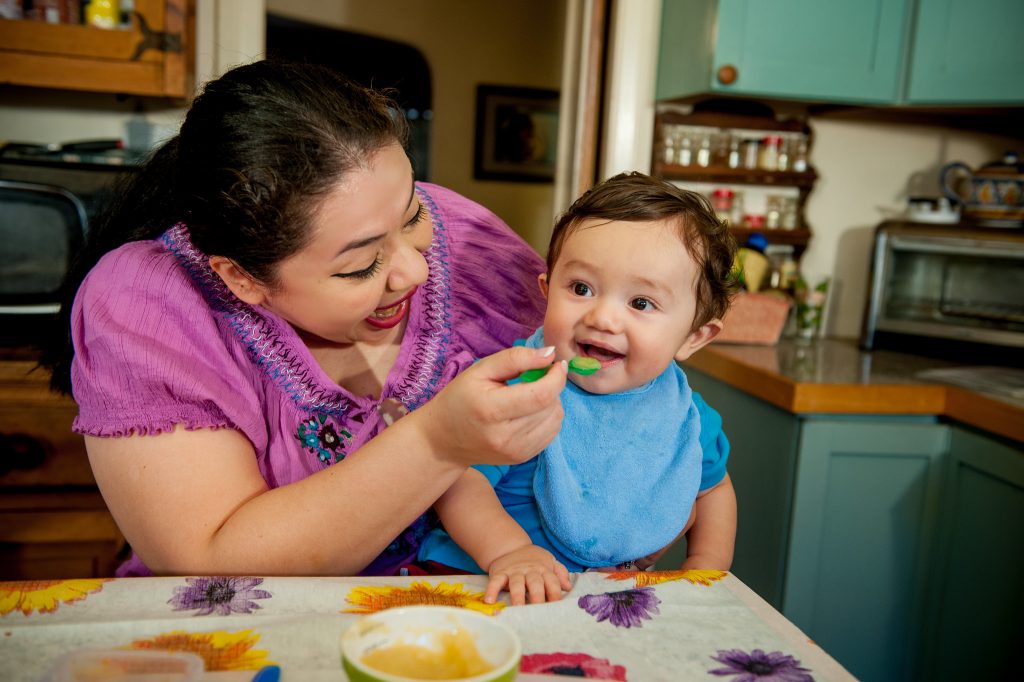 Sugar is not so sweet for babies' and childrens' health, according to new dietary guidelines for Americans from the U.S. Department of Agriculture. In fact, the report recommends babies have no added sugar in their diets before the age of two. After two, it suggests limiting added sugar intake to less than ten percent of a total diet.  
Why? Research has shown that the U.S. population consumes more than 300% of the daily recommended amount of added sugar, which is linked to obesity and chronic health conditions. Childhood health problems associated with sugar include diabetes, high cholesterol, fatty liver, high blood pressure, cancers and tooth decay. But there's also good news: Research from the University of California has demonstrated a connection between rapid improvements in children's health through reducing sugar intake.
For the first time, the U.S. dietary guidelines include recommendations for babies and children as part of an effort to address lifetime dietary patterns, providing suggestions to "make every bite count" — and enhance good health through diet at every life stage.  These include:
Breastfeeding — or feeding human milk — exclusively for the first six months, and continuing with breast milk as part of diet for the first year and beyond. 

Avoiding foods and beverages with added sugars for those younger than age two.  For children over two, added sugars should be less than 10% of daily calories.

Starting at age two, limiting saturated fat to less than 10 percent of calories per day. 

Introducing infants to nutrient-dense complementary foods at about six months, encouraging infants and toddlers to consume a variety of foods from all food groups. 
For more information on the new U.S. dietary guidelines, visit MyPlate –– a tool from the USDA that helps families plan healthy meals on a budget, as well as USDA's resources for consumers.
What is "Added Sugar?" Even if you don't add sugar to your family's food, there may be a lot hiding in the juices, drinks and processed or packaged foods you buy. Read labels to learn about how much of a percentage of food is actually sugar. And know your ingredients: Corn syrup or sweetener, brown sugar, malt sugar, honey, molasses — along with dextrose, honey dextrose and sucrose — are all forms of sugar.
Sugar-free Smash Cake Recipe!
It's cute, sugar-free and super-smooshy for little hands to pick up — perfect for first birthday party fun! Introducing Smash Cake, the healthier, more fun alternative to sugar-heavy treats. It's right in line with the new USDA dietary guidelines that suggest no added sugar for children before the age of two. Plus, what could be cuter than a photo of your little one digging into their very own individual birthday cake?    
You will need….
1¼ cup whole wheat or all-purpose flour

1½  tsp. baking powder

¼ tsp. salt

2 very ripe bananas

¼ cup whole milk

1 egg

1 tsp. vanilla extract
Frosting: 
1 cup whipping cream

1 tsp. vanilla extract (optional)
Decorations:
Small fruit, such as blueberries or small cut-up pieces of strawberries, kiwis or mango 
Preheat oven to 350 degrees. Grease a cupcake tin.

Mix together flour, baking powder and salt in a large bowl.

Smash bananas until very smooth (by hand or use a mixer, blender or food processor).

Beat in eggs, milk and vanilla extract into bananas until fully incorporated.

Add the banana mixture to the dry ingredients, mixing until just combined.

Pour batter into the prepared pan, and bake for about 20 minutes.

Allow cakes to cool. Cut cupcakes in half horizontally to form two layers. (If you wish, cut domed tops on cupcakes to make a flat top that will look more like mini cakes when frosted.)

No more than two hours before you serve, whip cream, add vanilla if using, and frost cupcakes with it to make mini cakes.  

Decorate with fruit and refrigerate until ready to serve.
(Note: Cupcakes allow you to make a completely sugar-free version for the birthday baby and guests under two. For a sweeter version for older guests, add a little sugar or maple syrup to whipped cream frosting.)