Inspiring Children's Books for Women's History Month
---
Inspire your young reader with these empowering books in honor of Women's History Month!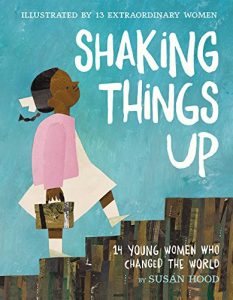 Shaking Things Up: 14 Young Women Who Changed The World
By Susan Hood (Author) Sophie Blackall (Illustrator), Emily Winfield Martin (Illustrator), Shadra Strickland (Illustrator), Melissa Sweet (Illustrator)
This book includes the stories of women who made their mark on the world early on. It features Ruby Bridges, the inspiring 6-year-old who helped desegregate an all-white school in the South, and Mae Jemison, the first African-American woman in space.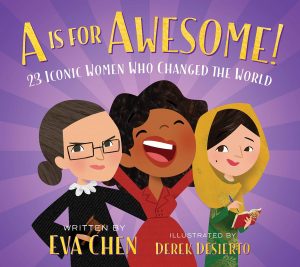 A Is for Awesome!: 23 Iconic Women Who Changed the World
By Eva Chen (Author) and Derek Desierto (Illustrator)
Teach your toddler the alphabet and women's history at the same time with Eva Chen's book, A Is For Awesome! (Yes, B is for Beyoncé.) For each letter of the alphabet, your child will learn about a female powerhouse, like track star Flo-Jo, education activist Malala Yousafzai, or beauty extraordinaire Pat McGrath. At X, Y, and Z, you can also expect to read an uplifting message addressed directly to your own future trailblazer.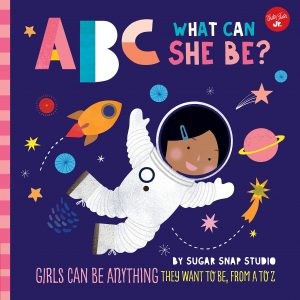 ABC for Me: ABC What Can She Be?: Girls can be anything they want to be, from A to Z 
By Jessie Ford (Author and Illustrator) 
This inspiring book explores 26 different career paths, including engineer, writer, neurosurgeon, software engineer and pilot. Each page introduces a letter of the alphabet with bright artwork and highlights a career that is fun, challenging and makes a big impact in its own way. These 26 careers are just some of the things she can be!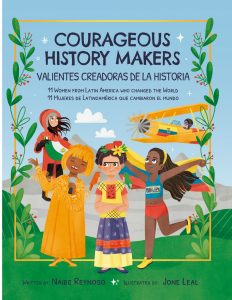 Courageous History Makers: 11 Women from Latin America who Changed the World
By Naibe Reynoso (Author) and Jone Leal (Illustrator)
This book available in both English and Spanish features 11 courageous history makers from Latin America who changed the world. Notable women include Frida Khalo, Celia Cruz, Viridiana Alvarez.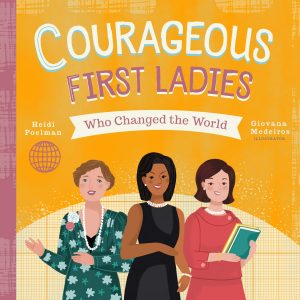 Courageous First Ladies Who Changed the World
By Heidi Poelman (Author) and Giovana Medeiros (Illustrator)
From the steadfast valor of Martha Washington to the ingenious counsel of Michelle Obama, Courageous First Ladies Who Changed the World is a young child's first introduction to the extraordinary women who used their time in the White House to change the world! Simple text and adorable illustrations tell the contributions of eleven presidential women, complete with quotes and colorful portraits of each First Lady!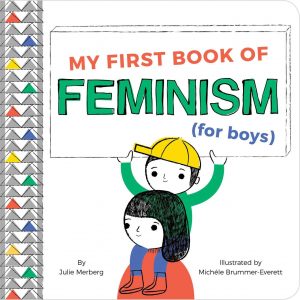 My First Book of Feminism (For Boys)
By Julie Merberg (Author) and Michéle Brummer Everett (Illustrator) 
Simple illustrations paired with engaging, rhyming text make the compelling, age-appropriate argument that girls and boys are equal, plain and simple. Humorous, familiar scenarios are treated as teachable moments for very young boys (ages 0-3) who will ideally grow up without ever questioning women's equality. From "no means no," to "women's rights are human rights," important, grownup ideas are made clear and fun for young, impressionable minds.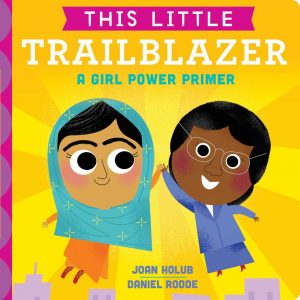 This Little Trailblazer: A Girl Power Primer
By Joan Holub (Author) and Daniel Roode (Illustrator) 
Highlighting ten memorable women leaders who paved the way, parents and little ones alike will love this girl power primer full of fun, age-appropriate facts and bold illustrations.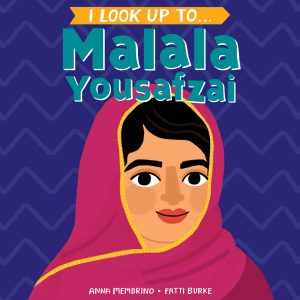 I Look Up To… Malala Yousafzai
By Anna Membrino (Author) and Fatti Burke (Illustrator)
It's never too early to introduce your child to the people you admire — such as Malala Yousafzai, the activist for girls' education and Nobel Peace Prize winner! This board book distills Malala's excellent qualities into an eminently shareable read-aloud text with graphic, eye-catching illustrations.