Get Creative — and Stay Safe — This Halloween!
---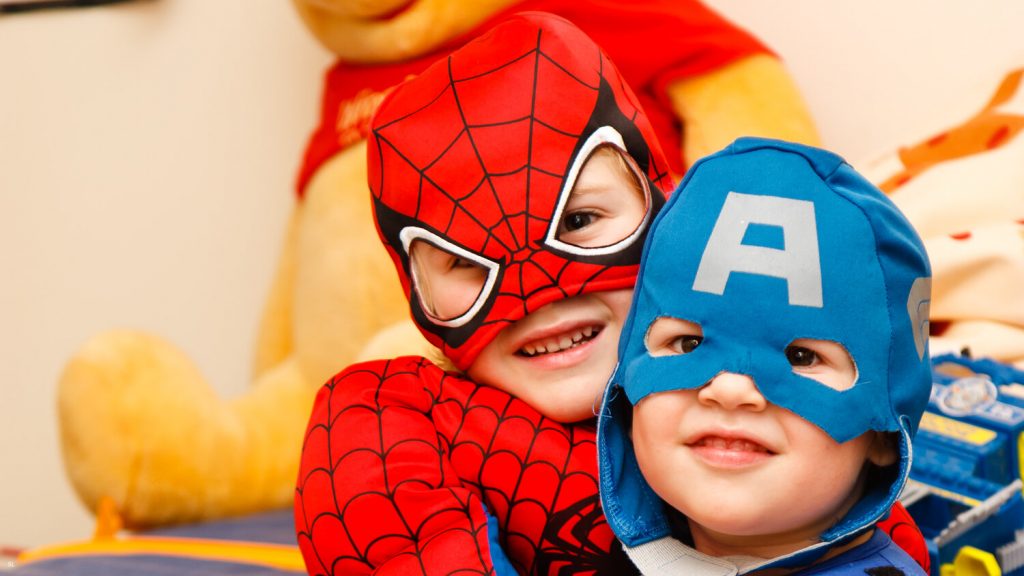 Celebrating Halloween this year is a little more, well, tricky.  Due to the pandemic, Los Angeles County's Guidelines for Halloween 2020 are focused on creating safer alternatives for young children.
While it's more important than ever to follow the rules, safety concerns don't have to stop your little ghosts and goblins from having a great Halloween this year. Get creative and get excited: if you're enthusiastic about your plans, your kids will be, too. Here's how:
Go all out on dressing up — and don't forget the masks! Make the holiday extra special by

creating costumes yourself

or

dressing up as family

. Take pictures and let your kids help decide which friends and relatives to share them with. If you'll be leaving home, don't forget the masks (a must this year) for any children older than two-years-old (per the CDC's guidelines). Make a fun mask with our instructions (below), or choose costumes that already incorporate masks (doctor, scientist, carpenter).

   

Get outside. Decorate your windows, stoop, trees, or

door

— see if your neighbors will, too. Play

neighborhood bingo

. Enjoy an enchanted picnic featuring

Halloween foods

. Hold a socially distanced

costume parade

, or just walk around the neighborhood looking for the best pumpkin — kids can earn candy for their bag (from you) by playing "I Spy" or reciting tongue twisters like "Which witch wishes which wish?" Howl at the

rare Halloween Blue Moon in 2020

!
Make some memories by doing something different. Invite the giggles when you eat some "magic candy corn" and turn into the "Halloween Tickle-Monster." Dim the lights and enjoy a flashlight goodie hunt with the family. Check out some not-too-scary

books

from the library; declare October 31st

Halloween movie night

. Build an orange

piñata

together, record a Halloween

song

, have a party or put on a short play via Zoom, or make up a new spooky story!
Make-A-Mask Craft
Halloween's must-wear costume accessory in 2020 is a mask, of course! Here are some ideas for an easy, up-cycled mask for your little one (for children older than two-years-old) to be safe (and maybe even spooky!) this Halloween:
You will need:
A pre-made, solid-color mask that fits your child
OR An old tee-shirt, any size, to make a mask (See CDC's suggestions below)
Other fabric scraps
Permanent marker
Scissors
Glue
1. Either use a pre-made mask as the start of your costume….OR Make a no-sew mask following the CDC's recommendations (see illustration):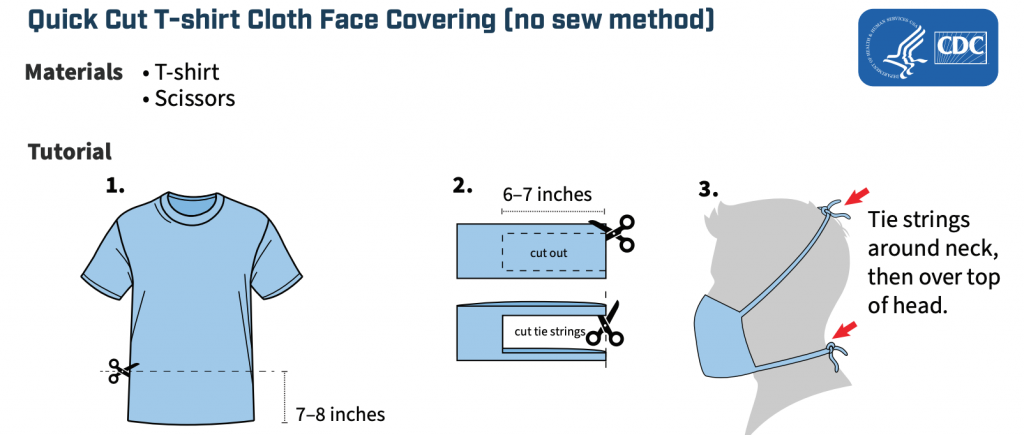 Cut off the lower 6 inches (from the hem up) of an old tee-shirt.

 

(This might not fit all children; adjust the width for your child's face.)
Cut out tie strings.
Use strings to tie on mask
2. Use fabric scraps to cut out shapes to form a "face" on the mask.
— For a shark or dinosaur/alligator –  cut white triangles for teeth
For shark, place upper and lower "teeth" on a red half-circle for a mouth; add dots with marker for "nose"
For dinosaur, do one row of teeth; add details with marker
— For a bear, cut out an oval for snout; cut out a contrasting black oval for "nose" (or draw with black marker)
For a koala bear, use light gray mask and lighter grey oval; add details with marker
For a polar bear, use a white mask and beige oval
For a brown bear, use a brown mask and white oval; add details with marker
— For a pig, use a pink mask and darker pink oval; draw on details