---
September 30, 2021
If you've noticed a lot of images of Black parents breastfeeding babies on billboards and social media lately, that means Black Breastfeeding Week, an event aimed at promoting lactation in the African American community over the last week of August, has succeeded.
"We want to highlight the importance of breast- and chestfeeding and let people know: It's your right, it's the law and we encourage it," said Nakeisha Perkins-Robinson, African American Infant and Maternal Mortality (AAIMM) initiative consultant for the L.A. County Department of Public Health.
Raising awareness about breastfeeding in the Black community is key since Black birthing parents nurse their infants at lower rates than their white counterparts. According to a  study by the Centers for Disease Control and Prevention, Racial Disparities in Breastfeeding Initiation and Duration Among U.S. Infants Born in 2015, Breastfeeding rates for three-month-old Black babies were 15 percentage points lower than those for white infants — 58 percent compared to 73 percent.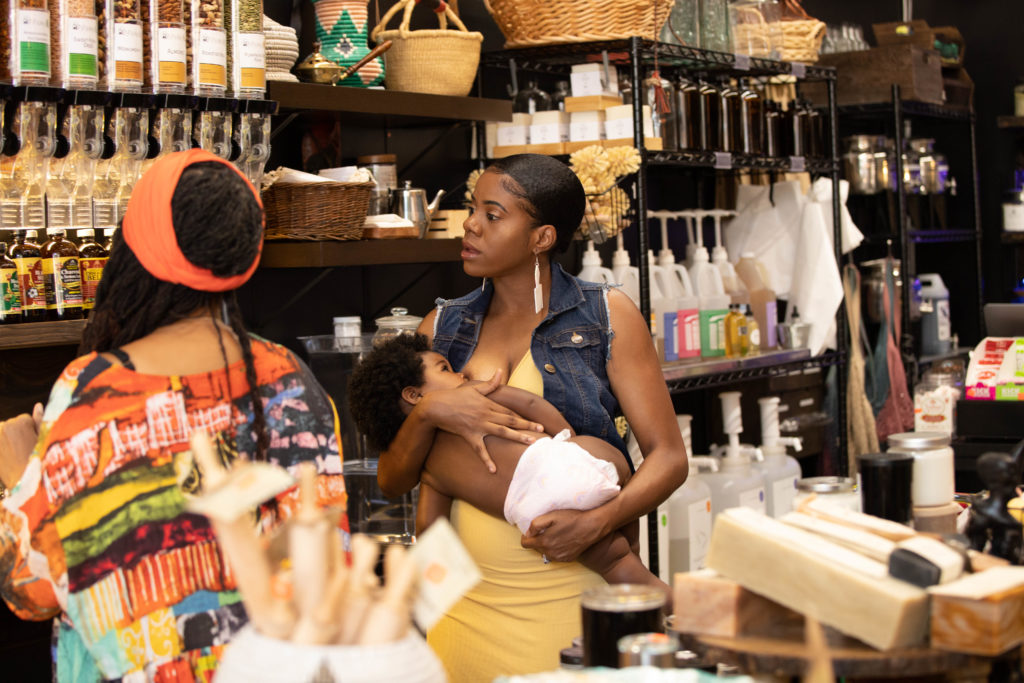 "This campaign is an extension of our initiative's celebration and promotion of healthy and joyous births for Black families and changing the prevailing, bias-laden narrative about Black families," said Melissa Franklin, who was awarded a Pritzker Children's Initiative Fellowship in 2018 on behalf of First 5 LA to help launch AAIMM. 
Breast milk has numerous benefits over formula, including strengthening babies' immunity against disease, promoting bonding between parent and child, and improving mental and physical health outcomes for the parent. "If we truly believe that breast/chestfeeding is a good thing for all these reasons, shouldn't we do everything within our ability as a community to ensure it is welcomed and protected?" said Franklin, who is also CEO of Growth Mindset Communications.
Multiple factors have led to the racial disparity. The CDC study said Black birthing parents face "disproportionate barriers" to breastfeeding, including lack of knowledge and support from peers, family and healthcare providers, and concerns about navigating breastfeeding in the workplace.
Several of these factors are rooted in the history of Black breastfeeding. Enslaved individuals were told not to nurse their own infants in order to conserve milk for slave masters' children or to be rented out as wet nurses. "Black women have a very different breastfeeding history in the United States," said Asaiah Harville, birth equity coordinator for Cherished Futures for Black Moms and Babies, which works to reduce Black infant death and is partially funded by First 5 LA.
Moreover, during the past century, formula manufacturers promoted their products heavily to Black families. Harville pointed to the Fultz sisters, identical African American quadruplets born in 1946 who received free formula in return for being poster children for the product. "Formula companies have done a fantastic job marketing to Black moms," she said.
These historical factors have contributed to an enduring stereotype that Black birthing parents don't breastfeed, so hospital staff and healthcare providers are less likely to approach them about starting breastfeeding after delivery, Harville said.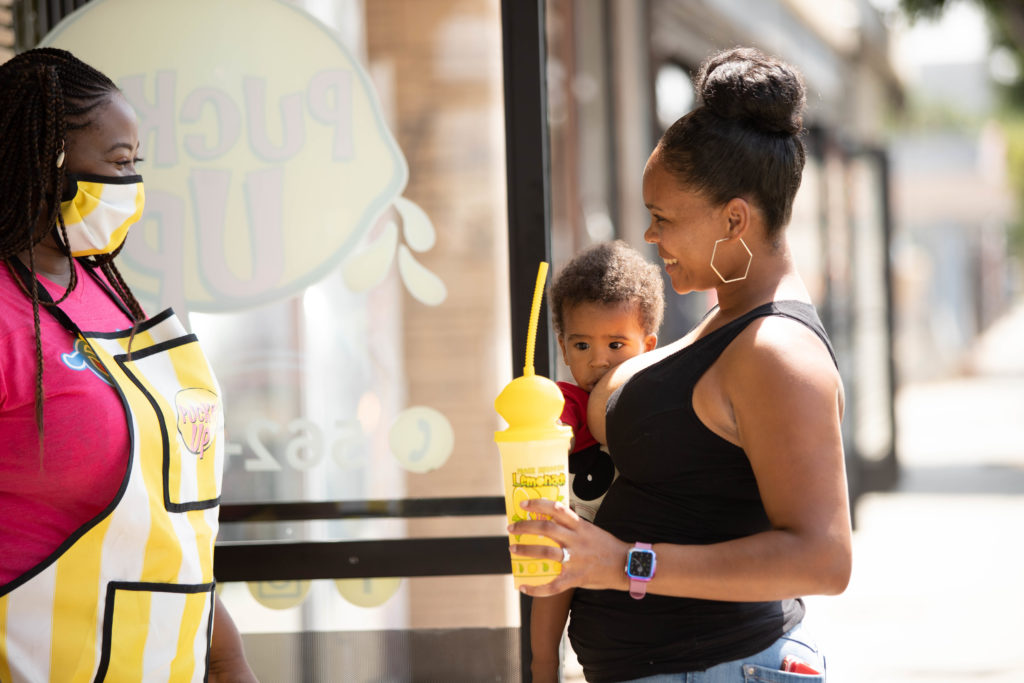 Relatives may also question why a birthing parent is breastfeeding when previous generations of women in the family did not nurse their babies and the infants were healthy, said Toncé Jackson, senior health equity manager for the Women Infants & Children (WIC) program in L.A. County.
Breast- and chestfeeding advocates are working to educate the community and change these misconceptions through events such as Black Breastfeeding Week, a national week of awareness and advocacy that started in 2013.
The local commemoration of Black Breastfeeding Week, which was officially recognized by the County Board of Supervisors this year, included numerous events hosted throughout Los Angeles County. The AAIMM initiative's Community Action Teams (CATs) in the San Gabriel, San Fernando and Santa Clarita regions celebrated with giveaways of produce and baby items, online discussions, panels and chats about breastfeeding, and a Black Breastfeeding Matters walk and photo display in South Los Angeles hosted by Soul Food for Your Baby. The weeklong event also incorporated a social media component that featured photos of Black parents nursing their children in Los Angeles places that are well-known in the Black community.
As a long-term effort, advocates are working on expanding networks for Black lactating parents. In 2015, Jackson co-founded CinnaMoms as a support circle so Black breast- and chestfeeding parents can gather to share issues and receive help from a Black lactation consultant and each other. CinnaMoms, which is part of the local WIC program, has since expanded to six WIC offices located in primarily Black neighborhoods throughout the county with the help of a grant from health care giant Kaiser Permanente. Earlier this year, it won a $500,000 grant from the U.S. Department of Agriculture to formalize the CinnaMoms model to be used in WIC programs elsewhere, Jackson said.
Advocates are also working to train and certify more Black lactation consultants and educators specifically to help the African American community. Lactation consultants help with nursing issues related to infant latching, pumping, soreness and infants with oral abnormalities. "Having culturally congruent support is meaningful," Perkins-Robinson said.
Advocates say their work is paying off, with gradually increasing awareness of the racial disparity and issues surrounding Black breastfeeding.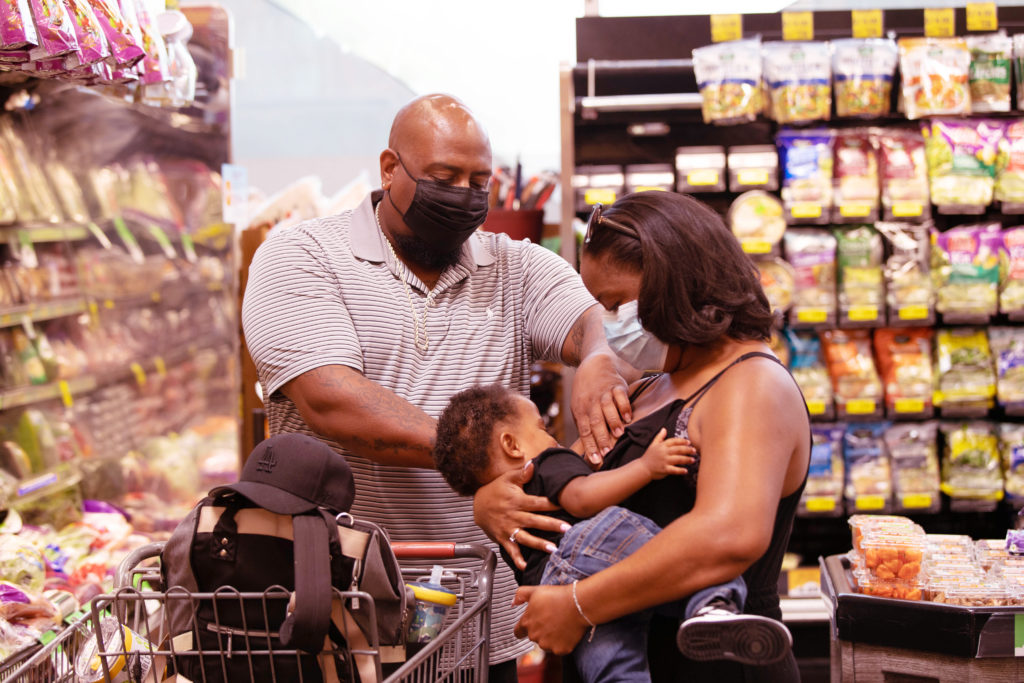 Jackson noted that when she first proposed CinnaMoms, people questioned why there was a need for a space specifically for Black birthing parents. "There's less explaining to do now, but it's still the same answer," she said. "We want to save our babies and save our moms by improving health outcomes."
For more information on breast/chestfeeding resources in LA County for Black families, visit www.blackinfantsandfamilies.org/breastfeeding.