Activity: Create a COVID-19 Time Capsule
---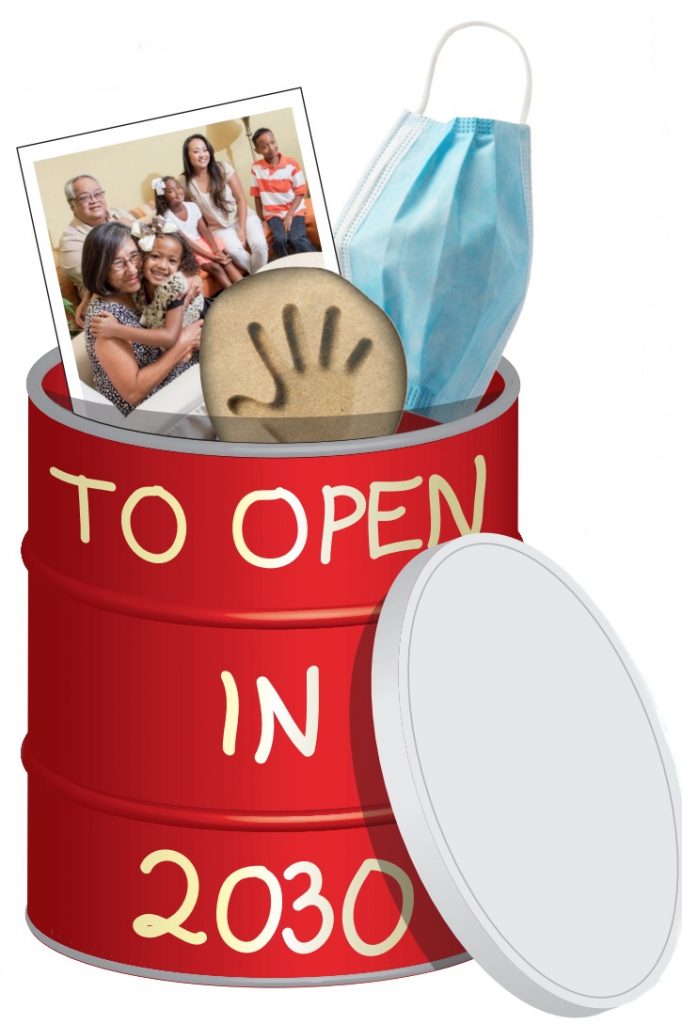 One day, your children may be telling their great-grandchildren about what it was like to live through the history-making challenges of 2020. What better way to reflect on the past year — and remember where you were during historical events — than to make a family time capsule that you can open in five, ten or more years?
You will need …
A medium-sized box or container, such as a shoebox, a big can or large jar
Markers, pens, paint, stickers, or whatever you have on hand to decorate your time capsule
Objects to include (see below)
1. Collect items that were part of 2020 for your family. You might include …
A much-loved (but just outgrown) toy or piece of clothing
Printed photos of your child, their room and "school corner," and favorite toys from this time; printed screenshots of online meet-ups with family members and friends
A special page for each family member. How old are they? How tall? What are their favorite toys, foods, books, games and TV shows from the year? What is an important memory of 2020?
Handprints or footprints
A drawing by your child of things that happened in 2020
Newspaper clippings about current events
Items the kids may not remember but you will — a roll of toilet paper, a small bottle of hand sanitizer, a disposable mask, the words to your favorite "wash your hands" song
A note from you with your COVID-19 thoughts. How have you kept your family safe? What's harder than before? Easier? What are you looking forward to doing together when the pandemic is over?
2. Have your child decorate the outside of the container.
3. Seal up your masterpiece and label it with today's date and a "Don't Open Until _________ " message. Put it away somewhere the kids won't find it (And make a note of where you put it!).
Make A Video Time Capsule! Create a video time capsule with a smartphone. Record some of your kids' daily activities. Interview them about their lives. Ask them what they are thankful for and what they wish for. Have them record you answering their questions too! Show and talk about objects that were important in 2020. Transfer the capsule to a hard drive (computer), keep on your phone, or upload to the cloud, Google Drive, YouTube or Facebook.
Help Make an L.A. Time Capsule! The L.A. Public Library is making a time capsule for 2020 and your family can be part of it. For information on the project and how you can contribute, visit the Safer at Home Archive at  https://lapl.org/safer-archive.