A to Z Summer Safety Checklist
---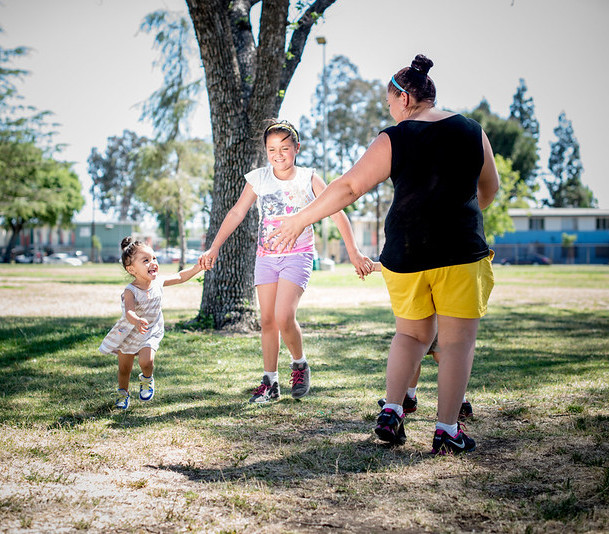 How do you have a safe, healthy and fun summer? First 5 LA has it covered from A to Z!
A is for Aloe: Buy an aloe vera plant and use gel from leaves, or use a product containing aloe vera skin gel specifically for mild sunburns.
B is for Beach: Remember — you need protection from the hot sun and sand at the beach. Always remember to bring proper sun protection (a hat, umbrella, sunscreen, water, and towel or blanket).
C is for Careful Around Water: Drowning is always a risk when babies and children are near water. Do not leave any child alone near pools, the ocean or lakes; securely latch gates at all times. Swim with your child always; have your child wear an approved flotation device near or in water.
D is for Driving Comfortably: Use a shade to protect seats (and baby seats) from overheating in the hot sun. Never leave a baby, child, or pet in your car alone — especially in the summer, which can be deadly!
E is for Eyes: As the sun shines bright through the summer, don't forget sunglasses. Help protect your child's eyes with UV-blocking lenses that have a strap to keep them on. Select lenses that block at least 99 percent of UV rays.
F is for Food Safety: When the weather gets warmer, the risk of food spoilage increases. Raw or deli meat, poultry or seafood; salads (such as tuna, chicken, egg, pasta or seafood); cut-up fruit and vegetables; and dairy products must be kept cool. Pack food in an insulated cooler with plenty of ice packs and keep it closed.
G is for Grilling: When you grill, use one plate for raw foods and another for cooked. After a BBQ, make sure to douse the remaining coals with water. When all coals are wet and have stopped steaming, carefully dispose of them in a metal trash can.
H is for Hat: Avoid sunburns by dressing your baby in protective clothing, including a brimmed hat and protective lightweight clothing to cover exposed skin.
I is for Independence Day: July 4 is one of the highest days of the year for injuries from fireworks. L.A. County has zero tolerance for illegal fireworks, which include sky rockets, bottle rockets, roman candles, aerial shells, firecrackers and other types that explode, go into the air or move on the ground in an uncontrolled way. Stay safe and go see a professional fireworks show instead.
J is for Jellyfish: If, while at the beach, you or a family member is stung by a jellyfish, carefully remove the tentacle (if there is one) from the skin, and walk to the nearest lifeguard station for proper first aid.
K is for Know the Signs of Heat Exhaustion: When someone is exposed to high temperatures for too long without adequate hydration or sun protection, they can experience nausea, headache, muscle cramps and heavy sweating — all signs of heat exhaustion. Getting to a cool place to bring the body's temperature down, drinking water, and resting can help.
L is for Life Jacket: Children should wear life jackets in and around any body of water including the ocean, lakes, and pools, even if they know how to swim.
M is for Medication Safety: Kids may be running in and out of the house during the summer, and it takes only a minute for them to get into something when they are out of sight. Put away medications; store them up and out of sight and reach.
N is for Nighttime: Consider attending an L.A. County Parks After Dark event with children. Be sure to bring a flashlight for the walk back to the car. Visit the website to learn more.
O is for Ocean: Check ocean water quality before going for a swim, especially after a storm. Pollution from the streets of L.A. washes into the ocean when it rains, so avoid swimming until you know for sure the water is clean. For updates on water quality, take a look at Heal the Bay's "Report Card" on L.A. beaches at www.beachreportcard.org.
P is for Pesticide Safety: Avoid all pesticide use around pregnant women and children. Exposure to pesticides before and after birth can cause birth defects and developmental disabilities.
Q is for Quality Control when eating outdoors: Be sure to follow food safety and sanitation standards for cooking and storing perishable food, while picnicking or barbequing, and carrying snacks during hot weather.
R is for Relaxing: When the temperatures rise, slowing down and taking breaks can help protect your family from heat-related health issues, such as dehydration. Take it slow when it is very hot.
S is for Sunscreen: While the sun can supply lots of beneficial vitamin D, early sunburns are a leading cause of skin cancer later in life. Keep babies under 6 months out of direct sunlight; over the age of 6 months, avoid sun exposure between 10 a.m. and 3 p.m., and protect skin with at least SPF 30 sunscreen and protective clothing.
T is for Tides: Check the tide schedule before taking a trip to the beach. High tides can be quite dangerous, creating strong waves that can be big and destructive.
U is for UV Rays: UV rays from the sun are strongest between 10 a.m. and 3 p.m. Use a good amount of sunscreen during these hours, find shade or cover up with light-blocking clothing.
V is for Vacation: If you're planning a weekend getaway, create a checklist for you and your family to stay safe on the go. Be sure to bring life preservers and essentials like sunscreen, water and insect repellent (DEET-containing products are not recommended for babies younger than 2 months old).
W is for Water: On hot summer days, it's important to hydrate with plain water. Soda and sugary drinks can make you feel thirstier. Dehydration can cause headaches, dizziness and flu-like symptoms. Be sure to drink water and offer water frequently to children and babies.
X is for eXcluding Mosquitoes: Mosquitoes can carry West Nile Virus, which can result in serious illness. Use tight-fitting screens in windows and close doors to keep them out.
Y is for Yellow Jackets and Other Pests: Yellow jackets, wasps and other flying pests can become a nuisance during picnics and other times outdoors. Keep them away by mixing 2 ounces of mint extract with 10 ounces rubbing alcohol, and pour ingredients into spray bottle. Spray down picnic and play areas. The mint repels mosquitos, wasps and flies. Keep the spray bottle out of children's reach.
Z is for Zinc Oxide: Zinc oxide is a powerful sunscreen, and many types for children change color to let you know when to reapply. For extra sun protection, layer zinc oxide on more sunburn-prone places like noses and cheeks.