Among First 5 LA's greatest assets is our workforce. We take pride in the expertise and passion each employee brings to our goal of achieving positive and sustainable outcomes for Los Angeles County's children prenatal to age 5.
Through the talent and commitment individually and collectively extended by the agency's staff, we advance our mission and strategic plan to work in partnership with others to strengthen families, communities and systems of services and supports so all children in L.A. County enter kindergarten ready to succeed in school and life.
Human Resources & Talent Management within First 5 LA is integral to this collaborative foundation, helping to drive long-term goals, understanding the business of the agency and encouraging the diversity of thoughts, experiences and backgrounds.
Our ongoing role is to identify, develop and retain a high-performing and diverse workforce and we welcome your interest in advancing our mission, strategic goals and values.
We are rooted in a collaborative culture that fosters a healthy, safe and productive work environment for employees, their families, and the agency and honor our commitments by conducting business in a manner that promotes fairness, respect, honesty and trust.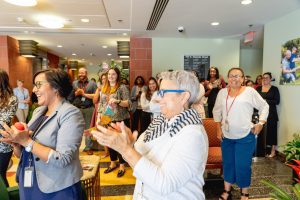 Just a few of the many benefits offered at First 5 LA to our employees and their dependents:
Comprehensive medical, dental and vision coverage

Life Insurance and AD&D

Long-Term Disability (LTD)

Employee Assistance Program (EAP)

Retirement Savings Plan with Employer Match and Non-Elective Contribution

Paid Vacation Time

Paid Sick Time

Paid Holidays

Health Care Spending Accounts

Dependent Care Spending Accounts

Flexible Work Schedules

Pre-paid Legal Assistance Program

529 College Savings Plan

First 5 LA's status as an independent government agency allows full-time employees to apply and possibly receive federal student loan forgiveness under the Public Service Loan Forgiveness Program offered by the U.S. Department of Education.
Growth
Leadership Programs

Membership in Community Affinity Groups

First 5 LA University – Develop and deliver programs for all level of employees; Conduct ongoing needs assessments to keep abreast of the changing needs of staff development; Assist with setting priorities for leadership development for both current and future leaders

Current Opportunities
First 5 LA offers its staff members a challenging, creative and fast-paced environment as well as the opportunity to make a difference in the quality of life for children ages 0-5 in Los Angeles County. Join the team of experienced and committed professionals and help First 5 LA meet the goals of its Strategic Plan.
First 5 LA offers full-time and part-time staff members excellent employee benefits.
To Apply:
If you are interested in pursuing a professional opportunity with First 5 LA, click on the position headings above. You will be redirected to another website that will give the full job description for the position as well as an electronic application form to complete. You will be asked to create a profile in our Applicant Tracking System to complete the application. Please use Internet Explorer or Chrome as your web browser to complete the application to avoid compatibility errors. If you are unable to complete an electronic application, please contact 213.482.5902 and ask for to be connected with a member of the Human Resources & Talent Management team for assistance in submitting your application.
Please note that the formatting of your uploaded resume may cause the document to appear altered on your monitor. Please be assured that this will not affect the viewing of the document on our end.
We will only accept applications for the positions listed above. Many times our posting notices are reposted to other sites and the information on those sites may not be up to date.
Due to the high volume of responses we receive for our postings we are regrettably unable to provide status updates and verifications in addition to the electronic verification that your application was received.
First 5 LA is an equal opportunity employer and makes employment decisions on the basis of merit. We want to have the best available persons in every job. First 5 LA is committed to providing a work environment free of harassment, discrimination, retaliation, and disrespectful or other unprofessional conduct based on sex (including pregnancy, childbirth, breastfeeding or related medical conditions), race, religion (including religious dress and grooming practices), color, gender (including gender identity and gender expression), national origin (including language use restrictions and possession of a driver's license issued under Vehicle Code section 12801.9), ancestry, physical or mental disability, medical condition, genetic information, marital status, registered domestic partner status, age, sexual orientation, military and veteran status or any other basis protected by federal, state or local law or ordinance or regulation. It also prohibits discrimination, harassment, disrespectful or unprofessional conduct based on the perception that anyone has any of those characteristics, or is associated with a person who has or is perceived as having any of those characteristics.
First 5 LA complies with the ADA and the disability rights provisions of the California Fair Employment and Housing Act. Consideration will be given to reasonable accommodation that may be necessary for eligible applicants/employees to perform essential job functions, including participation in any pre-employment process. Applicants requiring reasonable accommodation should contact the Human Resources & Talent Management team.
All positions remain open until filled unless stated otherwise.
Transparency in Coverage Rule: This link leads to the machine readable files that are made available in response to the federal Transparency in Coverage Rule and includes negotiated service rates and out-of-network allowed amounts between health plans and healthcare providers. The machine-readable files are formatted to allow researchers, regulators, and application developers to more easily access and analyze data. To access the Aetna machine readable files, please click on the URL provided: http://www.aetna.com